On Monday, Nov. 11, the Lincoln City Cultural Center (LCCC) will be offering a special tribute to veterans, their families and all those who wish to honor the fallen.
The LCCC is proud to present the renowned choir Cappella Romana, who will offer a performance of Kastalsky's "Requiem: Memory Eternal to the Fallen Heroes." The program will be offered twice, at 11 a.m. and 6 p.m., at the center, 540 NE Hwy. 101.
Tickets for the Lincoln City "Requiem" performance, which cost up to $52 at other venues in Seattle and Portland, are free for veterans and a discounted $20 for veterans' companions.
Each concert will begin with a presentation of the colors, a reading of the annual Veterans Day message by Rep. David Gomberg, and a standing tribute to all the veterans present. All those who attend will receive a crocheted red poppy pin, handmade by Wanda Janes of the American Legion Post #116 Auxiliary.
Support for this vocal arts program comes from the members of the Lincoln City Cultural Center, along with the following lodging donors: D Sands Condominium Motel, Chinook Winds Casino Resort, John and Heather Collier, Greg and Rosanne Berton, Vonelle Swanson and Steve Rutherford. Production assistance is being provided by Gray Eubank and the Central Coast Chorale.
General admission seats are $39 for seniors, $20 for youth and $42 for all other attendees. LCCC Membership discounts and complimentary ticket vouchers may be used for this Veterans Day program. Tickets can be reserved online at lincolncity-culturalcenter.org, or by calling 541-994-9994.
"In Flanders Fields"
The red poppy is an internationally recognized symbol of sacrifice worn by Americans since World War I, to honor those who served and died for our country in all wars. Because the poppy flourished in the soils of France and Belgium that had been enriched with lime from the rubble left by the war, it came to symbolize the bloodshed of those storied battles.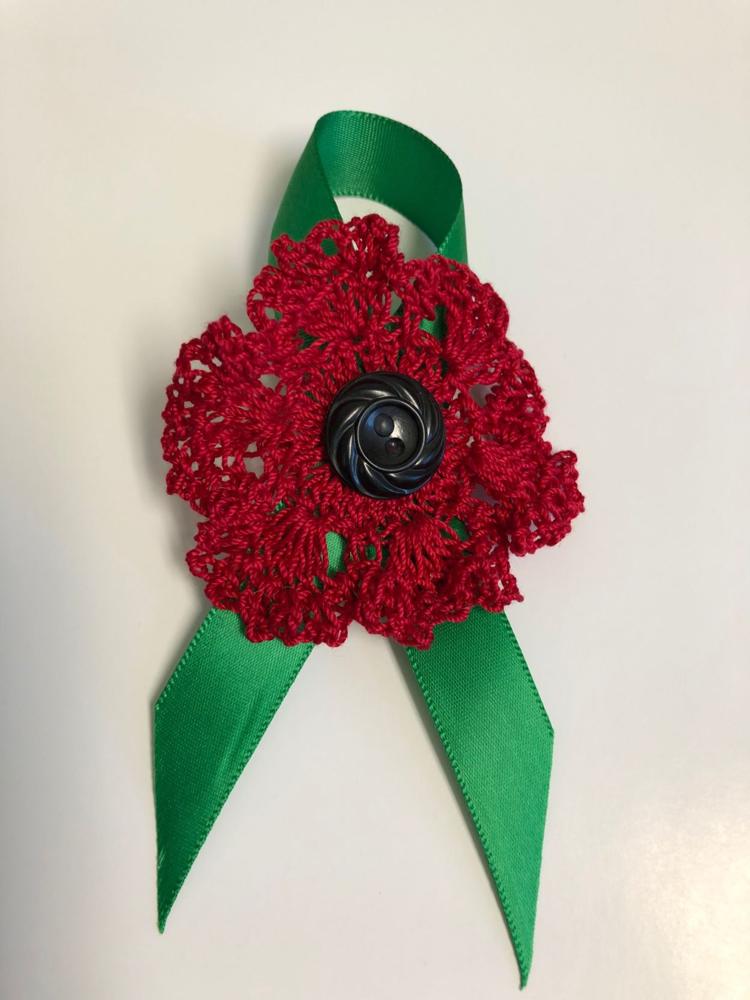 As Lt. Colonel John McCrae MD wrote in his famous poem from the front lines, "In Flanders Fields the poppies blow/between the crosses row on row. That mark our place; and in the sky/The larks, still bravely singing, fly/Scarce heard amid the guns below."
When the LCCC looked to purchase red poppy pins for the Nov. 11 "Requiem" concert, executive director Niki Price called the American Legion Post 116 in Newport. She inquired about purchasing the small, paper poppy pins, but found that Auxiliary member Wanda Janes had another idea.
"Rather than selling us the flimsy mass market pins, Wanda offered us her lovely crocheted poppies. She donates all the supplies, and makes each one by hand, for a donation to the Children's Christmas Fund at the American Legion," Price said. "We were so happy to find a way to commemorate this somber day, while providing funds for another worthy project. These are pins that you can keep, and wear every year."
Veterans Day, marked each year in the United States, had its start as Armistice Day. The cessation of hostilities in World War I took effect at the 11th hour of the 11th day of the 11th month in 1918. It is a national holiday in France, and continues to be honored in other Allied nations.
About Kastalsky's "Requiem" and Cappella Romana
Overcome with urgency, Alexander Kastalsky began composing his haunting "Requiem: Eternal to the Fallen Heroes" during World War I to remember fallen brothers in the Great War. His triumphant tribute was never performed during the Soviet era, but it has made its way to the Pacific Northwest, in the capable hands of the renowned Portland-based a cappella choir, Cappella Romana. The group will be bringing a choir of 24 voices, performing on risers provided by the Central Coast Chorale.
Kastalsky composed his haunting Requiem as a call for reconciliation, redemption, and hope. This richly scored Requiem is led by guest conductor Steven Fox, who was nominated for a Grammy for his recording of the work with the Clarion Choir. By honoring a part of our darkest history, Kastalsky's "Memory Eternal" helps us together embrace courage and hope for the future.
Cappella Romana brings to life music that meets a deep human need, taking the audience on a journey of discovery and creates a dynamic experience of immersion in sound and space, tradition and history, innovation and light.
The vocal ensemble presents annual concert series in Portland and Seattle, in addition to touring nationally and internationally. Critics have consistently praised Cappella Romana for their unusual and innovative programming, including numerous world and American premieres. The group regularly collaborates with artists like conductor Paul Hillier, chant specialist Ioannis Arvanitis, and composer Ivan Moody.