Featured for the month of October, the Browne's copper art will be on display from 10 a.m. to 5 p.m. daily at the Pacific Artist's Co-op Gallery located at 620 NE Highway 101 in Lincoln City.
Calisse Browne will be doing a demonstration of her art at a gallery reception on Friday, October 11 at the gallery at 5 p.m. where refreshments will also be served.
Steve and Calisse Browne's copper art is "painted" using a propane torch flame. As the flame from the torch heats the metal, up to 14 colors, from bright yellows and green to bold blue, purples and browns can be oxidized onto the copper.
This process requires patience and a willingness to adjust your vision for the piece as the temperature and humidity in the air affects the way copper reacts tot he flame. Flame painted art is a negotiation between the artist and the copper. Once the design is flame drawn and the color is oxidized on the copper, color can be ground off revealing the natural copper color and enhancing the design.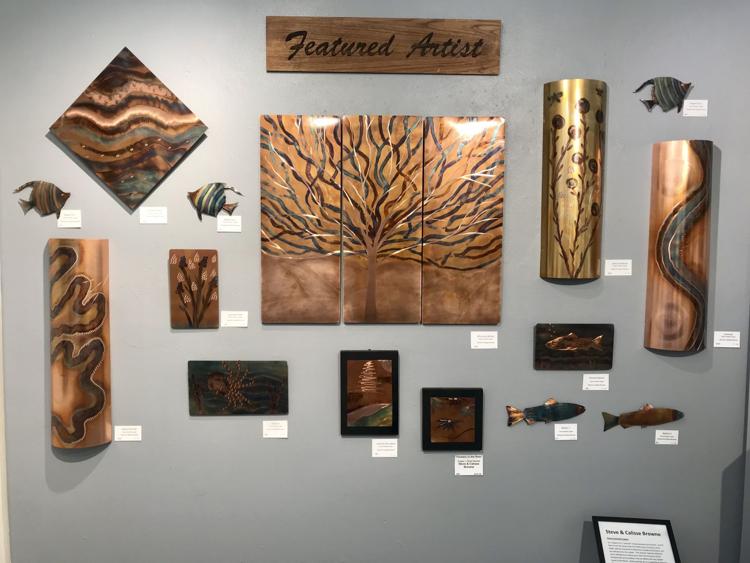 Steve and Calisse started torch "painting" color onto copper jewelry. They experimented with various torches and techniques to transfer the process to larger copper pieces. The technique requires multiple steps.
While some steps can be prepared in advance, a number of the steps must be completed in succession requiring patience and endurance to create the unique, one-of-a-kind pieces of art.