Several weeks ago, I shared a new report that Oregonians' typical incomes grew more in the last decade than in any other state. From 2010 to 2019, household income increased by 44%, compared to 41% in Washington and 39% in California. That's great news. But to provide some perspective, let's pause for an economic joke.
So … Jeff Bezos and Elon Musk walk into a bar. And immediately, the average income of everyone in the bar increases by billions of dollars.
Economic jokes are seldom very funny. But they are illuminating. My point is that just because average statewide numbers are better, doesn't mean numbers for everyone in the state are better.
I often argue in Salem, Oregon's success does not reach to all parts of Oregon the same way. Incomes increased 20% in Lincoln County, 27% in Tillamook, and 29% in Benton but 39% in Multnomah. Median income in Portland was $69K compared to $47K in Newport.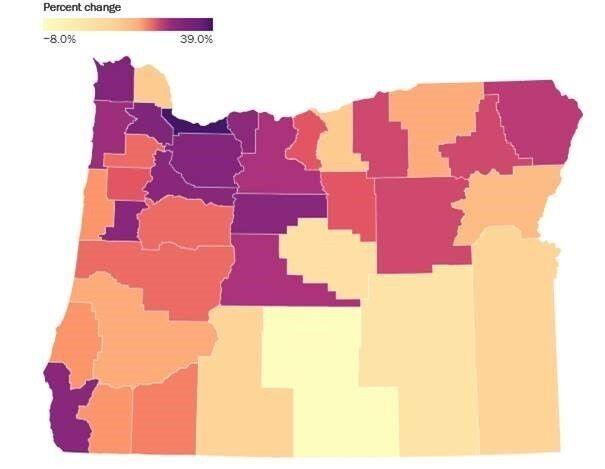 Wages here are going up, but not as much as in other parts of Oregon. And costs are also going up. A loaf of bread or a gallon of gas, or rent costs as much here as it does in Portland. Rent may actually be higher!
Inflation is eating up a lot of that extra money, with costs rising by about 8% since March 2020. In recent months inflation has begun outpacing wage gains, resulting in people earning less in real dollars, even with higher wages.
According to new data from the Oregon Office of Economic Analysis, supply chain breakdowns triggered by the pandemic and a nationwide worker shortage, coupled with rising consumer spending driven by higher incomes is causing the inflationary spike. In simple economic terms, demand is up, supply is down, so prices increase.
It's important to keep in mind that inflation is not costless and impacts the real economy.
First, higher prices eat into household budgets, ultimately resulting in what economists call demand destruction. When prices get too high, people stop buying.
Second, higher prices also eat into the strong wage gains workers are experiencing. While the average wage in Oregon is up about 15 percent since the start of the pandemic, the real, or inflation-adjusted average wage is up just 8 percent.
Third, as costs rise, firms face the decision to pass these costs forward onto consumers, contributing to overall inflation, or to reduce margins or other costs to help keep final prices lower. Should inflation considerations become a more regular part of wage negotiations, it can lead to more cost-push inflationary pressures in the broader economy.
Oregon lawmakers asked their economists whether there's anything the state can do to tame inflation. It's mostly out of Oregon's control, the forecasters replied, with one notable exception — housing. If the state can do something to increase housing supply that could ease one of the heaviest inflationary burdens.
During the 2021 session, the Oregon Legislature approved a combined $765 million dollars for affordable housing and permanent supportive housing, down payment assistance, homeless services, tenant support, and more. That included over $400 million for housing construction and $100 million to preserve existing affordable housing. Most of that money came though the committee I co-chair. But housing and apartments don't go up overnight. And our challenge is to make sure those dollars reach all parts of Oregon. This coming session, I'll be co-sponsoring legislation for additional housing projects with a pilot focused squarely in our district.
Oregon's poverty rate declined a hair more than the national average. Our poverty rate in 2020 stood at 10.95% which was a decline of 0.45 percentage points. This is the lowest poverty rate in Oregon since the 1970s. Nationally, poverty stood at 11.94%, a decline of 0.36 percentage points.
What the latest data show is that not only did overall poverty decline last year, but that we also saw continued improvements among Oregonians in deep poverty – in both the total number of Oregonians in deep poverty, and measured as a share of the overall population as well. This matters economically and socially, but also in terms of demand for needs-based programs.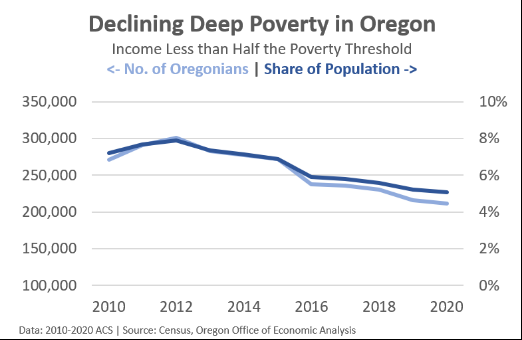 Bottom line: The pandemic has blown apart our world in terms of public health, social activities, consumer spending patterns, and employment. However, thanks to the federal aid last year, the direct financial losses were minimized. In fact, incomes grew and poverty declined. But as I said, they did not grow the same everywhere.
My focus in the legislature has been to secure support for our local industries, benefits for working families and retirees, better schools, and investments in needed infrastructure. We've had and are having success. We are bringing home dollars for the fishing fleet, our dairies, and the evolving "blue economy" which focuses on traditional ocean industries such as fisheries, tourism, and maritime transport. We're bolstering our education foundation with money for schools, stronger community colleges, and a major expansion at OSU/Newport in the Hatfield Center. We're enhancing our retirement community and opening new hospitals. And this past session, we brought home over $60 million in grant funds for water, sewer, ports, and economic infrastructure.
I'm working hard every day to make lives better across our diverse district. But clearly there is more work to be done. Will you help? Remember to buy local when you can. Volunteer for local organizations and projects when you can. Be there for your neighbors and friends when you can.
I try to focus these newsletters on government and policy rather than politics. And I will never use them to advocate for or against the election of a candidate or ballot measure. But most of you readers are interested in politics and I would be remiss if I did not comment on the significant and substantive developments that continue to rock Oregon as 2022 unfolds.
For the first time in 20 years, no incumbent—or former incumbent—will be running for governor. Dozens of candidates have stepped forward with varying levels of experience, vison and support seeking the Republican or Democratic nomination. And in addition, a well-known and well-funded alternative is running independent of either major party.
This week, the Secretary of State disqualified one major candidate for failing to meet Oregon's three year residency requirement. That candidate has announced he will appeal the decision to our Supreme Court.
Within the Capitol, we're seeing big changes as well. Peter Courtney, the longest serving Democratic Legislator, announced he is not running again after 38 years as a lawmaker and 19 years as Senate President. Also this week, Tina Kotek, after 10 years as Speaker of the House announced she is resigning. House members will need to vote on a new Speaker when the short session convenes in February and the Senate will choose a new President next January.
I have written in the past about redistricting. Legislative and congressional district lines are changing and Oregon has earned a new sixth seat in Congress. Lincoln County will shift into the 4th district which stretches to Brookings and Eugene covering much of Southwest Oregon. In our own 10th Oregon House District, we will lose Tillamook, Polk, and Yamhill Counties and pick-up western Benton and Lane. The district will now range from Lincoln City to Florence, inland to Philomath and as far southeast as Harrisburg and Junction City. It is a large and diverse area that covers from the Central Coast beaches, through the Coast Range and valley farmlands to within five miles of I-5. New lines take effect for the 2022 November election.
Each week brings news of another legislative change as members announce they are resigning, retiring, or running for higher office. I have filed for re-election to our "new" 10th District. But I am struck by the fact that so many members are leaving and that by my rough count, half the members of the House will have served two years or less when we convene in 2023 for the long session. That is an opportunity for new ideas and new energy. But it also signals a loss of stability and experience – and potentially a shift of influence to the lobby.
It's been a week of seismic change in Oregon politics with more news certain to come. Stay tuned and stay involved!
If you enjoy museums, history, zoos, or gardens, here's some good news! A program that gives people access to local cultural attractions for a fraction of the price is back after a hiatus during the COVID-19 pandemic.
The Portland Attractions Marketing Alliance relaunched their reciprocal membership program in January. A dozen regional attractions are participating, and membership to any one of the 12 organizations means free admission for the member and three guests to any of the other attractions throughout the year.
The participating organizations are: the Oregon Zoo, the Columbia River Maritime Museum, the Deepwood Museum & Garden, the Clark County Historical Museum, the Architectural Heritage Center, the Oregon Jewish Museum and Center for Holocaust Education, the World Forestry Center, the Oregon Historical Society, the Oregon Coast Aquarium, the Lan Su Chinese Garden, the Evergreen Aviation & Space Museum, and the Rice Northwest Museum of Rocks & Minerals.
Support our local Aquarium and get access to all the other centers free!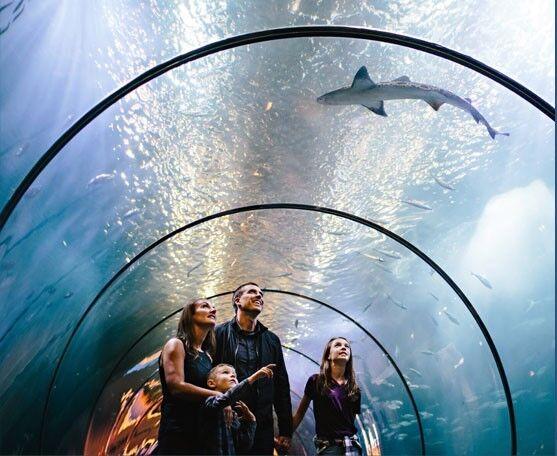 Here is a chance to get to know some of our local whales!
Over years of study, the researchers at OSU's Marine Mammal Institute have learned the identifying marks, behaviors and health conditions of whales such as Scarlett, Equal, Roller Skate and Solé that frequent the Oregon Coast.
Now those researchers want you to get to know some of these whales, too. Drop by a website called IndividuWhale where you can meet some of these iconic whales, learn about their major life events, see their identifying marks, learn about the stresses they face from human activity and how to reduce them, and find out more about the research that seeks to better understand the animals.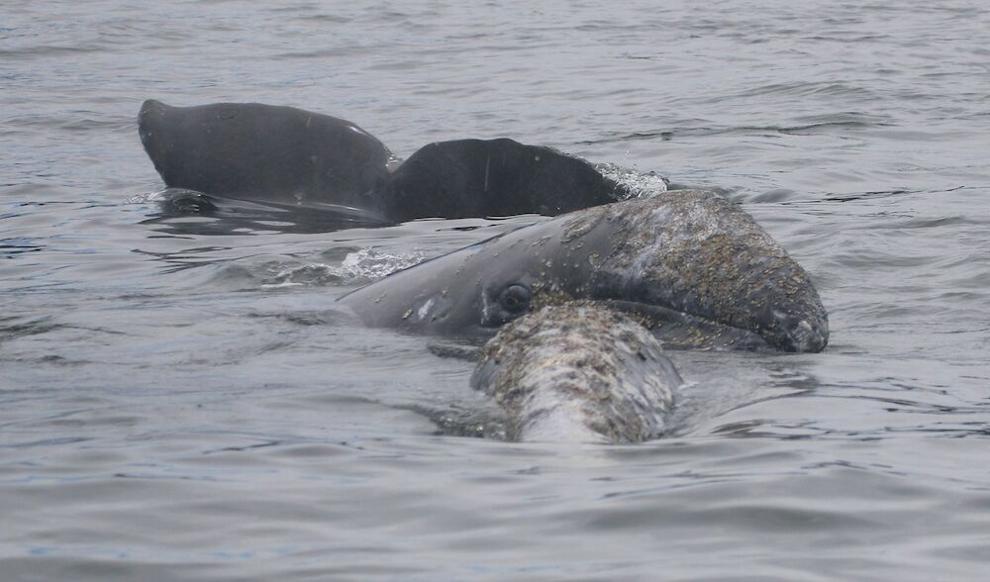 Oregon resident gray whale Scarlett is seen here with her calf, Rose, on her back. Scarlett is one of eight resident gray whales featured on a new whale website developed by researchers at the Hatfield Marine Science Center in Newport.
Thank you so much to everyone who wrote in response to my message last week. In my updates, I draw information from a number of sources – news articles, editorials, agency reports, and newsletters. When possible, I provide links back to the original source.
Most of the content I shared about the civic rupture we are suffering as COVID evolves was first crafted by my friend and colleague Senator Jeff Golden from Ashland. I wanted to acknowledge that here and to thank him.
And as always, I wanted to thank all of you for reading.