Coffees With The Mayor
Here are the dates and locations for Coffees With Lincoln City Mayor Dick Anderson for April.
8 a.m. Monday, April 22, Capt. Dan's Pirate Pastry Shop
8 a.m. Monday, April 29, Salt by Mojo Coffee in the Outlet Mall
April 22
Climate Fair from 6:30 to 8:30 p.m. at the Newport Library, McEntee Rm, 35 NW Nye St. in Newport. This event includes several speakers and is in honor of Earth Day and sponsored by 350 Oregon Central Coast and the Newport group of Citizens' Climate Lobby (CCL). For more information, contact Martin Desmond, at cclnewport@gmail.com.
April 27
National Drug Take Back Initiative from 10 a.m.to 2 p.m. The Lincoln City Police Department is encouraging the public to get rid of their old and/or unused prescription drugs. The drop off site will be located at the Lincoln City Community Center, 2150 NE Oar Pl. in Lincoln City. For more details, call 541-994-3636.
April 30
Community Conversations from 5:30 to 7 p.m. at Yaquina View Elementary School, 351 SE Harney St. in Newport. Lincoln County School Superintendent Dr. Karen Gray's community education night topic is Bullying in our Schools. What it is and how it is addressed? The meeting is open to anyone in Lincoln County. Childcare and food are provided at no charge. For more details, call 541-265-9211.
May 1
Samaritan North Lincoln Hospital Auxiliary Annual Spring Book Sale in cooperation with Bob's Beach Books, from 7 a.m. to 4 p.m. in the hospital cafeteria, 3043 NE 28th St. in Lincoln City. A portion of proceeds goes to the auxiliary, with funds supporting the purchase of medical equipment for the new Samaritan North Lincoln Hospital, now under construction. More than 1,000 new hardback and paperback books for all ages and interests will be available, along with puzzles, greeting cards, book covers and more. For more information, call 541-996-7132.
May 3-4
Spectacular Rummage Sale 9 a.m. to 3 p.m. at St. Peter the Fisherman Lutheran Church, 1226 SW 13th St. inLincoln City. All funds received go toward our mission projects here in Lincoln City and around the world. For more details, call 541-994-8793.
May 11
The Siletz Watershed Council, MidCoast Watersheds Council, and partners Annual Siletz River Clean Up from 9 a.m. to 2 p.m beginning at Hee Hee Illahe Park in Siletz. Bring your friends, gloves, waterproof boots, and dress in layers to take part in this long-term effort. Registration is not required, but preferred, at the following link: https://www.solveoregon.org/opportunity/a0C1I00000Gu7wd
Lincoln City Community Days April 19-27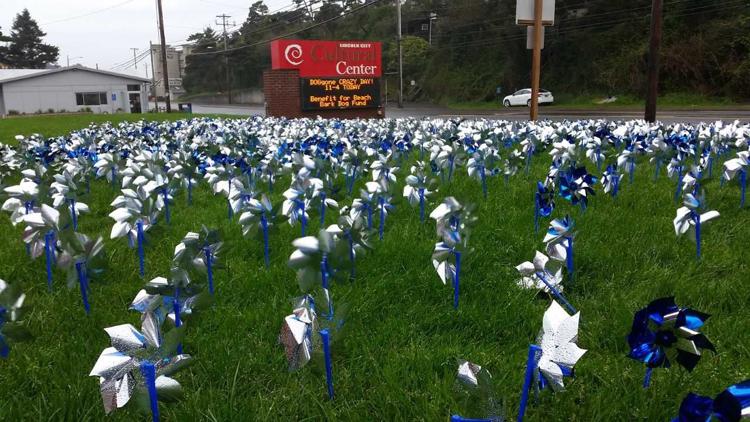 Pinwheels are placed on the front lawn of the Lincoln City Cultural Center as part of the annual Lincoln City Community Days. The pinwheels are placed in an effort to raise awareness of child abuse prevention. Community Days is a week long celebration of the community through April 27. See the 2019 Community Days schedule of events at thenewsguard.com entertainment section and at Facebook.com/lccommunitydays. For more details, call 541-994-4166.
On Going
Volunteering Opportunity
Hillside Place Senior Living in Lincoln City is actively looking for volunteers to help with the facility's Life Enrichment Program. For more information about Hillside Place Senior Living, call 541-994-8028, or visit www.enlivant.com.
Derby Dames
Calling all interested skaters, referees and volunteers. The Tillamook Coast Derby Dames welcome newcomers. All levels welcome, must be 18 or older to skate. Training sessions will run 6 to 8 p.m. Tuesdays and Thursdays through March 14 at Tillaskate, 4603 3rd St. in Tillamook. The team can be reached at tillamookrollerderby@gmail.com.
Chessman Gallery
Chessman Gallery is located inside the Lincoln City Cultural Center, 540 NE Highway 101 in Lincoln City. For details see the entertainment section at thenewsguard.com, or call 541-994-9994.
Beachstone Gallery
The Beachstone Gallery in Lincoln City is open daily from 10 a.m. to 5 p.m., at the rear of the Artists' Co-op Gallery at 620 NE Highway 101. For more details, call 541-557-8000.
Positions are available with Lincoln City, including the City Arts Committee, Driftwood Public Library Board, Sustainability Committee, Visitor and Convention Committee, and the Transient Room Tax Committee. For more information, call 541-996-1203.
Lincoln City Chess Club
From 1 to 3 p.m. First and third Saturday at Driftwood Public Library, 801 SW Highway 101 in Lincoln City. For details, email lincolncitychessclub@gmail.com.
Cancer Support Group
Survivors, caregivers and family members meet at 1 p.m. on the 2nd Wednesday of each month at Pig 'N Pancake, 3910 NE Highway 101 in Lincoln City.
Central Oregon Coast Trans Community
COCTC a support group for transgender people and their families in Lincoln County holds monthly get-togethers at 6 p.m. on the fourth Wednesday of each month at St. Stephen's Episcopal Church, 414 SW 9th Street in Newport. For more information, contact Marci Grace Frederic, 541-264-1936.
See more calendar and entertainment events at thenewsguard.com.