It's been said that nurses won't remember all their patients – but patients will never forget those extraordinary nurses who help to make difficult times a bit easier.
For the Kellogg family, that one nurse is Michelle Watson, RN, who works in the intensive care unit at Samaritan Pacific Communities Hospital.
At a recent virtual ceremony, Watson was selected from among five dozen nominees, and the five top finalists, to be named the hospital's DAISY Award recipient for 2020. The selection committee considered the nominations with no names attached so that the selection would be based on the nurse's remarkable work alone.
Speaking for the family, Kat Kellogg of Newport wrote in her DAISY nomination:
"Michelle Watson was part of an outstanding team that cared for our mother. We want to recognize Michelle for her authentic and deliberate compassion, patience and thoughtfulness.
"My mother was in ICU with intense pain for over a week while her body was failing her. Through all the emotion and tears we made the decision to bring in hospice. Michelle was by Mom's side the entire time she worked. She brought her a CD player to listen to classical music, gently talking and always checking in on the family. She helped us understand what hospice was and the process at which Mom's body would pass.
"She will always be in our hearts as the 'light' during a dark time when we needed someone to guide us and lift us up."
At the virtual ceremony, Kellogg attended in-person and had the opportunity to thank Watson personally, one more time, and to give her a lovely fresh flower arrangement. In addition, Watson received a DAISY pin, award certificate and a hand-carved stone sculpture entitled "A Healer's Touch."
Along with the public recognition, DAISY award winners also receive financial discounts for nursing certification training; reduced tuition for continued education; conference scholarship opportunities; and are eligible for a national DAISY Award for extraordinary nurses.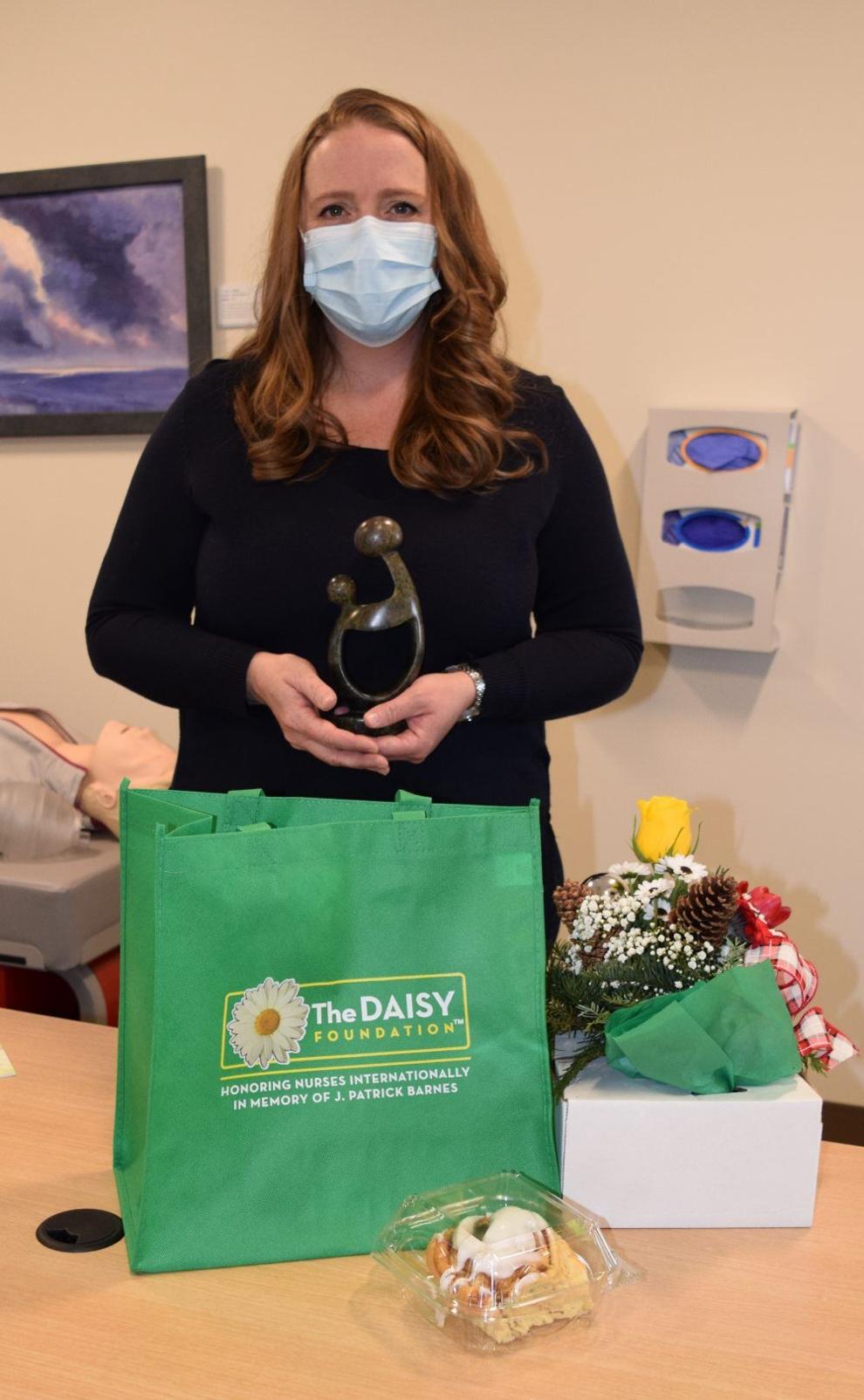 Watson began her Samaritan career as a certified nursing assistant in the hospital's medical/surgical unit in March 2009. She moved into the role of department secretary, then administrative assistant in the same department while simultaneously attending nursing school. She became a new graduate nurse in the intensive care unit in August 2019 and is now a registered nurse.
Others who were in the top five for the DAISY Award were Theresa Capri, post-anesthesia care unit; Bessie Stokach, case management; and Sydney Ewing and Irwin Langeberg, both working in the intensive care unit.
The DAISY Award was established by the family of J. Patrick Barnes to "honor the super-human work nurses do for patients and families every day wherever they practice, in whatever role they serve and throughout their careers, from student through a lifetime of achievement." To learn more, visit daisyfoundation.org.