September 11, 2001 is a day that holds a tremendous impact on the United States of America.
The City of New York and those at Ground Zero suffered many great losses. But in the following months many came to the aid of a mourning city, including members of the Lincoln City community.
On Sept. 11 this year, the community will host a special event to remember that fateful event that occurred 18 years ago and to remember the bond that was formed from Coast-to-Coast.
The event in partnership with The News Guard is scheduled for 6 p.m. at the Lincoln City Cultural Center and will include food from Mo's Restaurant, who served food to FDNY stations after 9/11, displays of memorabilia, photos and a special video presentation about the Coast-to-Coast connection.
"We don't want it to be a memorial, because the event happened 18 years ago," North Lincoln Fire and Rescue District Captain Jim Kusz said. "We want it to be a remembrance because so many people were impacted by that event and it's something we can't just forget."
The community will learn about 9/11's impact on the Lincoln City community and honor all the men, women and children who died and acted courageously (UA93, the Pentagon and Towers). This includes all Police, Fire, EMS and First Responders who died that day, and are still dying from cancer (and respiratory illnesses), all the men, women and children who died, were seriously wounded, or suffer PTSD from an event that sparked the longest war in American history, which we are still fighting nearly 18 years later.
After 9/11 a few Lincoln City residents made the trip across the U.S. and visited Engine Co. 55 in New York, treated them to a meal, courtesy of Mo's, and donated a hand carved wooden sign, created by local artist Carolyn Cowgill, which is still hanging proudly in the station.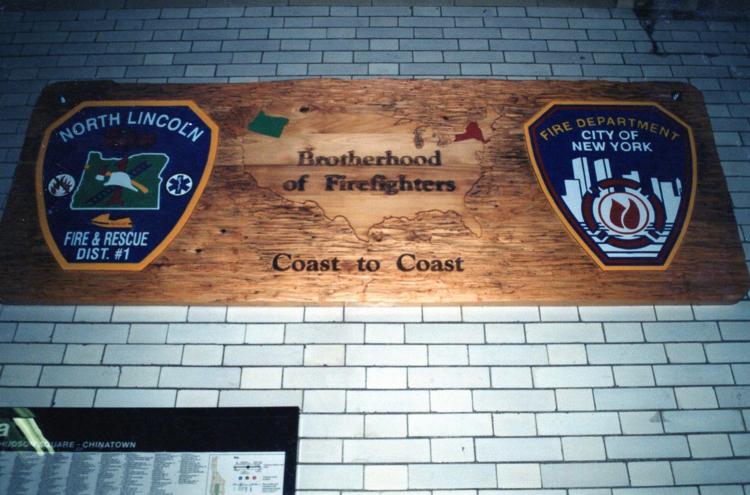 For the event next Wednesday, Kusz hopes many of those community members will come to the event to share their memories, as well as potential surprise guests.
"We're trying to get the band back together, so to speak," Kusz said. "We already have several of those people who made the trip tell us they are planning to attend and we are also hoping to have those from New York possibly call in and talk about that experience."