Pelican Brewing Company announces the final brew in the Lone Pelican cocktail collection of beers with the release of Short Days Long Nights, an amber ale with ginger and lime.
The artful new brew balances rich, sweet flavors with a spicy, tart finish reminiscent of a tropical Dark'N Stormy, a cocktail that combines the flavors of dark rum, fresh lime juice and ginger beer. Short Days is available now in 22 oz. bottles and on draft at Pelican and other participating watering holes.
Short Days Long Nights is a beer brewed to protest the coming of Winter and the onset of dark, chilly, drizzly weather. To counter the prevailing conditions, we have crafted a beer that takes flavor cues from the classic cocktail Dark'N Stormy. A dark amber color sets the stage for an aroma of deep caramel, citrus and hints of ginger. The richness of caramel follows through in the flavor, with a subtle tartness in the finish from lime. A hint of sweetness and a touch of ginger spiciness make for a cold weather beer that can vicariously transport you to a tropical sailboat.
ABV: 7.5% | IBU: 20 | PLATO: 17º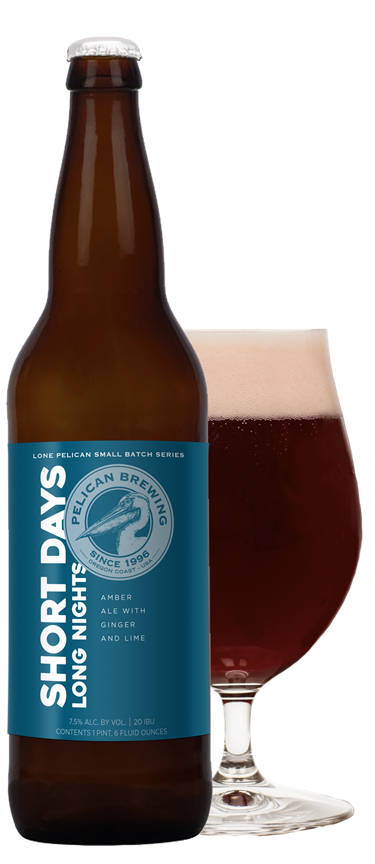 "Designing the Cocktail Collection this year has really allowed our team to flex its creative muscles," said Darron Welch, founding brewmaster, Pelican Brewing Company. "The results are uniquely memorable beers that take beer flavor into uncharted territory."
When Pelican Brewing Company launched the Lone Pelican Small Batch Series its intention was to introduce limited-production beers that explore new techniques, ingredients and under-represented styles. As part of that limited production small batch series, Pelican turned its award-winning talents to crafting an entirely different segment of beer: the Pelican Cocktail Collection.
"Short Days Long Nights reinforces the Pelican way of imagining the flavors and experience of the finished beer—its flavors, aromas, texture, and gingery finish transport us to a warm beach while still delivering the richness and maltiness of a perfect Autumn beer," Welch said. "The Lone Pelican Series has been a fun exploration of so many different flavors you'd never imagine finding in a beer—it's been a fun and challenging process to create such interesting flavors within a production brewery."
Like the lone pelican flying independently from the flock, this small batch series flies in the face of convention. The Lone Pelican Series takes traditional beer styles and ingredients and reimagines them to demonstrate the vast spectrum of flavor experiences possible in this wonderful beverage.
Like all Pelican beers, Short Days Long Nights is born at the beach by a team of award-winning craft beer makers known for brewing styles of beer that they themselves love to drink.
Cheers!