Following the arrests of seven men from Clark County, Washington, accused of taunting and challenging a family of Black persons by yelling racial slurs at them, insulting them and using Nazi salutes towards them, according to Lincoln City Police, news quickly spread to residents of Lincoln City and beyond.
It sparked outrage in many, including resident Laura Joki, who decided to show support for the victims.
Owner of Rock Your World: Pacific NW Rock, Gem & Jewelry Gallery, Joki is also the administrator on several community social media pages.
"I woke up this morning to a message from someone at the Inn at Spanish Head, kind of telling me what was going on, so I started looking for the news articles right away and as soon as I saw the articles, I started spreading the word about this demonstration everywhere," Joki said at the demonstration. "I just thought, 'I'm mad, where can we demonstrate.' I didn't feel it was safe in front of Inn at Spanish Head, so I thought, why not in front of my business."
Joki spread the word about an Anti-Hate demonstration at the Nelscott strip on Sunday (July 5). And her message was simple.
"Our biggest thing was that this community wanted to let these folks who were harassed know that this isn't us, this isn't what we're about," Joki explained. "We love diversity and we love all our different visitors that come. This doesn't reflect us and we are sorry this happened in our town."
Joki was joined by numerous local residents who brought signs, waved peace flags and were met with support from many passing cars who honked their horns. One attendee, Joanne Daschel, a Lincoln City resident for over 16 years, felt like it was her duty as a resident to show support for the victims.
"I believe that Lincoln City doesn't stand for the hatred that was shown yesterday to that visiting family," Daschel said at the demonstration. "I think locals need to show up and make it clear to the rest of the world that we are not about hate and that we love our neighbors."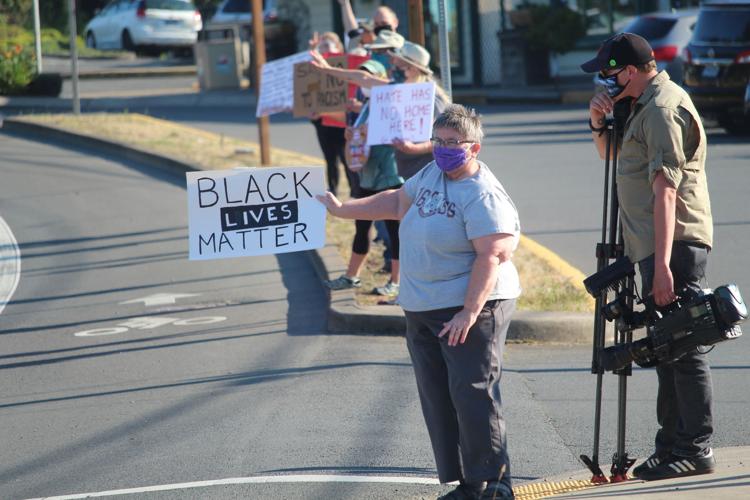 Oregon State Representative David Gomberg also showed up to the demonstration to show support. Gomberg said he had heard about the incident early in the morning and felt the same sentiment as many Lincoln City residents.
"It was very distressing news and I wanted to come out and join people when I heard there was going to be an impromptu gathering," Gomberg said. "Lincoln City is a warm, kind and welcoming place. If somebody wants to come here and harass our guests or provoke our police, they should just go somewhere else or just stay home.
"There's a lot going on this weekend and I know people have other things to do, but I don't know that there's much more important things to do than being out here to make a positive statement for our community."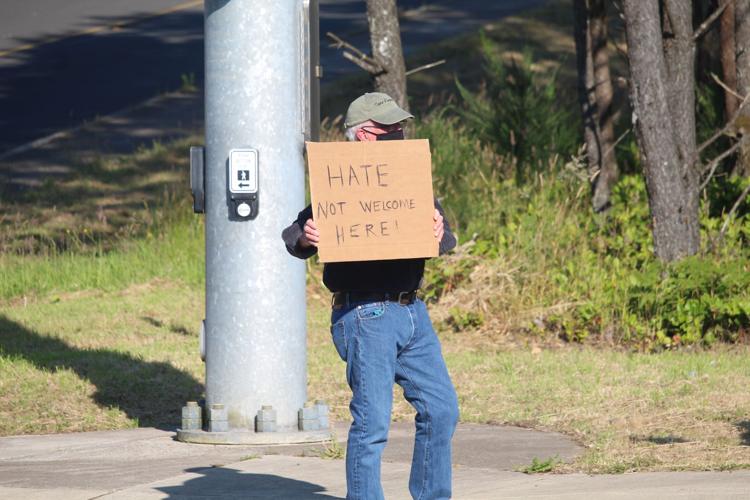 Joki said she was surprised and pleased to see many people show up or drive by to show support.
"I didn't expect Gomberg to come and we have Councilor (Judy) Casper with us as well, so we have some nice City representation," Joki said. "It's just pretty awesome to come for an hour just to express that this is what we are about, we are not about what happened last night and we are all upset about it."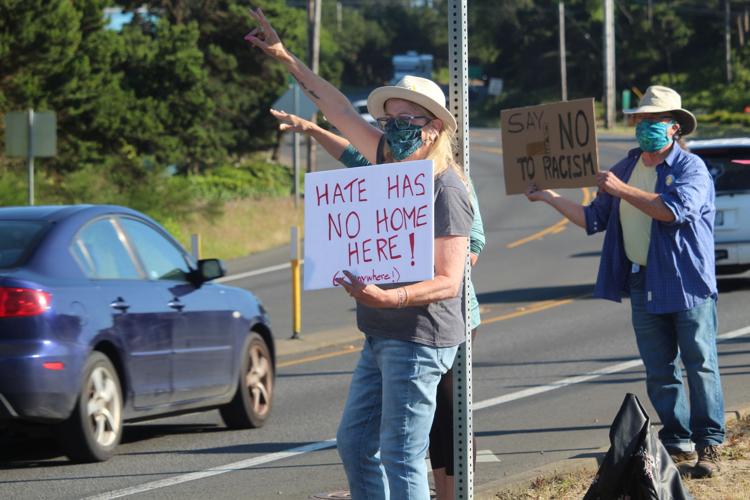 Update From the Lincoln County District Attorney
The seven men arrested on charges of Rioting, Interfering with Police, Disorderly Conduct II, Harassment, Possession of Illegal Fireworks and Offensive Littering, were all cited and released. The Lincoln County District Attorney's office has been fielding calls and emails asking why these individuals were not lodged at Lincoln County Jail and why the men were not charged with any Bias Crimes. Lincoln County District Attorney Jonathan Cable said a certain criteria must be met in order to prove a Bias Crime.
"Unfortunately, using racist or derogatory language is not in itself criminal under Oregon Law," Cable said. "There must be offersive physical contact, destruction of property or threat of serious physical injury to prove Criminal Bias. Thankfully, the quick intervention of the Lincoln City Police officers prevented those things from occurring."
Cable said the District Attorney's office will file the appropriate charges they can prove under the law. He also stated that due to Lincoln County Jail's policy related to COVID-19, which has limited the number of charges for which a suspect can be incarcerated pretrial, the men will not be lodged at the jail.
"Prosecutors from the Lincoln County District Attorney's office were in communication with the officers on the night this occurred," Cable said. "It should be noted that the Lincoln City Police were cheered and applauded by numerous witnesses and did a great job in keeping the victims safe. Our office has spoken to the victims several times since this incident.
"The behavior alleged will not be tolerated in this community and should not be anywhere."