By a vote of her peers, Cherie Melton, RN, was named the 2019 Employee of the Year at Samaritan North Lincoln Hospital.
Describing Melton as a calm, compassionate and creative role model, SNLH Chief Executive Officer Lesley Ogden, MD, presented this coveted award during an online celebration earlier this month. When asked to comment about the award, Melton praised her coworkers – those in her department as well as throughout the hospital.
"I have the best co-workers here at the Family Birthing Center. We are a very cohesive group and we know the strengths each of us contributes to providing the best patient care," Melton said. "Our manager, Jen Pierce, has done a lot to foster this cohesiveness and help each one of us become the best we can be. I really feel like part of a team, not just in my department but through the whole hospital, and I am very proud to work here. Thanks to all!"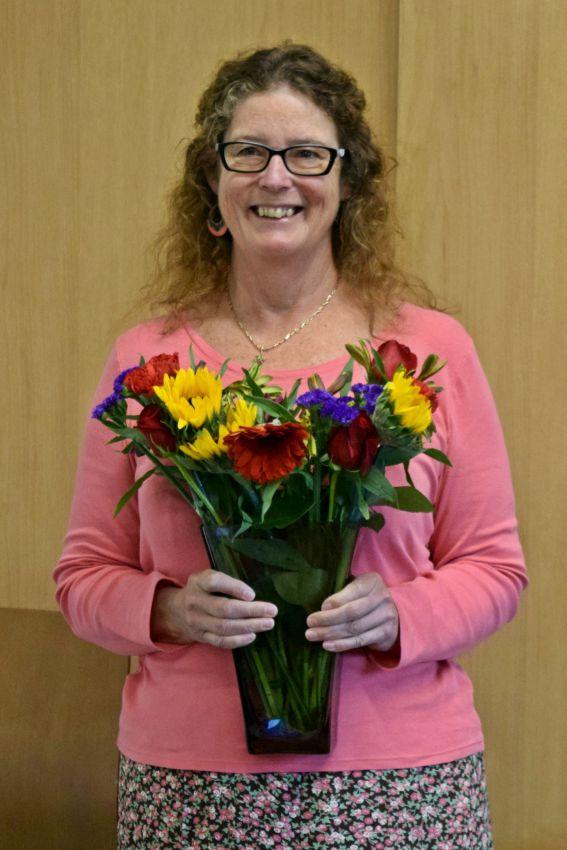 Melton originally worked at Samaritan North Lincoln Hospital from 1987 to 2008, first as a medical/surgical unit nurse, then as a labor and delivery nurse and clinical coordinator. After some time away, she was rehired in February 2009 and has been working with newborns, new moms and new families ever since.
Melton was originally named employee of the month in May 2019, which made her eligible for consideration as employee of the year. At that time, several nominators praised her with such comments as:
• Cherie's attention to detail makes her an incredible preceptor. She is patient, easy-to-laugh and calm and creative with her patients and coworkers. Cherie also adds a wealth of knowledge and history to our unit, which is incredibly valuable given how many new-to-OB nurses we have.
• She can be counted on to compile the education folders. She greets all patients and their families like they are her own. The care she provides is extremely compassionate and very personal.
• Sharing your knowledge and skill with all of the new nurses, helping them develop and grow as professionals, is invaluable! You are so flexible and help your coworkers to trade shifts and help when we're short-staffed. You are a fantastic role model!
• Cherie is always willing to help. She loves to teach and is always willing to learn something new. Her smiles can be seen hospitalwide.
• Cherie is a hard worker. She always goes above and beyond. She cares and supports her coworkers. She's always willing to help.
Each month throughout the year, hospital employees are invited to submit nominations and the Employee Appreciation Committee is responsible for making the final selection. Those selected to be honored demonstrate a commitment to work excellence, provide high quality customer service and are enthusiastic and valuable team members. They also show a commitment to Samaritan's PRIDE values: passion, respect, integrity, dedication and excellence.
At the end of the year, all staff are invited to vote for one of the 12 monthly winners to receive the top honor. The recipient receives a generous monetary reward, a traveling trophy and smaller prizes in appreciation. This year's Employee of the Year selection and celebration was delayed by a few months because of the opening of the new hospital in early February, which was soon followed by the declaration of a coronavirus pandemic emergency.