The Lincoln County Community Justice Department was recently awarded a grant for 10 days of work crew service for the cleanup of areas in the Siletz community.
The clean-up was paid for by a generous $4,500 grant funded by the Siletz Tribal Charitable Contribution Fund and this week the Lincoln County Community Justice Work Crew completed cleanup of illegal transient camps and used needles.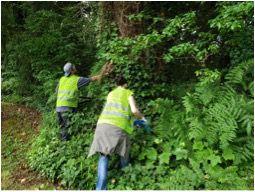 The work crew members successfully cleaned up areas around city services including the post office, library and cemetery. Furthermore, the crew removed brush, vegetation overgrowth such as ivy vines from the trees in the parks and the Siletz Sweat Lodge. The work crew also worked an extra day to finish clearing brush, ivy and tree trimming at Government Hill.