Mark and Wendy Olson have been the designated pastors of Chapel By the Sea since they moved to Lincoln City in November of 2017. On Sunday, July 7, the congregation recognized them in an Installation Service as permanent pastors.
This event was a worship service 'party' that publicly acknowledged the indefinite commitment of Mark and Wendy to the congregation and the community. Members of the church were present, as well as friends and mentors from a church that the Olsons attended over 20 years ago.
Mark and Wendy met at a birthday party in Fairbanks, Alaska in the spring of 1979, and recently celebrated their 39th wedding anniversary. They have two grown children that live in the Portland area and three grandchildren, as well as another on the way.
Prior to working in Lincoln City, the couple served three smaller rural congregations in Western Indiana. They both attended seminary at the University of Dubuque Theological Seminary in Dubuque, Iowa, and have been ordained as ministers for 25 years. They have served in ministry in Hawaii, Alaska, Ghana (West Africa) and it is clear they have a passion for the Gospel.
Currently, Mark and Wendy Co-Pastor Chapel By the Sea, as well as a Community Presbyterian Church in Waldport.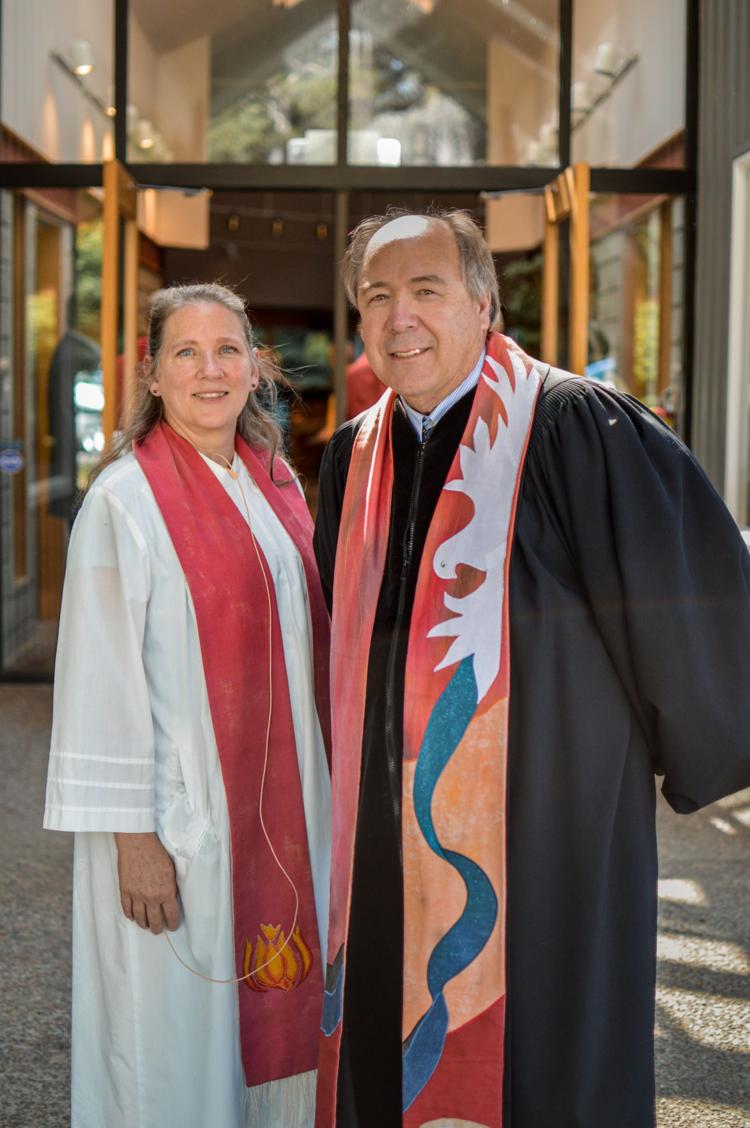 When asked what brought them to Lincoln City, Wendy replied, "We were both really drawn by a healthy, vibrant church that is excited to be involved, where we can share the love of Christ and engage the community."
They both enjoy spending quality time together at Pacific Grind Cafe, as well as Salt Cafe, which is the newest addition to the Lincoln City Outlet Mall. The Olsons love walking on the beach at D River, and own a house overlooking Devil's Lake. The couple was adamant that they thoroughly enjoy being anywhere that allows them to meet new people and interact on a personal level.
Mark and Wendy's vision for the church is that it would be "A watering hole or rest stop that is open and radically welcoming for people who are journeying. Somewhere that anyone can be welcomed and feel both safe and challenged, be refreshed, and to go out into the world and provide the same energy and love to others."
One of their goals for the next few years is to establish a stronger connection with the community, in order to better broaden their impact and outreach.
In addition to Wendy being on the board of My Sister's Place, a local shelter for survivors of domestic abuse, the church has partnered with BASHA in Bangladesh, which provides women that have been rescued from trafficking with jobs, housing and trauma therapy.
Chapel By the Sea also founded the Warm & Dry program, which pays for laundry at Posh & Wash for local or transient homeless individuals. Mark is a member of Lincoln City Rotary, and they both serve on the Community Advisory Board for Head Start.
Around Christmas Time, the church partners with their neighbors over at Head Start, where they host art lessons for parents and kids with a local artist. They display the artwork in a gallery at Chapel By the Sea, and funds raised enables the kids to buy Christmas presents for their family members.
Chapel by the Sea, which has been an integral part of Lincoln City, has been around since 1937. Initially, the church was located in Nelscott by the beach, and was relocated in 1992, where it is perched in the treetops above the Hilltop Restaurant.
Chapel by the Sea is located at 2125 SE Lee St, Lincoln City. Worship Service begins at 10 a.m. on Sunday mornings, and all are welcome. If you would like to contact Mark or Wendy Olson, they can be reached at the main church phone at 541-996-2070.