Now more than ever, we're reminded that we need to be prepared if a disaster occurs, says Ken Murphy, Lincoln City Emergency Management Coordinator.
This is why the City of Lincoln City has been working for a while now to fill six emergency caches with emergency supplies for the community.
The City took another step towards preparedness recently by purchasing 3,000 water filters and 3,000 emergency food bars for the caches. Sticking to their goals of supporting local businesses, the City purchased the supplies from Lincoln City Sporting Goods and Electronics.
It's not the first time the City has gone to owner Bruce Polvi with an order list. Not too long ago, the City purchased emergency go bags for its employees from the local shop.
"We've always tried to buy local and we've been working with Bruce for quite some time now," Murphy said. "He does an excellent job at getting us what we need and always works to get us the best price he can. We're really appreciative of him opening his doors for us during this time."
As is the case with many businesses throughout Lincoln City, Polvi's store has been closed during the COVID-19 pandemic.
"We have now been in business for 30 years and have been closed for over a month for the first time in our history," Polvi said. "We're looking forward to getting back in the game, but we're also taking care of customers where we can on a daily basis."
The purchase by the city is just a small portion of what is needed to fill all the caches in Lincoln City. The 20 foot containers are spread throughout town and will serve about 1,500 people each, according to Murphy.
"It'll take care of general needs and be enough to keep you alive during a disaster," Murphy said.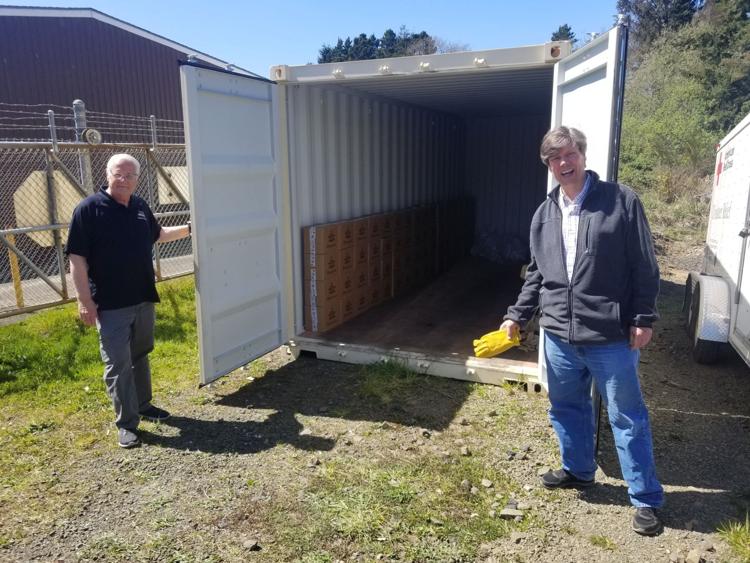 Inside each container, Murphy hopes to have 30 55-gallon water barrels, hand flashlights, blankets, rain ponchos, handwarmers, water filters, dust masks, energy bars, work gloves, medical kits, shovels and picks.
"I'm also working on getting some kind of tents to include in each cache as well," Murphy said. "It will be something relatively  simple, I haven't decided yet."
Food is currently going to be limited to the energy bars, as Murphy wants to preserve the supplies for as long as possible. He is also working to get everything in plastic containers to further preserve the equipment.
Currently, Murphy said he has enough supplies to fully fill two caches. His biggest obstacle is funding. And taking the current pandemic into consideration, funding will continue to be a question mark for the City.
"Each costs about $35,000 to fill," Murphy said. "Hopefully we'll have enough funding to be able to fill them all and even buy a couple more for the city. I have had a lot of support from the City of Lincoln City and I don't know how this pandemic will affect my funding, but I hope I get a chance to fill them."