At 23 years old, it's rare for anyone to own their own business.
For Lincoln City resident Oscar Ochoa, he's accomplished that feat and doubled down by purchasing his second business just over a month ago.
Ochoa said his family came to Lincoln City when he was five years old, where he grew up and graduated from Taft 7-12. During those years he worked different jobs, primarily in construction, but also spending a few summers serving ice cream at Snack Attack, located at 100 SE Hwy 101.
After high school, Ochoa dove into construction, building homes, decks and everything in between. Eventually, he decided to start his own business, Oscar Ochoa LLC.
"I do jobs mostly around Lincoln City," Ochoa said. "This biggest jobs are the rot repairs, I get quite a few of those."
Through his primary job in construction, Ochoa learned from a local realtor that Snack Attack was for sale.
"I had heard this business was selling for about $75,000 and I just thought about the potential of it and figured it would be a fun project, especially given the location here," Ochoa said. "Then about two months ago, the price dropped down to $40,000 and I continued talks with them and I became really interested."
Eventually Ochoa took a chance and bought it.
There's always a risk that comes along with purchasing a business. And given the COVID-19 pandemic that has swept through the United States, that risk is magnified tenfold.
"It was scary, but it was more faith for the future," Ochoa said. "I knew this year we were still going to have good business because people are still coming to the coast. We've been trying our best to keep it safe, making sure people wear masks, continuously cleaning.
"But really I made the decision to buy because I saw there was a lot of potential to revamp this business."
Ochoa took over on June 16 and for two weeks, he and family and friends were hard at work remodeling the interior by ripping up carpet, repainting the whole place and adding a chalkboard style menu. He opened for business on June 23 and has been offering up fish and chips, hot case foods (BBQ burritos, chicken strips, mozzarella sticks), salt water taffy, caramel corn, fudge and, of course, Tillamook ice cream.
"The ice cream is a favorite," Ochoa said. "The most popular flavor is the cotton candy, I think it's the color of it because the kids love it. But we run through like six gallons of it a week."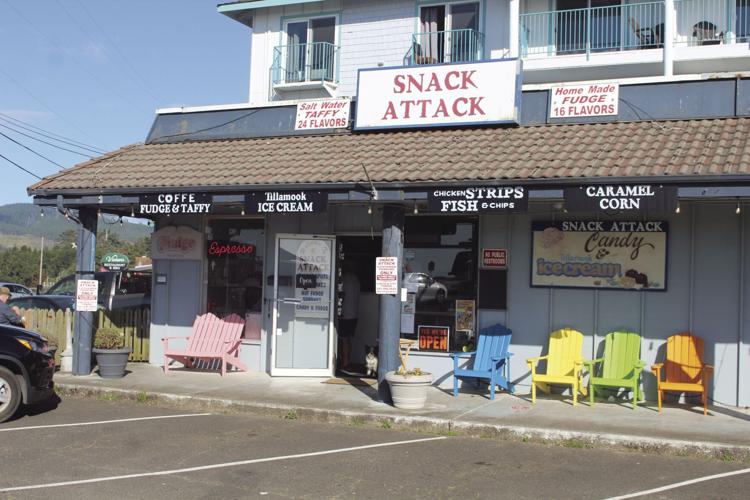 Open 11 a.m. to 6 p.m. during week and 11 a.m. to 7 p.m. on the weekend, Ochoa said he's been working 24/7 between his two businesses. Luckily, he has had some help from his girlfriend Mackenzie Markham, who has been handling the day-to-day operations at Snack Attack.
"She's been a huge help to me through all of this," Ochoa said. "It's whole different experience. Construction is way different because we aren't day-to-day interacting with customers. Here we're talking to hundreds of people a day.
"I don't like staying in one position. I like to get out of my comfort zone and push myself to be more successful."
In the future, Ochoa said he's working on improving the quality of the food by possibly bringing in a food stand outside to serve tacos or burgers during events like the Kite Festival. He said he'd also like to include a 10 percent discount for locals.
"We want more locals to come in, especially during the winter months," Ochoa said. "It can get super slow but we'll still be here for the community."
In the uncertain times of the pandemic, Ochoa said business has been a lot better than expected, with hundreds of customers coming in almost daily. Being just over a month into business, he said he's still finding ways to make improvements.
"I never thought I'd do this. Nobody taught me how to do this and I didn't go to college, so I'm still learning as I go," Ochoa said. "But I've done a lot of research and I've had a lot of help and support from family and friends."