It's what some might call a happy accident or a pleasant coincidence.
When you walk into the new Samaritan North Lincoln Hospital, you'll see several striking photographs, most containing a hidden heart, tucked away in nature.
"It's like a little hidden meaning that maybe isn't meant to be there, but it's really special for us because it's what we do… we take care of people," said Chief Executive Officer Lesley Ogden, MD, MBA, FACEP.
The photos in the new $42 million facility are the handy work of local photographers Bob Gibson and Jeri Knudson, owners of The Photography Studio in the Taft district of Lincoln City. Working together in some way or another since 1992, Gibson worked as an human resources consultant in West Linn and met Knudson who worked for a company that he was doing HR consulting work for.
"We kept in touch and when we discovered we both did photography we started working together," Knudson said.
The pair each their own photography business, Gibson coined Blue Water Photography and Knudson owned JAKs Photography Studio. In 2013, they began exclusively working together.
With year's of photography experience, Gibson and Knudson have put together several wonderful pieces of art. But when the hospital approached them with an ambitious goal of creating large high definition images for their new building, they were a bit skeptical.
"We had a meeting and they told us they needed high resolution photographs that could be enlarged up to 27 feet high and others that would be 12 feet high by nine feet wide," Gibson said. "We looked at it and we figured that we needed to come up with a strategy because I wasn't sure if it was even possible. But Jeri said, 'I think we can do it,' so we went for it."
From the beginning design plans, Ogden said there was a plan to use more photography in this hospital than they had before, since it could be cleaned easier than other pieces of art. Once SNLH executives began talking it through with architects, they came up with a vision for what they wanted.
However, the images they received were not quite what they were looking for.
"As we got into what those images would be, we were presented with some stock photos from an outside company that were clearly not from around here," Ogden said. "It wasn't part of our vision."
Another challenge was finding photographers that could enlarge a high definition image on a grand scale. Ogden said she knew just who to call once they began talking about the specifications.
"We needed a greater skill set to produce the final product that we wanted," she said. "I said, there's only one person in town that we knew could do it. So we contacted Bob and Jeri."
The Photography Studio was given the task of finding forest shots and beach shots that fit the mold of the hospitals concept design. The idea of the new building is to feel like you are walking into a forest as you enter, says Ogden. This is why visitors will notice brown and green colors toward the entrance.
As you walk through the hospital, walking toward the Devils Lake, visitors will progress through the forest to the ocean or lake and the colors start changing to blues.
"We used our creativity to create our photographs after we were given the topical subject for each one," Gibson said. "It was quite a project to work on. But to hear all the positive feedback… it's just incredible and makes it really rewarding."
To find the images, Gibson and Knudson visited Agnes Creek, Fogarty Creek Beach and the beach near Nelscot. Luckily for them, each image seemed to find them, rather than the other way around.
"It's amazing because when we went to Agnes Creek, we spent time looking around and then all the sudden it was there," Knudson said. "It wasn't like we had to look all over, each image just kind of came to us, which I thought was so cool."
After taking the photos, they were then sent over to Ogden and her crew, who seemed to have an 'aha' moment of their own as they looked through multiple images.
"When we looked at them we thought, which one speaks to us the most," Ogden said. "In every case, something just stood out and we said, 'that's the one.' It's probably the easiest, most fun meeting I was apart of."
The photos were then printed courtesy of a company in Illinois on something that resembles a vinyl wallpaper. Installers pieced together the large photos and the final product was stunning.
"It was really a function of the photography we did and the processing, and we were able to pull it all together," Gibson said.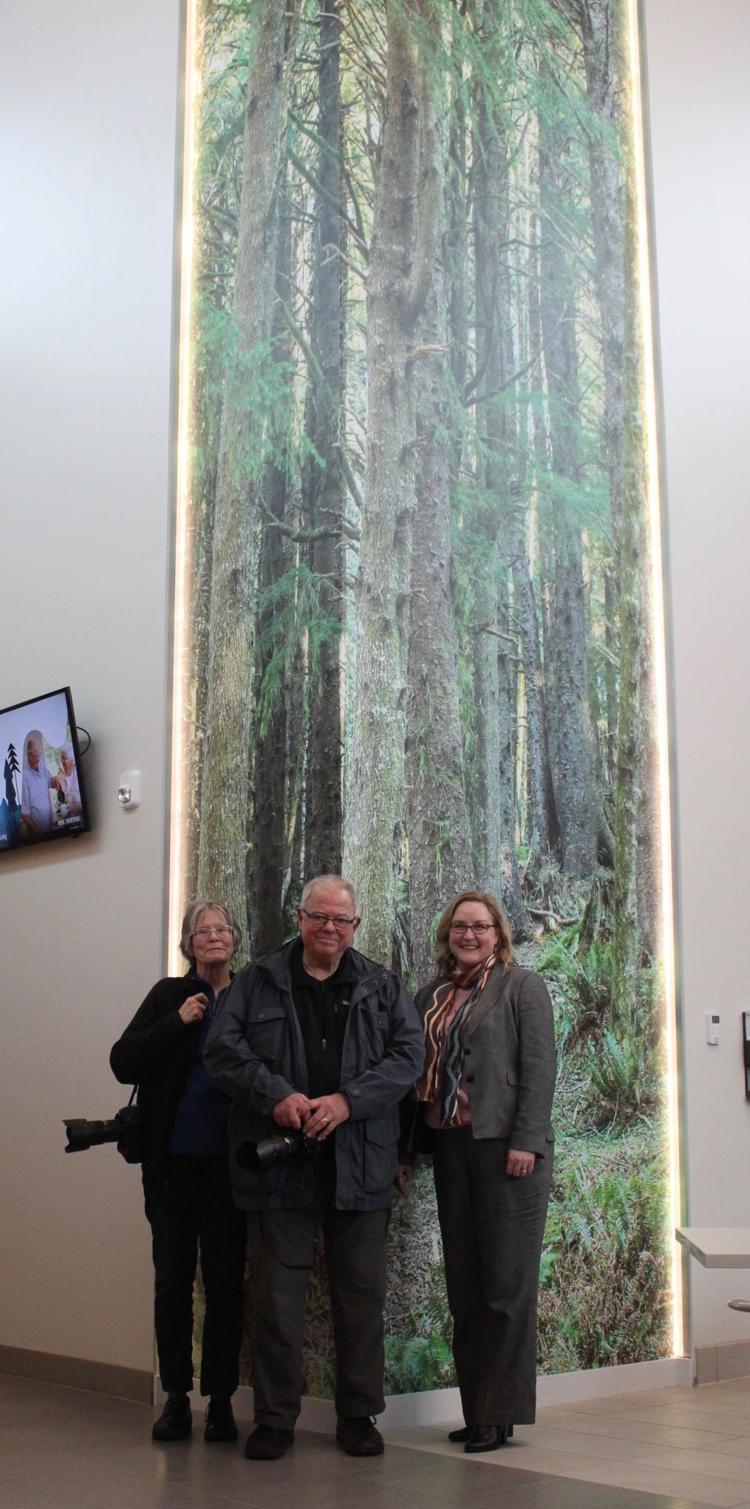 The unique images feature some of the more remote areas of North Lincoln County and it wasn't by accident.
"We are often asked to take photos that will represent Lincoln City, like the iconic shots of Cascade Head or the four brothers in Siletz Bay, but this isn't like that," Gibson said. "I think that's kind of a cool thing."
For the hospital staff, they couldn't be happier with how the photos and installation turned out. What makes it even more special was the fact that local photographers captured very local, one-of-a-kind images.
"Anytime we can use local we will," Ogden said. "It doesn't make sense to bring in someone from the outside when there are people here who can do it. It also makes it our hospital in that way. That's why I think this is so special, because it's part of us."