It's no secret that soccer is a big deal in Lincoln City.
And after the Taft 7-12 boys soccer team made it all the way to the semifinals of the State Playoffs this past fall, head coach Ryan Ulicni started thinking even bigger for the town's soccer program.
For the past five years, Ulicni has been drafting an idea to create a non-profit organization that would provide year-round soccer to the community, and build an indoor soccer arena to support it. After his successful second season with the Taft Tigers, Ulicni got to work and created his non-profit group titled 'Sand Tigers Inc.' It was the first step in what he first began dreaming of before coming to Lincoln City three years ago.
"Moving from Pendleton, Ore., where soccer is kind of non-existent, it's very hard to pitch this kind of a plan," Ulicni said. "I still worked on it, still wanted to do it and everybody thought it was a great idea, but there just wasn't any support. Here, there is the support. There are people behind it that would love to see this happen. I'm doing the work and I think it's going to pay off in the end."
The mission of Ulicni's non-profit is to nurture the physical, mental and emotional growth of the youth through the sport of soccer. Teaching from grass roots level, up to advanced skill training.
After coaching the fall season, Ulicni came to the realization that their success was predicated on the dedication of the kids who have been working on their skills outside of the season, which is what kicked him into gear to start a year-round program.
"It really doesn't come down to my coaching, it comes down to is that small group of kids that have done things like this for years," Ulicni said. "They've taken advantage of every little program they could find that was within reach. But it was only a small core group of kids. If we had their whole class doing something like this we could start competing with the big boys, easily."
Ideally, Ulicni said he would like to launch his year-round program in spring of 2021. For the program it won't just be a few games in the spring in summer. It will be full training sessions and competitive play.
"Kids can get the experience that they need, through skill lessons and those who are advanced, of course, we can make a travel team, still teach them, and take them to tournaments," Ulicni said.
The program also won't be limited to just high school players. It will include kids as young as 18 months and include adult divisions as well.
"There should be something for everyone," Ulicni said. "I'm even proposing a child development program. It's a little kickers program ranging from 18 month to nine years old. It's fantastic, parent inclusive and gets everyone involved."
According to Ulicni, Lincoln City currently has over 200 kids competing in the soccer program during the fall, just ages six through 14. During the offseason, several are playing other sports, but others aren't.
"There's no soccer right now," Ulicni said. "They cut the indoor soccer season at the community center to extend the basketball season, which is fine. They still play once a week, but they aren't really learning. It's more of a recess kind of a feel.
"I'd like to include every age group, similar to how the Community Center operates now, because they do a lot of fantastic things. I would just keep the focus on soccer."
To help accomplish his goal, Ulicni has also drafted a plan to build an indoor soccer arena to accommodate the community during the cold, rainy season. The 300 ft by 150 ft facility would hold two fields, locker rooms and showers, a food court and several rooms.
"I could set up a small indoor arena that would host one field, one game at a time, and it wouldn't draw much attention," Ulicni said. "What I'm shooting for is a bit more of a reach, because it is like a youth community center. There's possibility for other sports to use it as well and train indoors."
The size and space Ulicni has been scoping out can easily host two full teams inside and provide enormous possibilities for other community sports. Creating a single activity space would alleviate the pressure from other facilities and provide easier scheduling. Additionally, Ulicni said it would be easier to provide longer and more meaningful lessons for the kids' experience.
"In this program I would be getting coaches ahead of time and training them, and getting referees and training them," he said. "It would be more of a proper learning experience for everyone. I just want a better quality experience for the kids."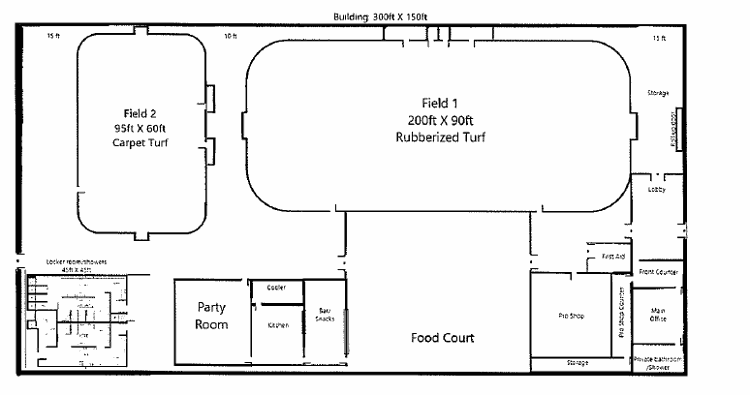 Currently, Ulicni is waiting for his 501(c)(3) application to be processed, and then he will be applying for grants. In the mean time, he's been getting out in the community and building support.
"Going out and getting the word out is what I've been doing," Ulicni said. "Going and talking to people, talking to businesses, talking to parents, I'm going to city council meetings, parks and rec meetings. I'm just trying to get the whole community involved because I think it's something that will benefit Lincoln City."
Regardless of if he is able to build an indoor facility, Ulicni said a year round program is something he definitely wants to make happen in Lincoln City.
"In the spring we'd do additional training with just small games and we could do something in the summer that would be more play than training," Ulicni said. "We could make up a couple of teams and bring in other schools like Newport, or teams from Salem to play games."
Overall, the goal is to create opportunity for the kids in the community to play year-round, while also providing the best education and environment possible. Soccer has been a passion of Ulicni's his entire life. As a coach at every level and advocate of the game, he sees the potential of a full fledge soccer program in Lincoln City.
"I grew up in Chicago, and I played all year long and I got trained all offseason up until fall season… and fall season was where you put it together and you win," Ulicni said. "I would love to bring that here. It's totally possible to do just take somebody willing to do it. There is support, so I do believe it's possible."