At their regular meeting May 24, the Lincoln County Board of Commissioners voted to extend, for a fourth time, the moratorium on short-term rental licenses in unincorporated areas of Lincoln County, first imposed in March, 2020, to November 1, 2021.
The commissioners previously indicated intent to to make extensive changes to the county's short term rental program by June 1 — limiting licenses, lowering occupancy rates, increasing septic system oversight and implementing additional methods of enforcement.
County Counsel Wayne Belmont said that significant work by county staff is necessary to ad-dress the changes requested by the commissioner, explaining that demands placed on the county by the pandemic of the wildfires were responsible for the extensive delay.
In response to the commissioners preference for area-specific caps or percentages, Belmont presented a proposed map dividing the county into seven regions in order to give the com-missioners an idea of concentration levels of STRs in the county.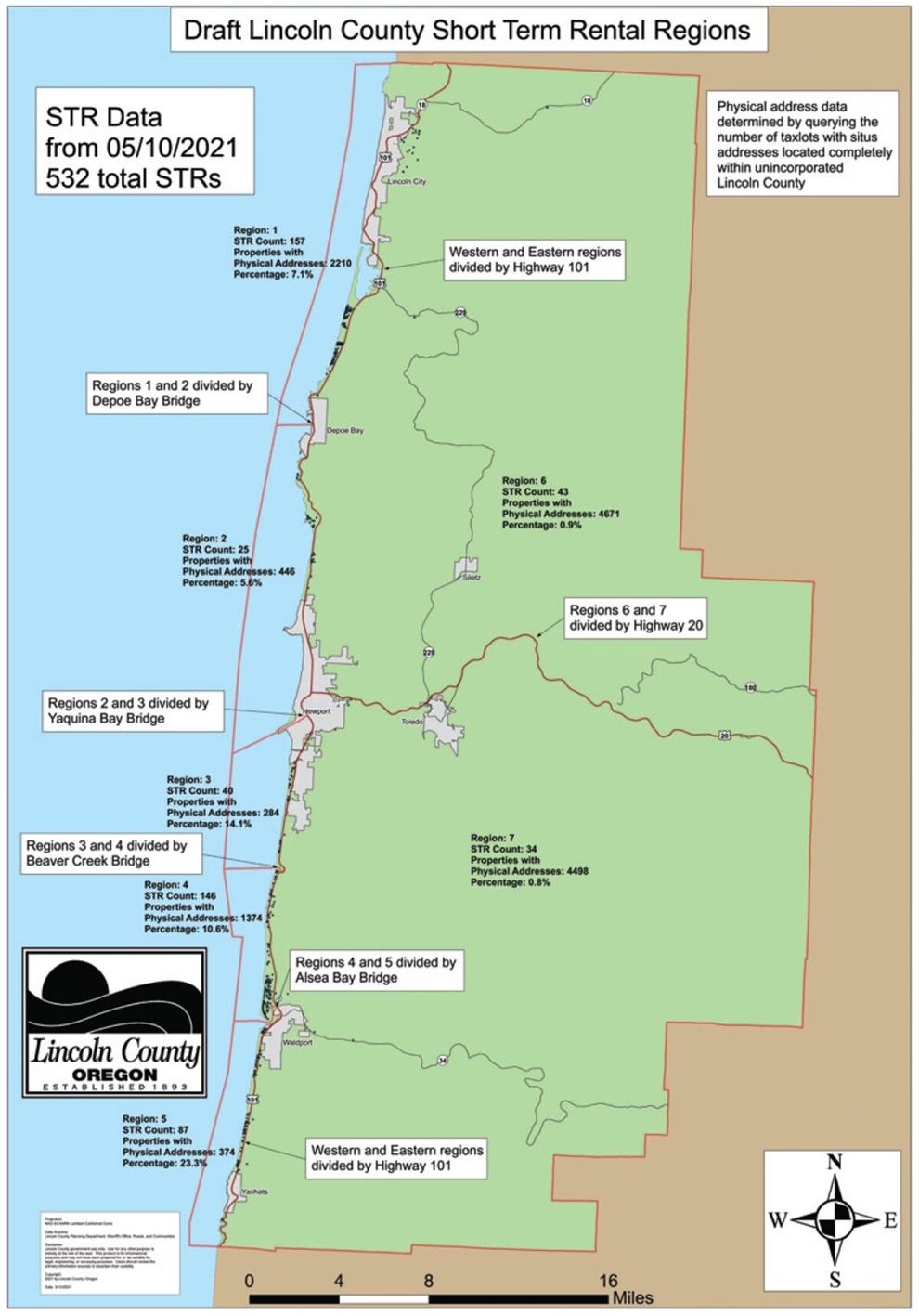 There aren't many STRs in region 6 and region 7, which combined make up all of the county east of highway 101, Belmont pointed out. With 9169 properties with physical addresses in regions 6 and 7, there are 77 STRs total— just .9% and .8% of addresses in those regions, respectively.
In region 1, west of Highway 101 from the northern county line to the Depoe Bay Bridge, there are 2210 addresses, with 157 STR comprising approximately 7.1%.
Region 2, from the Depoe Bay Bridge to the Yaquina Bay Bridge, has 25 STRs out of 446 addresses, or 5.6%.
Region 3, from the Yaquina Bay Bridge to the Beaver Creek Bridge in Seal Rock, has 284 ad-dresses. Forty, or 14.1% of them, are STRs.
In Region 4, from Beaver Creek to the Alsea Bay Bridge, there are 146 STRs making up 10.6% of 1374 addresses.
Region 5, the southernmost part of the county west of Highway 101 from the Alsea Bay Bridge to the county line, has the highest concentration of STRs — 23.3%. Out of 374 addresses, 87 of them are STRs.
"Ten percent or higher seems to me to be an awfully high concentration of STRs in those are-as," said Hunt. A percentage cap would likely reduce STRs west of the highway and allow for an increase east of the highway, he suggested.
Commissioner Kaety Jacobson said the map clearly point out some of the problem areas. "But we already knew that," she said, "from the public comments."
Jacobson told Belmont she wasn't sure what number or percentage she preferred, but 23.3% was too high.
Hunt noted the highest concentration of STRs are in the most remote areas of the county, which makes law enforcement more challenging. Enforcement, he said, is an important part of the process.
Jacobson expressed frustration at another delay."I really want to be done with this process," she said, indicating that she hopes there will not be a further extension.
Chairman Doug Hunt agreed, expressing a desire to get it right. "In the long run, we'll have a better ordinance that addresses concerns."
Hunt and Jacobson voted in favor of extending the moratorium. Commissioner Claire Hall was absent.