On Oct. 31, at approximately 2:49 p.m., Newport Police Officers, along with Newport Fire Department personnel were dispatched to a structure fire in the 800 block of SW 7th St. in Newport. 
Responding Officers located a residential building fully engulfed in flames upon arrival. Newport Fire personnel, along with Fire Agencies from surrounding areas began fighting the fire upon their arrival.
During the initial attack on the fire, a resident of the location, identified as Josie Waterman, began causing a disturbance by attempting to retrieve personal items from the burning building. Waterman was warned numerous times by fire personnel and police officers to stay out of the area as it was dangerous and her actions were interfering with the fire fighters' ability to conduct their operation.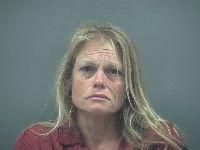 "Waterman refused to cooperate with the orders and continued to try and get to the residence," stated the Newport Police Department. "After numerous attempts to get compliance from Waterman, she continued to interfere with fire personnel's ability to conduct their operation."
Waterman was taken into custody for Interfering with a Firefighter, a class A Misdemeanor and  was lodged at the Lincoln County Jail.
The cause of the fire is currently under investigation.
Anyone with further information regarding this incident is encouraged to call Officer Vincent Boutwell at 541-574-3348.