Whether you live within sight of the ocean or well inland, the likelihood of a major earthquake should be on your mind.
We are told there is a one-third chance of a 9.0 in the next fifty years. Do we ignore the possibility? Do we live in fear? Do we move away and abandon our homes? Or do we prepare to survive and recover?
Are you ready for the day Cascadia starts shaking the ground under our feet?
Millions of people worldwide will practice how to Drop, Cover, and Hold On at 10:17 a.m. on October 17 during Great ShakeOut Earthquake Drills!
Oregonians can join them by registering for the 2019 Great Oregon ShakeOut. Participating is a great way for your family or organization to be prepared to survive and recover quickly from big earthquakes– wherever you live, work, or travel. Over 690,000 Oregonians have registered including 24,000 in Coastal Communities.
Drop – Cover – Hold On
Emergency management experts all agree. In MOST situations, you will reduce your chance of injury in any earthquake if you Drop, Cover, and Hold On. Great ShakeOut Earthquake Drills are opportunities to practice how to protect ourselves. You cannot tell from the initial shaking if an earthquake will suddenly become intense...so always Drop, Cover, and Hold On immediately!
DROP where you are, onto your hands and knees. This position protects you from being knocked down and also allows you to stay low and crawl to shelter if nearby.
COVER your head and neck with one arm and hand
If a sturdy table or desk is nearby, crawl underneath it for shelter
If no shelter is nearby, crawl next to an interior wall (away from windows)
Stay on your knees; bend over to protect vital organs
HOLD ON until the shaking stops.
Under shelter: hold on to it with one hand; be ready to move with your shelter if it shifts
No shelter: hold on to your head and neck with both arms and hands
Here is additional information for special situations:
Indoors: Drop, Cover, and Hold On. Avoid exterior walls, windows, hanging objects, tall furniture, large appliances, and kitchen cabinets with heavy objects or glass. Do not go outside during shaking! The area near the exterior walls of a building is the most dangerous place to be. Windows, facades and architectural details are often the first parts of a building to break away.
Outdoors: Move to a clear area if you can safely do so. Avoid power lines, trees, signs, buildings, vehicles, and other hazards. Then Drop, Cover, and Hold On.
Driving: Pull over to the side of the road, stop, and set the parking brake. Avoid overpasses, bridges, power lines, signs and other hazards. Stay inside the vehicle until the shaking stops, then proceed carefully by avoiding fallen debris, cracked or shifted payment, and emergency vehicles. If a power line falls on the car, stay inside until a trained person removes the wire.
In a Store: Drop, Cover, and Hold On. Getting next to a shopping cart, beneath clothing racks, or within the first level of warehouse racks may provide extra protection.
In Bed: Do not get out of bed. Lie face down to protect vital organs, and Cover your head and neck with a pillow while you Hold On to your head and neck with both hands until shaking stops. You are less likely to be injured by fallen and broken objects by staying where you are.
In a Classroom: Drop, Cover, and Hold On. Students should also be taught what to do at home or other locations.
In a Wheelchair: Lock your wheels and remain seated until the shaking stops. Always protect your head and neck with your arms, a pillow, a book, or whatever is available. Special information is available for people who use wheelchairs, walkers, or are unable to drop to the ground and get up again without assistance.
Seven Steps to Earthquake Safety
All of us should be considering steps to prepare, survive, and recover. The Earthquake Country Alliance has worked with experts in earthquake science, preparedness, and mitigation to develop this step-by-step guide for staying safe before, during, and after an earthquake.
Step 1: Secure your space by identifying hazards in your home or workplace and securing moveable items.
Step 2: Plan to be safe by creating a disaster plan with family or housemates and deciding how you will communicate in an emergency. Make sure that your emergency plan includes evacuation and reunion plans, your out-of-state contact person's name and number, and the location of your emergency supplies.
Step 3: Organize disaster supplies at home, at work and in your vehicle. Your "Go Kits" should include food, water, flashlights, portable radios, batteries, a first aid kit, cash, extra medications, a whistle, and fire extinguisher. Don't forget to plan for your pet's needs as well!
Step 4: Minimize financial hardship by organizing important documents, strengthening your property, and considering insurance. Think about what documents you will need if you are away from home for an extended time.
Step 5: Drop, Cover, and Hold On when the earth shakes.
Step 6: Improve safety after earthquakes by evacuating if necessary, helping the injured, and preventing further injuries or damage. Evacuate to higher ground if a tsunami is possible. Look around your environment to identify any new hazards such as leaking gas lines, damage to the building, water or electric lines, or other things that may be dangerous, especially if there are aftershocks.
Step 7: Reconnect and Restore daily life by reconnecting with others, repairing damage, and rebuilding community. After the immediate threat of the earthquake has passed, your level of preparedness will determine your quality of life in the weeks and months that follow.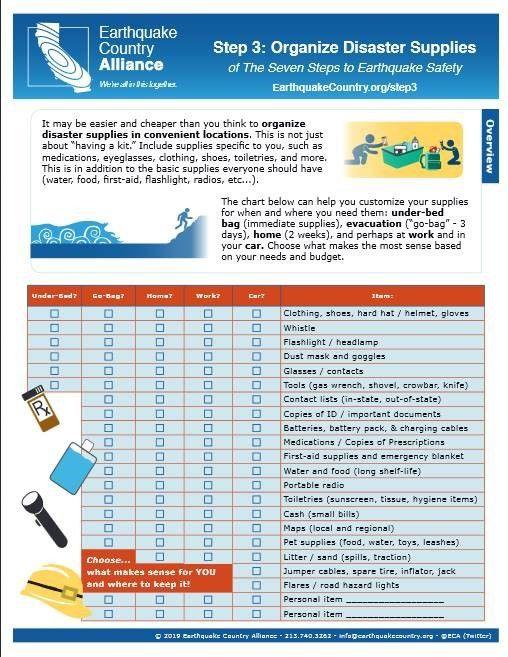 Oregon Solidarity
In case you don't read Portland Monthly, here's a great story on an issue I've been working on inside and outside the Capitol. It is such a wonderful example of the Oregon Way – how we stand together and help each other in adversity.
How Wildfires and Shady Californians Led Oregon Winemakers to Unite: A new collective label, Oregon Solidarity, donates profits back to the Rogue Valley Vintners. By Ramona DeNies in the October 2019 issue of Portland Monthly.
Mid-September 2018: Rogue Valley vineyards hung heavy with ripe grapes, sugars concentrating in the hot sun. For winegrowers like Michael Moore of Quail Run Vineyards, the summer had been heart in mouth (and smoke in eye), as haze from the Klondike wildfire, among others, wafted through the valley. With harvest imminent, Moore and his neighbors tested their fruit for signs of smoke taint: burnt, medicinal off-flavors that can ruin a wine. Luckily, lab results came back within acceptable thresholds.
"As a grower, you spend enormous amounts [of money] getting the fruit to the point when it's ready for harvest," says Moore. "The profit margin is razor thin."
Then, on September 22, Moore and 15 other Rogue Valley winegrowers got a letter from their main buyer—a corporate California winemaker called Copper Cane—abruptly canceling all Southern Oregon orders. Smoke taint was the cited reason, from a single test from an unspecified vineyard. To some, the suspicion was that the winemaker—who just a week prior had been federally challenged by the Oregon Liquor Control Commission over mislabeling nine of its "Oregon" wines—was acting vindictively. (Out-of-staters co-opting Oregon wine's hard-earned prestige is an increasing issue. Copper Cane's Napa-finished wine was called "Willametter Journal"; another label advertised fruit from the Oregon coast, despite sourcing no grapes from that region.) Regardless, the 11th-hour rejection meant that 2,000 tons of chardonnay and pinot noir grapes had become homeless overnight, their growers out some $4 million in lost revenue.
Frantic, the Rogue Valley Vintners broadcast through its networks that tons of lovingly tended fruit—for many of its member growers, their entire harvest—was days away from literally dying on the vine. The plea caught the ear of Jim Bernau and Christine Clair at Willamette Valley Vineyards; within days, Christine and Jim, wine writer Jim Gullo, and Oregon House Rep. David Gomberg packed into a car, meeting Ed and Justin King of King Estate in Southern Oregon to see the situation firsthand.
One week later, an extraordinary plan was set in motion: first, a push to buy and harvest as many grapes as possible—prioritizing smaller outfits and vineyards that lacked crop insurance—with the fruit trucked to any Willamette Valley facility with space for immediate processing. They were able to save about a quarter of the rejected purchase—far from every grape, but still an amount that made a difference. Over the next several months, four wineries (Willamette Valley Vineyards, King Estate, Silvan Ridge, and the Eyrie Vineyards) worked as one to blend three wines from the fruit under a new collective label, Oregon Solidarity, with all profits to be donated back to the Rogue Valley Vintners.
By March 2019, Solidarity Rosé hit the shelves—and was nearly sold out within weeks. May was the release of Solidarity Chardonnay, gone within 20 days. This August, the final Solidarity wine hit retail shelves: a pinot noir that, with any luck for consumers, will still be available this fall.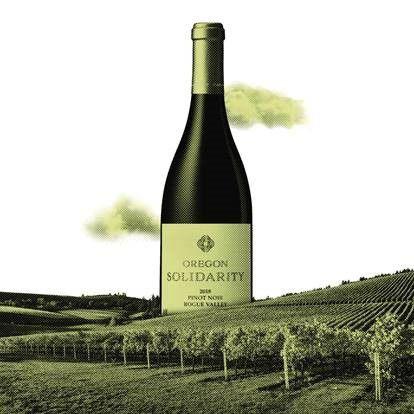 "Usually when you're planning a wine brand, it takes years. This took two weeks, and we released wine five months later," says Clair. "I don't hope that this situation happens again, but now we know how to do it. We can be the rescue team."
Solidarity's signal boost for community support, says Justin King, makes for timely messaging, as Oregon attracts new players who don't always make Oregon-branded wine the Oregon way: up to state regulations, or even in this state. It's also, he says, a direct contrast with the out-of-state business decisions that led to the need for Solidarity in the first place.
"We need to have a larger conversation about what these [companies] do to Oregon wine," says King, referring to the vulnerability of Southern Oregon growers like Moore—many of whom are contractually obligated to sell Copper Cane their fruit in the coming years. "The culture in Oregon is, you don't leave people high and dry."
Lincoln County League of Women Voters to host discussion on Carbon Reduction
The Lincoln County League of Women Voters will hold an open meeting in the McEntee Room at the Newport Public Library on Thursday, October 17, 2019 ,11:30am - 2:00pm for the express purpose of giving citizens the opportunity to hear from Senator Arnie Roblan and myself on legislative leadership and how we work with colleagues, agency representatives and constituents on the challenge of addressing the diverse needs of our coastal communities.
We have been asked by the League to help educate the community on HB 2020, the "Cap and Invest" legislation that was presented during the 2019 Legislative Session. We will also summarize the 2019 session in general and take questions from those in attendance about any matters of interest to the audience.
Thank you for taking the time to read these updates. If I can ever be of any service, please don't hesitate to reach out.
Warm Regards,
Representative David Gomberg
House District 10