Newly appointed Fire Chief for North Lincoln Fire and Rescue (NLFR), Rob Dahlman announced today that Jim Kusz would no longer be serving as the Public Information Officer (PIO) for the district.
Dahlman stated that Kusz would remain the district's Public Education Officer and Safety Officer.
"With Jim's announced retirement, the district is moving forward with a replacement for PIO duties," Dahlman said. "I appreciate the many years Jim has devoted to being the PIO for NLFR."
Dahlman also said that volunteer Captain Dennis Knudson would assume PIO duties with assistance from Fire Marshal Ed Ulrich.
Kusz chose not to speak on the announcement.
Lincoln City City Councilor and wife of Jim, Diane Kusz said Jim had received a letter from NLFR stating that he had been suspended from the PIO position due to his comments made at the board meeting on Oct. 9.
"Jim has been doing his job, he does it fair, he does it well, he takes it serious and never applies his own feelings within his media releases," Diane said. "It's kind of a slap in the face in a sense because he has never let the district down. He has supported them over everything else and he may have a difference of opinion, but it's never in his press releases."
Diane, who was a member of the NLFR Support Team, a program started by Jim to help the fire district without being a firefighter, said she has resigned from her position within the program and is no longer personally involved with NLFR.
Previous Report
After 23 years of dedicated service, North Lincoln Fire and Rescue (NLFR) Public Information Officer Jim Kusz is calling it quits.
"I'm announcing my retirement from the Fire Service effective Feb. 28, 2020," Kusz said at the Oct. 9 NLFR Board Meeting. "I am doing this over safety and ethical concerns."
Throughout his 23 years, Kusz has served as a Public Information Officer, Public Education Officer and District Safety Officer, as well as the liaison for the Community Emergency Response Team. He has been involved in numerous community education classes regarding safety and emergency preparedness, as well as community engagement events.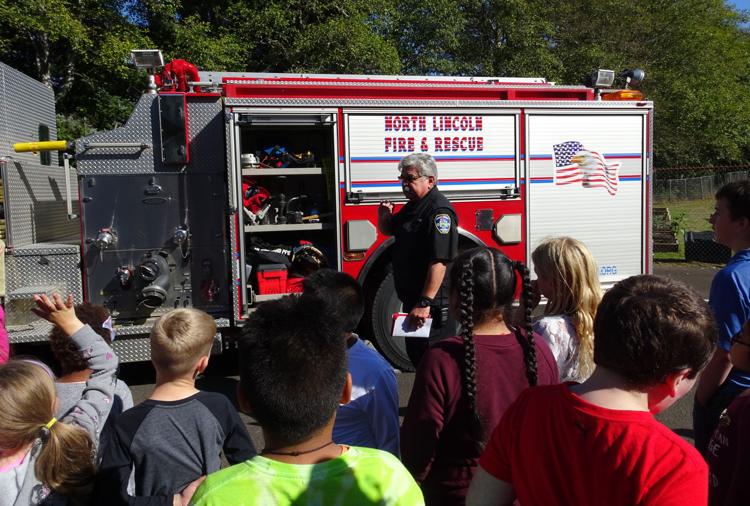 "My 23 years of service is coming sooner than I intended, but my morals and values which guide me lead me to this decision," Kusz said. "I have had the pleasure to serve the district, volunteers, career firefighters, staff and most importantly the public we serve."
Kusz asked the NLFR Board of Directors for their commitment and support in his ongoing programs and thanked the community and district.