Following updated guidance from the Oregon Department of Education (ODE) and Governor Kate Brown, the Lincoln County School District (LCSD) has once again adjusted their school reopening schedule.
Earlier this month, LCSD Superintendent Karen Gray announced the district was planning to get some students back in the classroom starting Feb. 1. LCSD planned to re-implement the Hybrid model (two days in person, three days online) starting with grades K-6 on Feb. 1 and grades 7-12 starting Feb. 8. That schedule has since changed.
"It is undeniable that this has been an extremely challenging school year," Gray said in a letter to the community. "I cannot in mere words express how sorry I am that we have been unable to keep to an education model since last March when this COVID pandemic first hit. In my letter earlier this month, I ended it with a caveat about what might happen on January 19 if the Governor changed things, and now it has happened."
Oregon adjusted the school metrics for reopening on Jan. 19, putting LCSD into the yellow zone, which allows on site and hybrid learning. LCSD's new plan gets the youngest children back in school the soonest (parallel with ODE's guidance).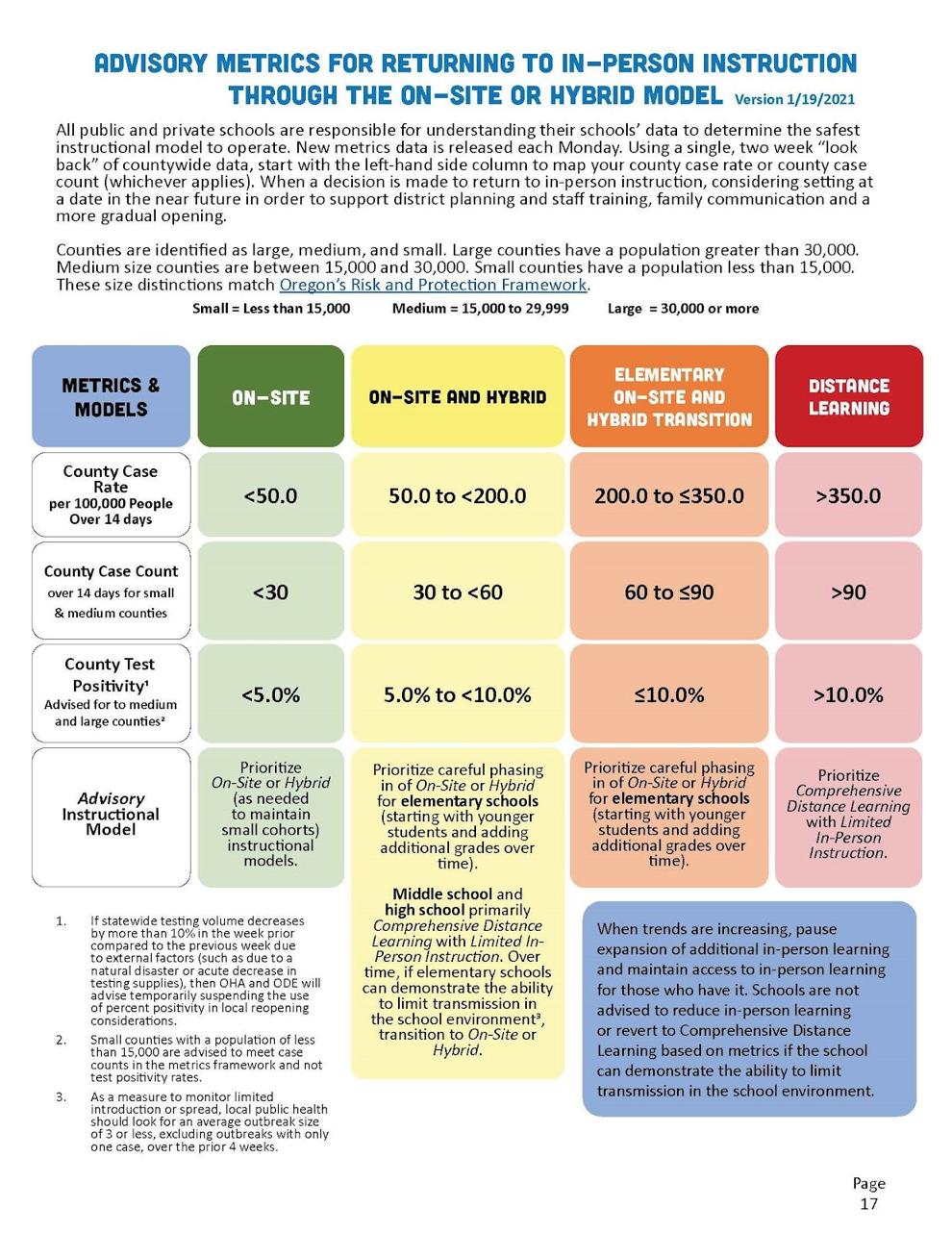 ODE's new guidance states that "over time, if elementary schools can demonstrate the ability to limit transmission in the school environment, the transition to On-Site or Hybrid [for middle and high school]." LCSD will continue to evaluate and plan according to this guidance.
To start, LCSD will bring back K-3 in a Hybrid model on Feb. 1, as well as Career Technical Education students, Future Bound (NMS), Limited In-Person Instruction (LIPI), no and low computer connectivity and wildfire survivor students. 
Starting February 16, grades 4-6 will enter the Hybrid model, plus additional LIPI identified students grades 7-12. Then grades 7-8 will return March 1. 
By March 19 LCSD will review the metrics to decide on a grades 9-12 Hybrid potential return on April 12.
"This plan staggers students' return to the classroom, giving us time to make sure it is safe and efficient at each interval and to have adequate time to make adjustments as needed promptly," Gray said. "High school students are projected to start at the beginning of Term 4. They are the most difficult to cohort correctly, and they cannot be brought back in the middle of a term because it is too disruptive. Term 3 starts Feb 8; Term 4 starts April 12. They will have finished the year with nine weeks of Hybrid for 9-12 students."
Gray said LCSD will offer a form of Comprehensive Distance Learning (CDL) during the Hybrid model and the K-12 Edmentum program will continue to be offered throughout the entire school year.  
Additionally, Gray said the new plan described will allow the majority of LCSD staff to be vaccinated (for those that wanted a vaccination) before returning to in person, and it will bring LCSD through the OHSU scientifically modeled and predicted mid-February COVID-19 surge if that occurs. Gray said many staff members have already received the first dose of the vaccine over the weekend of January 15. 
"The guidance states that if the COVID numbers are trending upwards, we are to freeze in place and not add new grades but also not go back to CDL," Gray explained. "Everyone must be very aware of the school's safety protocols in the approved ODE Blueprints and explicitly follow them. These safety and health protocols were successfully used in the eight weeks that we had the K-3 hybrid and will continue to be used district-wide." 
As for athletics, LCSD is moving towards Season 2 of the Oregon School Activities Association's (OSAA) plan to return to competition. Schools across the state are currently holding optional Season 1 workouts. 
"Athletic guidance and calendars have been ever-changing, and we will continue to monitor OHA and OSAA regulations. During this time, all LCSD facilities will remain closed to external use," Gray said.
"Thank you all for your incredible grace and patience with our school district. Our dedicated staff has worked tirelessly to educate your children and to keep them safe. Our hopes and prayers are with this plan, and we believe that it just may take us through the rest of the 2020-21 school year safely while solidly educating our kids."