An Otis man was arrested Monday after menacing store clerks at Rose Lodge Market with a pellet gun resembling a semi-automatic handgun, according to the Lincoln County Sheriff's Office.
On Dec. 2, at about 10:53 a.m. Lincoln County Sheriff's Deputies were dispatched to a reported armed robbery at the Rose Lodge Market.
The initial reports indicated that a man, Jared Robert May, 41, of Otis, had attempted to steal several packs of batteries from the store. When the clerk confronted May regarding the batteries, he brandished what was described as a black handgun. May then fled the area eastbound on Highway 18 in a vehicle.
"A Sergeant from Grand Ronde Tribal Police spotted the vehicle traveling east on Highway 18 near Grand Ronde," the Lincoln County Sheriff's office reported. "Deputies from the Polk County Sheriff's Office and Yamhill County Sheriff's Office responded to assist, along with Troopers from the Oregon State Police."
May's vehicle was located parked in front of a residence in Grand Ronde a short time later and he was detained by local law enforcement.
Lincoln County Sheriff's Deputies then responded to Grand Ronde to continue the investigation, where they located the weapon, which was determined to be a black pellet gun. At the conclusion of the investigation, it was determined that May had removed the batteries from his pocket prior to leaving the store and hid them in another part of the store.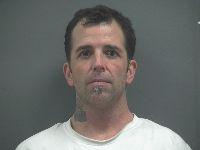 May was taken into custody and lodged at the Lincoln County Jail for Unlawful Use of a Weapon and Menacing. His bail is set at $65,000.