Fewer people seemed to move to Northwest Oregon in 2019 compared with one year before.
Population estimates from Portland State University indicate net in-migration of about 2,177 people to our region in 2019. This was down from 2,652 in 2018, and it mirrors the drop in net in migration that happened statewide.
However, people are still moving in and out of Northwest Oregon. Where are these people are coming from and where are they going? The U.S. Census Bureau provides some answers for the years that Northwest Oregon was recovering from the Great Recession.
Lincoln County had about 4,031 in migrants on average per year for the years 2014 through 2018, with 47% coming from out of state. Although Multnomah County was by far the largest single source, Lincoln County had a good variety of in-migration sources. Lincoln County attracted people from up and down the western U.S.: Washington, Texas, and California contributed a significant number of migrants to Lincoln County.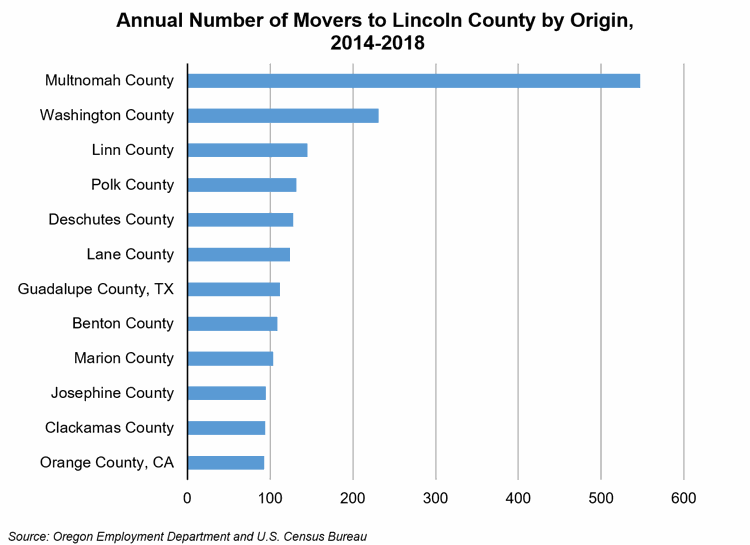 About 3,252 people left the county annually from 2014 through 2018. About 35% of the out-migrants moved out of Oregon. Portland and nearby metro areas were common destinations, as were nearby states.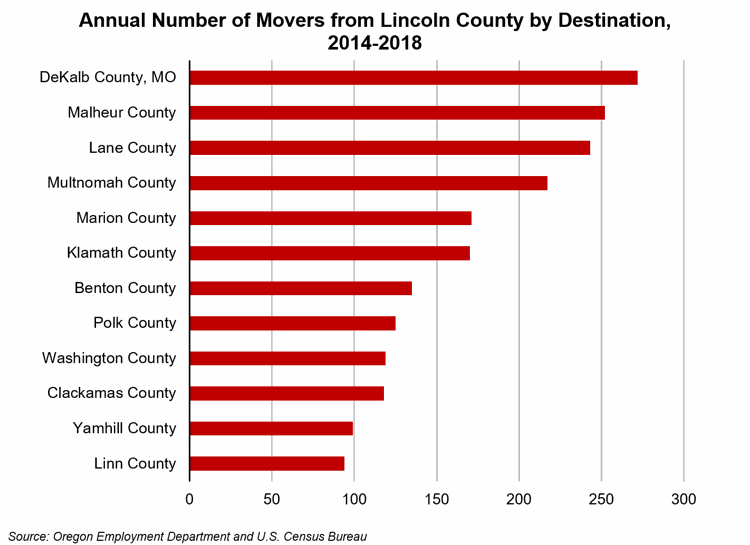 Tillamook County Migration
Tillamook County has a smaller population than the other counties in Northwest Oregon, and its migration is correspondingly smaller. Total in-migration was about 1,537 on average per year from 2014 through 2018. About 63% of those Tillamook County immigrants came from other counties within Oregon and 37 percent came from other states or countries. Nearby counties contributed most to the county's in-migration.
Multnomah and Washington counties in Oregon, and nearby Clark County in Washington were the top three sources for migrants. Tillamook County had the highest share of migrants coming from within the state out of all the Northwest Oregon counties.
The distribution of people leaving Tillamook County was also directed mainly to other Oregon counties; only 30% of people leaving moved out of state. The most popular destination was Clackamas County, but other Portland metro counties and adjacent Clatsop County were popular as well as some out-of-state counties. From 2014 through 2018 an estimated 1,247 people left Tillamook County each year.
Migration estimates at the county level should be taken with a grain of salt. For many county-to-county estimates the margin of error is slightly larger than the estimate. This can lead to some questionable estimates, especially for the out-of-state counties.
It would be quite surprising if 272 people moved every year from Lincoln County to DeKalb County, Missouri as the estimates report. It is more probable that a group or family moved one year and they all got included in the sample, and skewed the results, especially since the margin of error on this particular estimate is 282.
Still, the results generally show that adjacent counties and nearby metro areas are most important when examining migration patterns. One clear value of the migration data is that it serves as a reminder of how mobile our society is. And more specifically, how mobile our workforce is.
Erik Knoder is a regional economist with the Oregon Employment Department. He may be reached at 541-351-5595.