Following a pause for the project several months ago due to the COVID-19 pandemic, work resumed this past spring and is continuing this fall in earnest for the Pelican Brewing Company's Lincoln City location on Siletz Bay just off Highway 101.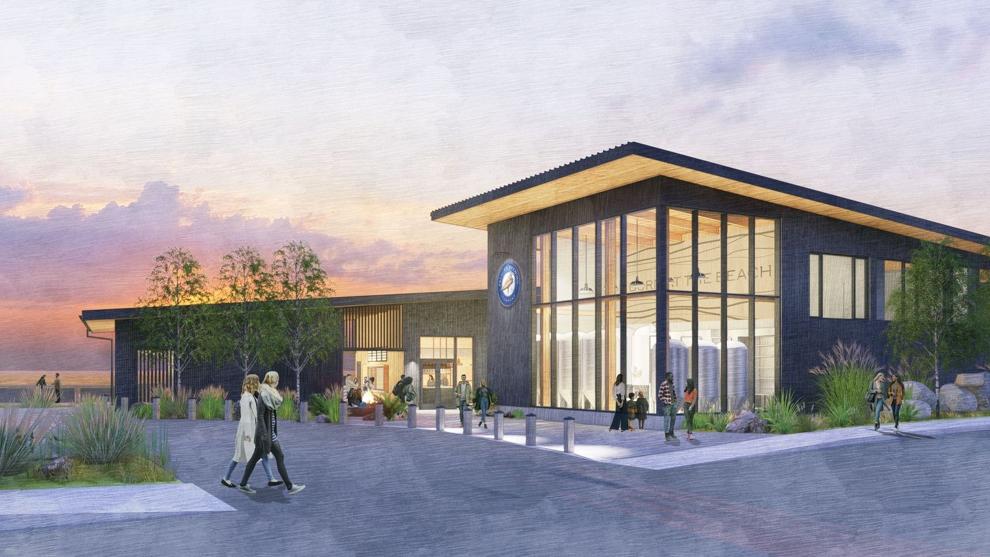 Pelican Brewing Company CEO and part owner Jim Prinzing said his company was preparing to kick off the project in earnest in the fall of 2019.
"Our original plan was to begin construction then and open in 2021, of course the pandemic got in the way and that changed our plans," he said. "We mothballed the project as soon as the pandemic hit. We pushed the pause button and paused the project completely just to evaluate where everything was going and what was happening."
As the pandemic eased, Prinzing said the company moved the project back on track and work is proceeding in earnest.
"Things are truckin' right along," he said. "All of the site work has been completed, the foundation poured, building supports are in place, framing began about two months ago, and the last part of the roof is being installed."
Interior work is expected to begin in early November for the approximately 14,000 square foot building. Prinzing declined to give specific details about the dollar value of the project. He did estimate that 20 or so people are working at the project at any given time.
The vision for the Pelican Pub comes from the surrounding are.
"We were inspired by that site," Prinzing said. "Just the beautiful views and it is unique from our other Pelican locations."
Prinzing said as Pelican adds new locations, the company wants them to be different from the other locations so there is a reason to go to each one.
"So, that's how this site spoke to us with the views and the interplay between the bay and where the tide really goes out, there's clamming and there's all kinds of birds. The inspiration for the site was 'how do we build something that is really complimentary to the spectacular scenery, really works with the heritage of Culter City, and brings in elements of the more modern-type design that has been prevalent in that area."
Prinzing said in scouting a new location, his company does what he called "place-making."
"There is a gap at that site between the Taft District and before you get to Salishan," he said. "We were really drawn to the site because it is a little bit away from everything else and it close enough to Newport and to Depoe Bay but it is also close to Lincoln City and it is far enough away from our location in Pacific City. It is also close to destination sites."
Prinzing describes the new business as a full-service restaurant and brew pub with a twist.
"We are actually bringing down our original brew house equipment that was started the Pacific City location," he said. "To bring some of the heritage. It will produce tons of small batches of beer that will be served in all of our brew pubs, but especially in our Siletz Bay location."
The Lincoln City Pelican will include a lobby with a bar to allow customers beverages while they wait for a table and retail space will be adjacent to the lobby. The restaurant will include a main dining room with an island-style bar, a second-floor mezzanine with a bar, and two private dining rooms that can be closed off for private events, such as weddings.
"We are really looking forward in having dedicated event spacing and that it will be more space for community use," he said.
"We think of ourselves as a destination brand," Prinzing said. "This is really about the memories, about the beach. We love sharing our beach communities with others and have them love them as we do. We are a brewery; however these are super-friendly family locations. We want people to created great beach memories. It is really about getting together with friends and family."
Prinzing complimented the City of Lincoln City as the company and the city work on a tsunami evacuation route and possible employee housing on adjacent property at the Lincoln City site.
"Housing could be one of the uses for that property, or it may be parking, or it may need to be something else," he said.
Pelican Lincoln City will also sport a large deck with an adjacent broadwalk.
"The boardwalk that wraps that deck will eventually connect with the Taft District, so we are working with the city with plans to connect those tow so that you will be able to walk clean around the bay on broadwalk. So that will be really cool."
Prinzing said the Pelican in Lincoln City will also feature an indoor-outdoor place that will include a crab boiling site and crab tank.
Prinzing added his company also plans to connect with nonprofits, schools and other community groups through in-kind donations, volunteer hours and monetary donations.
"We know it takes a village so that is really important to us," he said. "These communities are small, and our list is long in how we like to participate. Our primary focus is around kid's education."
Pelican has three locations along the Oregon Coast employing approximately 300 people. The Pacific City brew pub, a brew pub in Cannon Beach, and a production brewery and tap room in Tillamook. Pelican also operates lodging establishments along the north Oregon Coast. About 100 people are employed at those establishments.
Opening of the Lincoln City Pelican Brewing Company is anticipated for spring of 2022.
"As we have grown over the years and recognizing the size of our communities, a company like ours that still thinks small, still thinks family-minded, there is just such an opportunity to improve quality of life, improve the diversity." Prinzing said. "Our company is in a really good position to do a lot of those things and preserve an amazing heritage of our places and taking care of our beaches."
The Pelican Brewing Company was founded in 1996 in Pacific City.