Oh Captain! My Captain!
Pelican Brewing Company welcomes back its barrel-aged triumph Captain of the Coast as it returns to port this weekend. Pelican's celebrated three-time Gold medalist Wee Heavy Ale aged in Dry Fly Wheat Whiskey Barrels took top honors this year at the 2019 Australian International Beer Awards.
The limited-production Captain of the Coast, which will be available this month in 22 oz. bottles and on draft at select locations, is available now for pre-order online. The Captain will be available for pick-up at Pelican brewpubs in Pacific City, Cannon Beach and Tillamook next weekend starting Friday, Sept. 13, and in specialty bottle shops the week of Sept. 16. Supplies are limited.
For this commanding version of MacPelican's Wee Heavy Pelican took its award winning Wee Heavy and laid it down in Washington Wheat Whiskey barrels from Dry Fly Distilling in Spokane. What emerged was recognizably Wee Heavy, but with added notes of chocolate covered cherries, toasted oak, spice and vanilla in the aroma. The first sip produces flavors reminiscent of malted milk balls and crème brûlée with a silky-smooth mouthfeel. Continue on the voyage and you'll find dried apricots, sherry-like flavors, and dark marmalade. The Captain welcomes you aboard.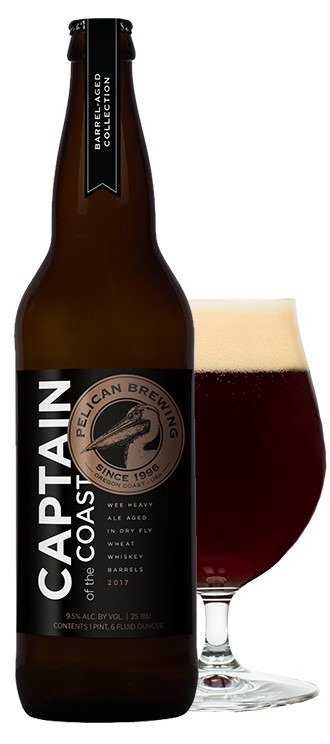 ABV: 9.5% | IBU: 25 | PLATO: 22º
With a nod to the popularity of Pelican's original barrel-aged masterpiece Mother of All Storms, English-style Barleywine aged in Bourbon Barrels, the brewery continues its vision for creating recipes that combine beer, spirits and barrel flavors. Fellow fanatics of Pelican's barrel-aged series have more tasty collectables ahead with quarterly releases of Captain, Queen of Hearts, Father of all Tsunamis and the annual return of 'Mother' this fall.
Like all Pelican beers, Captain of the Coast is born at the beach by a team of award-winning craft beer makers known for brewing styles of beer that they themselves love to drink.