As part of the 2020 Oregon Wildfires Response and Recovery, United States Environmental Protection Agency (EPA) crews are removing Household Hazardous Waste (HHW) from home sites and other properties affected by the wildfires.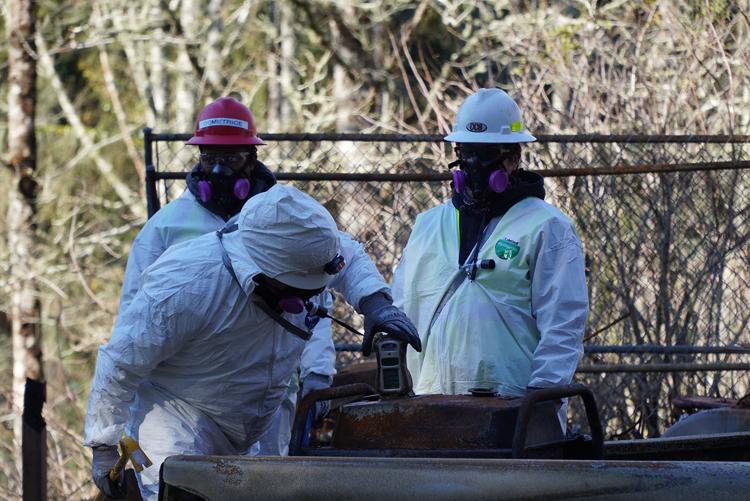 EPA crews are assessing and removing HHW including chemicals, pesticides, compressed gas canisters and petroleum products. EPA is making quick work of Step 1 of the state's recovery from the fires: the removal of household hazardous waste at residential and commercial properties in eight counties.
Since October 17, the agency's crews have cleared over 1,600 properties, which is required before Step 2: the removal of ash and other debris in preparation for rebuilding.
As they conclude cleanups in Klamath and Jackson counties, EPA crews are continuing operations in Douglas, Lane, Linn, Marion and Lincoln counties and are expecting to expand into Clackamas county soon. EPA can only conduct its work on a property if we have a "Right of Entry" form signed by the property owner.
Property owners who have not already signed and returned a "Right-of-Entry" form should do so immediately by calling their county or the "Right of Entry" hotline at 682-800-5737. Property owners can call EPA's hotline at 541-225-5549 with questions about household hazardous waste removal at their property and about the cleanup process.
Callers can also use the hotline to give more details about their property that will help speed the removal work and prepare their property for the next cleanup phase. The hotline provides information in both English and Spanish. Property owners can see the status of their property and learn more about EPA's progress at EPA's 2020 Oregon Fires Recovery website: https://r10data.response.epa.gov/ORfi....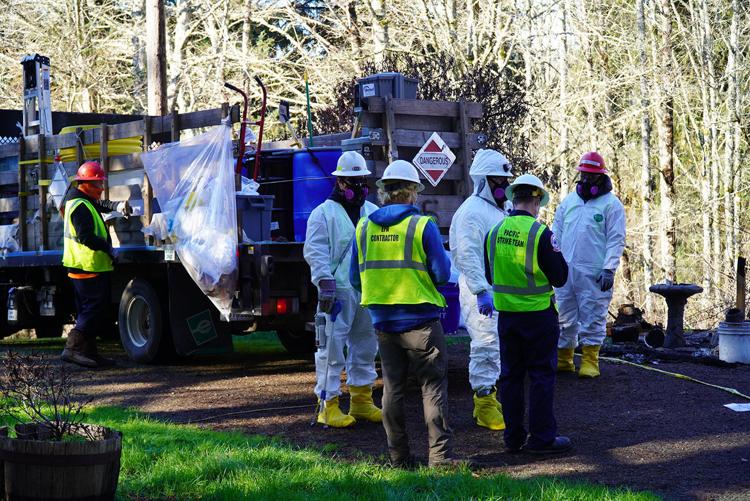 The Oregon Debris Management Task Force and its contractors will be conducting the larger and more complex Step 2 cleanup process. To learn more about Step 2, go to https://wildfire.oregon.gov/cleanup.
Salmon River Erosion Project
The North Lincoln County community is also asking for help November 14, 2020, as they work to protect the Salmon River and tributaries in the Otis area.
Beginning at 8 a.m., they will meet at the junction of North Panther Creek Rd and North Hillside Dr, rain or shine. There volunteers will receive instructions on where to place erosion control barriers and the materials you will need. Please wear boots it will be muddy. Work gloves are also recommended to protect from straw/hay and blackberries.
- Hammers to pound stakes (regular claw hammer is ok, but three lbs sledge is much better)
- Wire Snips to cut baling wire or baling string
- Utility Knives (tough scissors might also work) to cut wattles, silt fencing, and zip ties
- Yard Clippers - for blackberries & small branches
- Pitchforks (garden leaf rakes and landscape rakes also will work) for spreading straw/hay
- Pickup Trucks for moving straw/hay, wattles, and materials to individual work sites
This event is a joint 350 Oregon Central Coast, Timber Unity, Lincoln County Soil and Water District, Lincoln County Solid Waste District and Lincoln County Emergency Management project. The goal is to protect the river from ash and sediment during the rainy season.
This is a one day community event November 14 and all are welcome. Masks and social distancing are required.
"Together we can help our neighbors and keep the river clean of ash and other materials for wildlife," said Betty Kamikawa, project organizer.
Sign in at the staging area at the junction of North Panther Creek Rd and North Hillside Dr.
For more information call Betty Kamikawa 541-961-4482