Rock Creek Equestrian Services, LLC (dba "Rock Creek Stables") has announced that it will begin offering guided trail riding in 2020 to the public.
Trail rides will be operated from Rock Creek's Lincoln City facility located just behind the Lincoln City Outlets, off East Devils Lake Rd. In September, Rock Creek Stables took over a 40-stall horse-boarding facility previously known as Green Acres.
Initial focus was on overdue cleaning and necessary improvements to the various facilities on the property to provide a more pleasant experience for boarders and horses.
"We want to make sure we can do what we can to elevate things and provide a good service," said Justin Alderman, owner of Rock Creek Stables, upon taking over. "To a lot of people, their horses are their family."
Rock Creek Stables felt that there is a missing opportunity for a horseback riding service for non-horse owners who live in Lincoln County, as well as for the many visitors during the spring and summer.
"There's really nothing else like this available in our area except for one other outfit in Tillamook County... Otherwise there is nothing within nearly two hours of Lincoln City" Alderman said. "While our main ride won't be directly on the beach, it does offer more expansive views from the mountain tops over the hills and ocean than what you'd get on the beach."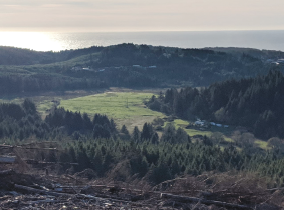 The rides will also be just short of two-hours long, offering a lot more value compared to those who might typically find one-hour rides for the same costs elsewhere. However, plans are in the works to explore the opportunity of offering separate horseback rides that could be on the beach.
As of now, reservations are now available for June through September, as well as the week of spring break. Bookings are open online at www.rockcreekstables.com.
To celebrate this news Rock Creek Stables is offering an early bird booking rate for 30 percent off all reservations made before the end of January 2020. Additional savings available for groups of five or more and for bookings on Tuesday through Thursday each week.
Special rates and private booking portals are available to local area resorts and travel agencies who wish to be a reseller to offer packaged experiences. Rock Creek is open to considering other alternative options for joint promotions with local businesses as well. Affiliate links for simple commissions are available.
"Our staff has a lot of heart into this because it's all about the horses here," Alderman said of his crew. "This is about the heart and passion we have for these horses and for riding."