You may have recently noticed a dip in the road during your morning commute from Otis to Lincoln City. Or perhaps you're wondering why traffic has been backed up along Highway 101 north of Lincoln City.
According to the Oregon Department of Transportation (ODOT), the delay is due to an apparent sinkhole near milepost 106 on Highway 101, between Highland Estates and Cherry Hill Park.
"The sinkhole appears to have been caused by water under the road," ODOT Public Information Officer Angela Beers-Seydel said. "Crews excavated the road and did a temporary patch (Thursday, Feb. 6). Repairs were complete by 4 p.m., flaggers were on site directing traffic from about 8 a.m. to 4 p.m."
On Friday, Feb. 7, crews returned to the site to continue work on hole. The southbound lane has been closed during working hours. ODOT said expect single lane closures with flaggers directing traffic. Delays of up to 15-20 minutes or less should also be expected.
Beers-Seydel said they will be keeping a close eye on the site and will continue making repairs as needed before they make a permanent fix.
"Once the water level recedes some we will inspect and line or replace the failing culvert under the road, depending on conditions," Beers-Seydel said. "The road surface is still rough and there are signs. We will do more work on the surface when we have a better understanding of the conditions, tentatively early next week."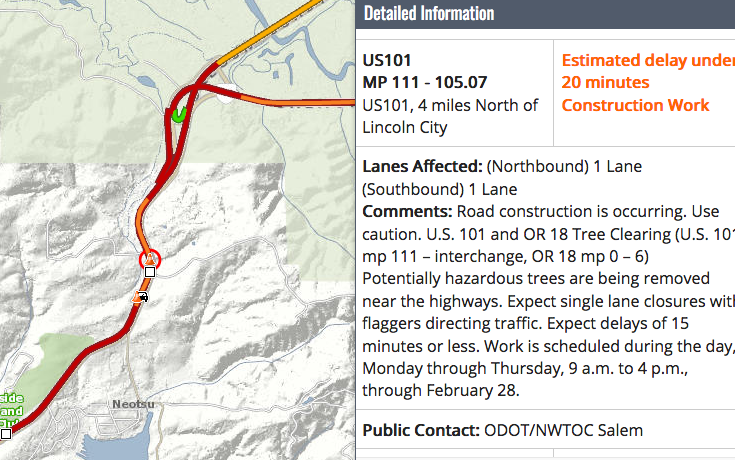 Work is scheduled during the day, Monday through Thursday, 9 a.m. to 4 p.m., through February 28, according to ODOT. You can visit the ODOT Tripcheck site at tripcheck.com to stay up to date on delays.