North Lincoln Fire & Rescue Fire administrators (NLFR) will ask voters to approve a new funding request in the Tuesday, Nov. 2 election.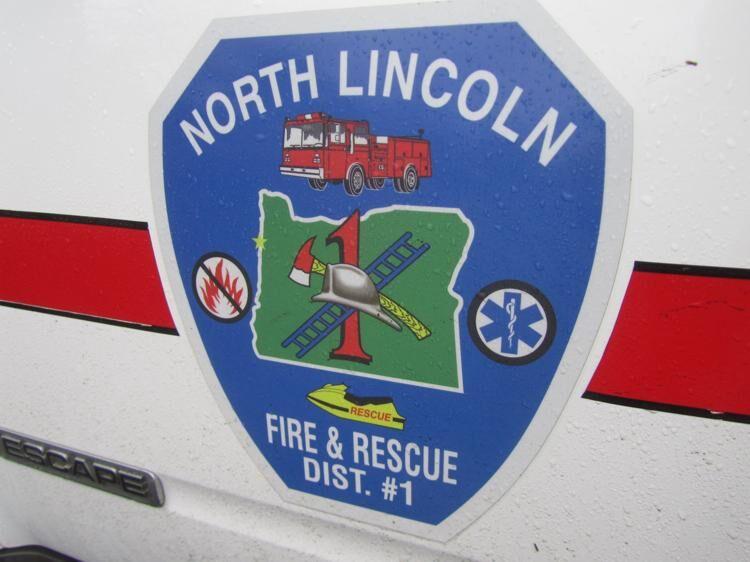 To gain insight into the funding request, The News Guard reached out to NLFR Chief Rob Dahlman.
The News Guard: Specifically, how much is NLFR asking for and how is this funding request different then the levy that failed in the May election?
Rob Dahlman: We are asking to replace the expiring five-year levy of 84 cents with an increase of 38 cents to make it $1.22 per thousand for the next five years. This would be an increase of $114 per year, or $ 9.50 a month for a $300,000 property over the current levy. This levy is for the exact same amount from the May election.
The News Guard: Why is this funding required now?
Dahlman: The Fire District is not part of, nor does it receive any funding from city, county, or state government. 97% of our funding comes from property taxes. Our costs have increased faster than the 3% increase we are allowed; our service demands have increased so it is important to add positions. The number of calls just for public service help, lift assists, fire alarms, burn complaints have all gone up. Our volunteer firefighters are unable to leave work to respond on calls and many are having to work extra hours. Even though we have brought on nine new volunteers since the first of the year, we still have a significant gap in response numbers.
In a recent news the ambulance service provider, Pacific West Ambulance (PWA), has talked about multiple calls at the same time, especially in the north end of Lincoln County. It discussed their ability to meet that service demand. They are going to ask the county commissioners for a suspension in response times standards for the next few months. The current standard is a response time of 12 minutes in the city limits and 20 minutes in a rural area with upwards of an hour outside that. We are part of the EMS system in Lincoln County.
Our relationship and cooperation with PWA is very strong and, we, together help this area receive outstanding EMS service. The city also enacted an Urban Renewal District in Roads End and the Villages area. Over 500 acres of property. This froze our tax base last year and by their estimates will prevent over 4.5 million in taxes from funding the fire district. We must look at the future costs and factor in that revenue loss.
The News Guard: How will this levy benefit the residents and businesses in the NLFR service district?
Dahlman: First, it will keep NLFR staffed to meet the service demands. This current year will be the busiest on record, by all indication exceeding 3200 calls (an increase of 20% over last year). Response times are important. Before our staffing levy 5 years ago our response times in the North end of Lincoln City averaged 11 minutes 33 seconds, now we average 5 minutes 7 seconds, a 6 minute 26 second reduction. However, the south end of Lincoln City and Otis/Rose Lodge response times only reduced by just over 2 minutes. Otis & Rose Lodge average just over 15 minutes and south Lincoln City 14 minutes.
The increase will pay for additional positions to staff the south Lincoln City station and relieve the stress on the system. We anticipate the response times in that area to fall by another 4-5 minutes and help Otis/Rose Lodge as units will be more available district wide.
The staffing increase will keep their Insurance Risk Classification number low. Currently in the City we are classified as a 3 with ISO, and in the rural area a 4. To keep this classification, they look at the Fire District in 3 key areas. Staffing (including response times), Training, and Equipment. We are evaluated every 5 years.
The News Guard: What is the main message you want voters to understand about this funding request?
Dahlman: The NLFR Board of Directors and I worked hard at balancing this request with the needs of the community. We produced a staffing plan based on service demands and the availability of our volunteers, a maintenance plan based on our equipment and station repair needs. The board looked at current resources and the impact to taxpayers. Our district has over 600 vacation rental dwellings (VRDs), (550 in the city alone) 40 motels and countless second homes. Those properties will pay a majority of this levy.
This is not a tax and spend levy, it is a balanced approach to what we need to adequately fund your Fire District. Our hope is that you never need to call 911 for an emergency, but if you do, (and we are called on average of 10 times a day), we will be able to respond quickly with well trained and equipped personnel. I have the data that shows our response times are lower and we have over the last 4 ½ years saved lives and property. Response times matter. You don't need us until you need us.
The News Guard: If this levy fails, will NLFR go back to voters in May?
Dahlman: Yes, we have to.
The News Guard: If the levy fails in November and again in May, will NLFR layoff personnel and reduce services and if so, in what way?
Dahlman: The current levy provides 2.2 million dollars. For sure we will lay off at least 14 positions, volunteer incentive programs will be reduced if not eliminated. Even after the 14 positions are eliminated there is $300,000 shortfall that will have to be addressed. Those reductions will be proposed in a budget and approved by the Board of Directors. This is not a scare tactic, this is the reality of our funding.
The News Guard: What is the current paid staffing at NLFR (How many full/part time admin, others). How many volunteers?
Dahlman: 21 Full time employees that include:
14 Firefighters
Fire Marshal
2 Maintenance (1 building and 1 vehicle)
2 Office administrators
Deputy Chief of Training and Operations and the Fire Chief
1 part-time FF/EMT (covering for one of our FT who is in military and deployed)
33 Volunteers
The News Guard: What is the current overall NLFR operating budget?
Dahlman: For the 2021-22 budget year $4,080,996. Personnel costs are 76% of the budget.
The News Guard: What is the square mile radius of the NLFR district?
Dahlman: 80 Square miles, 6 stations
The News Guard: Feel free to add any other brief comments you might have.
Dahlman: Even if this levy passes, NLFR will still not have the highest operating combined levy and permanent rate in Lincoln County. See Below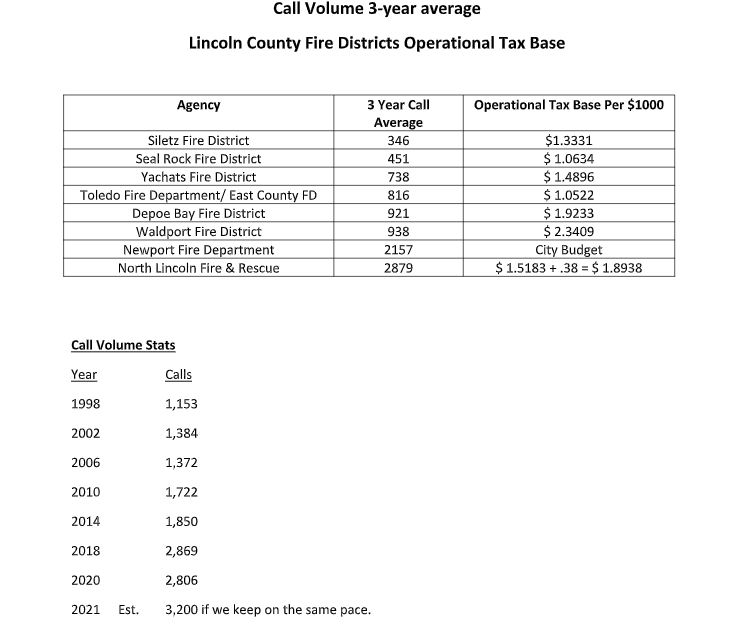 As the chart indicates, NLFR's proposed levy of $1.90/$1000 is lower than existing levy's in Depoe Bay and Central Coast (Waldport) while the call volume for NLFR is 313% higher than Depoe Bay and 307% higher than Central Coast.
For more information, view the NLFR funding request in the Voters Pamphlet, or contact NLFR at 541-996-2233.