Two law enforcement K9s helped capture a suspect following a car and foot chase in Lincoln City.
The suspect, 46-year-old Todd W. Ramsey of Siletz, was arrested on multiple warrants and other charges after he attempted to elude officers in a vehicle and then on foot.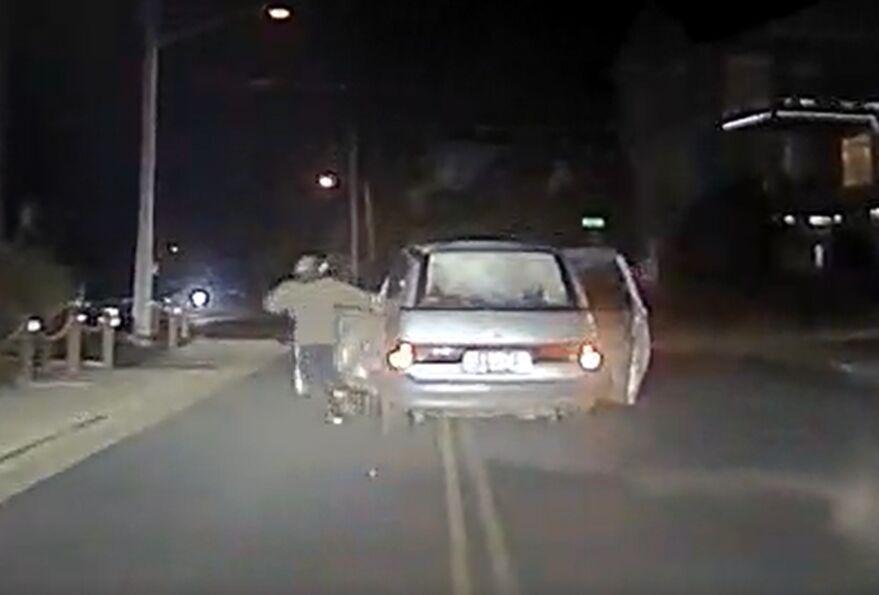 Just before 8 p.m. Tuesday, Sept. 28, a Lincoln City Police officer conducted a traffic stop on a Toyota Previa van for a traffic violation. The van initially pulled off Highway 101 onto NW 13th Street and stopped.
According to a release from the Lincoln City Police Department (LCPD), the officer approached the van and made contact with the driver who was wearing a mask. The driver could not produce a driver's license and the officer asked the driver to pull his mask down so he could be identified. When the driver pulled his mask down, the officer recognized him as Todd W. Ramsey from previous contacts.
The officer returned to his patrol vehicle to check Ramsey for driver's license status and warrants, and to await the arrival of a cover officer. During this time, Ramsey quickly accelerated away heading west bound on NW 13th Street. The officer immediately began pursuing with lights and siren. After speeding away, Ramsey turned northbound on NW Harbor running through intersections and past several stop signs without stopping.
As Ramsey tried to maneuver the speeding van around the corner at NW 15th and Harbor, he lost control and hit the sidewalk curbing multiple times as he tried to regain control. As a result of hitting the curbing, the tires on the passenger side of the van deflated, and after traveling another block the van slowed to a stop and Ramsey jumped from the driver's door and fled on foot northbound behind The Coho Inn.
Additional officers arrived on scene and the three passengers who were in the van at the time of this incident were briefly detained, but were later released after being checked by medical personnel for complaints of unspecified minor pain.
Arriving officers also began searching for Ramsey and dispatch began receiving calls from citizens informing officers that Ramsey was over the embankment behind the hotel. Officers requested assistance of a K-9 to assist in the search and apprehension of Ramsey and LCPD Officer Molly Sears with K-9 Nato responded along with Lincoln County Sheriff's Deputy Derick Smith with K-9 Nix.
Ramsey was quickly located on the embankment where he was hiding by the K-9s, and after refusing to obey the commands to give up and come out, he was bitten by K-9 Nix. Ramsey then gave up and was taken into custody.
Ramsey was transported to the hospital for medical treatment from injuries he sustained when he apparently fell down the embankment as he was trying to flee, and for the K-9 bite.
During the incident it had been learned that Ramsey had several active warrants issued for his arrest including two felony Yamhill County warrants for FTA (Fail to Appear) on Burglary 1 and Possession of Controlled Substance charge, a felony Lincoln County warrant for FTA on Unauthorized Use of a Motor Vehicle charge, and one misdemeanor Benton County warrant for FTA on a DUII charge.
After receiving medical treatment and being released from the hospital, Ramsey was subsequently transported to the Lincoln County Jail where he was lodged on the above listed warrants as well as new charges of Felony Attempt to Elude in a Vehicle, Misdemeanor Attempt to Elude on Foot, Reckless Driving, 3 counts of Reckless Endangering, Assault III, and Felony Fail to Perform Duties of a Driver. The vehicle was towed from the location.