On Sept. 5, at approximately 1:37 a.m., North Lincoln Fire and Rescue was dispatched to a reported structure fire at Holmes Road Park in Lincoln City.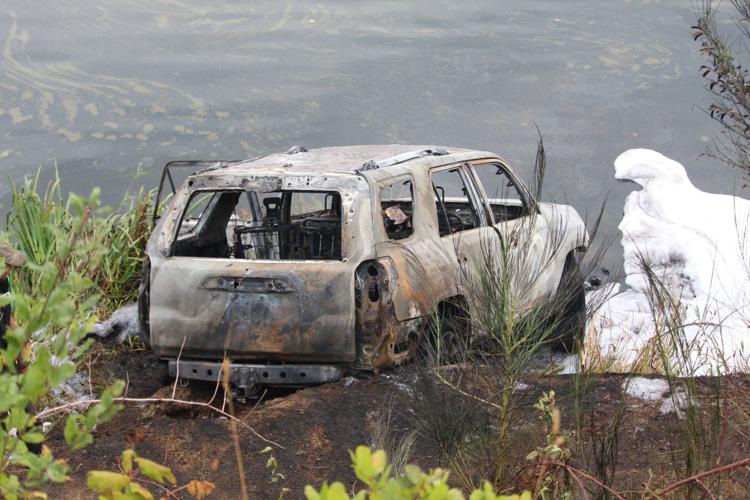 Upon arrival, crews discovered a vehicle engulfed in flames, partially submerged in Devils Lake. No one was seen in the area and the vehicle appeared unoccupied.
Many nearby neighbors reported hearing multiple explosions from the vehicle. The fire spread to the hillside of the park but was quickly contained by NLFR.
"There are some burnt bushes around it, mostly scotch broom and blackberry bushes," Fire Marshal Ed Ulrich said after inspection. "We're not even sure what kind of vehicle it is. When you strip all the plastic and chrome off they don't get much different."
Because the front of the vehicle had become submerged in the lake during the fire suppression efforts, the Oregon Environmental Response System was activated due to possible hazardous substances that may have leached into the lake.
The vehicle was removed from Devils Lake the following morning (Sept. 5) and NLFR and the Lincoln City Police Department began inspecting the vehicle and determined it to be a 2019 Toyota 4runner.
Although much of the vehicle appeared to be stripped down, police did discover a valid license plate on the front end of the car, which they were able to use to determine the SUV had been reported stolen out of the Salem area. The vehicle was towed from the scene by Car Care Tow Pro.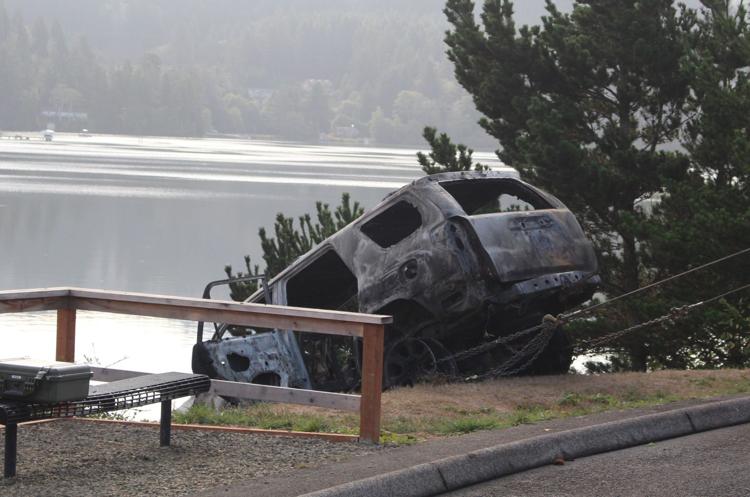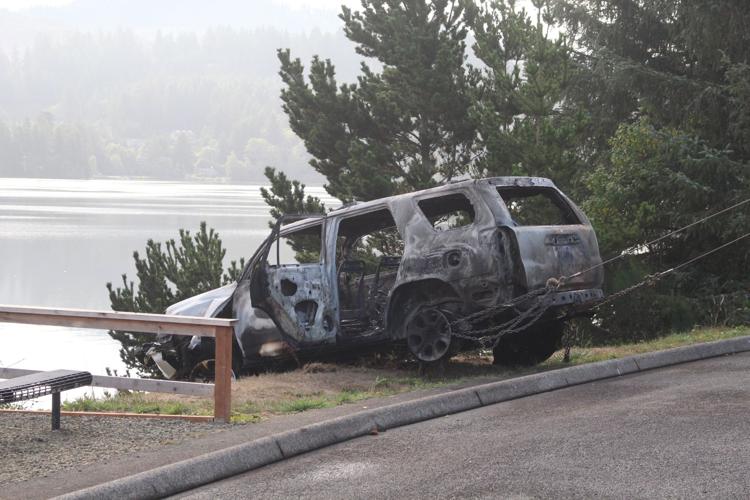 The investigation into the suspicious circumstances and fire involved with this incident is continuing. Anyone with any information regarding this incident is asked to contact Detective James Burke at the Lincoln City Police Department, 541-994-3636.
Ulrich said burned and abandoned vehicles are not too common in Lincoln City specifically, but they do see it occasionally.
"Police officers seem to think it's more common in rural county areas," Ulrich said. "There's just less people around."
More information will be added to this article when it becomes available. Follow thenewsguard.com for more on this story.