On Aug. 27, at approximately 1:28 a.m., the Oregon State Police (OSP) observed a gray Ford Fusion driving reckless south on Hwy 101 in Tillamook County.
Officers observed the vehicle's high rate of speed, unnecessary braking and failing to drive within its lane. At times the vehicle was observed driving in the opposing lane of travel.
The Oregon State Police attempted to initiate a traffic stop on the vehicle as it entered Lincoln County, but it failed to yield to emergency lights and sirens and continued driving in the dangerous manner prior to police contact.
"The vehicle ran over stop sticks, which were deployed from the assistance of Lincoln City Police and the Lincoln County Sheriff's Office," OSP Officer Eric Larson stated in his report. "The driver came to a stop and was placed in custody."
The driver, Nels Russell Madsen from Stevenson Wash., showed signs of impairment according to OSP and consented to standardized field sobriety tests at the Lincoln County Jail, which he performed poorly. Russell provided a breath sample revealing a blood alcohol content of 0.00 percent and invoked his right to counsel at the beginning stages of a Drug Recognition Expert (DRE) Evaluation.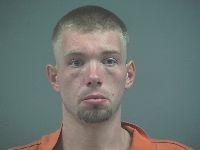 Madsen was lodged at the Lincoln County Jail on charges of Attempt to Elude – Vehicle, Reckless Driving, Reckless Endangering, DUII – Controlled Substance, Possession of a Controlled Substance - Methamphetamine. He is being held on $145,000 bail. The vehicle was towed by Car Care Towing.