No one goes without a Christmas in Lincoln City, according the staff and volunteers with North Lincoln Fire and Rescue (NLFR) and the Lincoln City Eagles Lodge.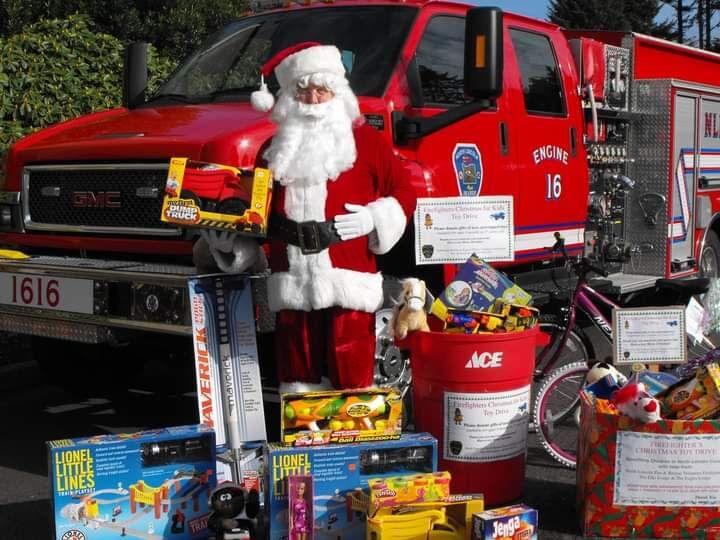 NLFR and the Eagles have partnered again for the annual Christmas Basket Food and Toy Drive. Large plastic barrels have been placed at businesses around Lincoln City to collect donated new, unwrapped toys and nonperishable food items to fill the Christmas baskets.
"This has been going on longer than anyone can remember," NLFR's Firefighter Marc McPherson said. "It's our tradition to provide food and toys to people that need some help this time of year. Whether it's because of the economy, health, a special circumstance, we just want to make sure that every family that needs assistance gets it."
Each year, NLFR and the Eagles help between 1,200 and 1,300 people, according to McPherson. The two groups try to provide at least a week's worth of food for families, which includes a full Christmas dinner with turkey and all the fixings.
NLFR District staff and volunteers collect by the toy donations and deliver them to St. Peter's Church in Lincoln City just before Christmas where the Eagles do their magic.
"They could put Santa Claus' elves to shame!" McPherson said. "They sort all the toys, take all the applications to fit the needs of what each child wants, wrap each and every toy and puts them all in big bags. They take the food and box it up for each household. It's a very arduous task."
McPherson said many of the gift wrappers are community volunteers. The Eagles are always welcoming volunteers and accepting donations for wrapping paper, ribbons and whatever else is needed for the holiday event.
Both NLFR and the Eagles accept applications for the program through Dec. 10.
Once all gifts are accounted for, the crews set out to buy any items that are left of the kid's wish lists.
"If there is anything special that maybe we didn't receive, we'll go out and buy toys to make sure each an every child gets at least one toy that they specifically asked for," McPherson said, adding the step, distributing the gifts, is the fun part.
"We show up at a family's home that without our assistance, may have little to no Christmas," McPherson said. "To see the smiles on the children's faces and the relief on the parent's faces, knowing they don't have to explain why Santa wasn't able to get them exactly what they wanted this year. It's a sight to behold."
McPherson said he has been deeply involved with the food and toy drive every year since joining the NLFR crew because he sees just how simply the community can make a difference in a family's life.
"People go through really hard times," he said. "I've been involved every year that I've been with the fire department and even when I leave, I'll still be involved."
To make a donation to the food and toy drive or to apply, community members can stop by Eagles Lodge #2576 at 737 SW 32nd St. after 3 p.m. or at the NLFR station at 2525 NW Highway 101, Monday through Friday from 8 a.m. to 5 p.m.
Applications also available at the Salmon River Grange at 5371 Highway 18, Rose Lodge. And may be downloaded at NLFR.ORG.
You must live within the North Lincoln Fire District to qualify. Donations can also made at the various 34 locations throughout town.