Three Taft 7-12 High School all American cheerleaders joined hundreds of others in Florida to cheer in the Spirit Spectacular Parade at Disney World.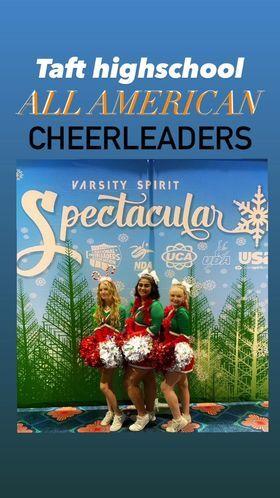 Taft sophomore Kallin Swope, senior Makayla Sanchez and sophomore Grace Stahl made the journey.
According to a WDW Magazine blog, The Varsity Spirit Spectacular at Disney World features hundreds of high school cheerleaders and dancers from around the country dancing down the parade route at Magic Kingdom Nov. 19-22.
The three Taft students are among more than 800 high school cheerleaders and dancers from across the country that represented the camp brands of Varsity Spirit in the Varsity Spirit Spectacular at the Walt Disney World® Resort in Orlando, Florida.
The individuals invited to perform are part of a select group of captains, co-captains and officers who attended a Varsity Spirit summer camp this summer hosted by Universal Cheerleaders Association (UCA), Universal Dance Association (UDA), National Cheerleaders Association (NCA), National Dance Alliance (NDA), United Spirit Association (USA) and Urban Cheerleading Experience (UCE), according to Varsity Spirit.