Lincoln County Public Health is reporting 23 new cases of COVID-19 on Monday November 23, and seven new cases today as of 1 p.m. on Tuesday. This brings the current count to 595 cases.
One person was hospitalized and is being discharged today. Due to state website updating procedures, the OHA website may not match our local case reporting and could show fewer cases.
"Public Health has brought back more investigators and contact tracers to help with the investigations," said Florence Pourtal, Deputy Director of Public Health. "However, due to the increase in cases, we are urging those who know they are positive to immediately isolate and notify all close contacts. Do not wait for a call from Public Health. If you know you are a close contact of a positive case, please stay home."
If you have questions or need help to quarantine, please contact the call center and leave a message at 541-265-0621. Or you may email LincolnCoCallCenter@co.lincoln.or.us.
"When a contact tracer or investigator contacts you, please answer their questions as best as you can. Rebecca Austen, Health Department Director said. "This is the only way we can identify the source of infection and notify others they have been exposed and need to isolate or quarantine."
Austen reports that many people they are talking with have not been avoiding gatherings. She said, "all residents should stay home and avoid social gatherings at this time so we can get this surge under control. This includes during the Thanksgiving holiday."
Lincoln County Public Health also reached out to the local hospitals and schools for their thoughts about the current situation.
"Although we have been managing to balance hospital bed availability with demand, this week we admitted the first COVID-19 inpatient since August at Samaritan Pacific Communities Hospital. This signals that the recent spike in cases may lead to increased hospitalizations," Dr. Lesley Ogden, CEO of the two Samaritan hospitals in Lincoln county said.
Lincoln County Samaritan has nine ICU beds and 27 acute care beds between the two hospitals. At this point in time, the Newport hospital has 18 of 25 beds occupied and Lincoln City has 5 of 16 occupied with surgical and emergent cases, which can fluctuate up and down by the hour.
"When paired with strained staffing resources, the daily juggle is enough without added COVID-19 inpatients," Dr. Ogden said. "We are part of a system and are fortunate to be able to lean on the valley-based hospitals by transferring patients when the need arises for higher levels of care, but their bed availability is also impacted by a of combination of emergent and COVID-19 patients and sometimes they may not able to accept our requests for transfers."
Per state guidelines, Samaritan needs to keep a certain number of beds available across the system at any given time, so that they will be able to accommodate a surge in COVID-19 cases.
"This is a plea to our community to remain safe and not put yourself in risky situations where you could contract this illness," Dr. Ogden said. "We don't want the demand for health care to be greater than our supply of beds and staff, a problem we are already seeing in neighboring states. An increasing number of hospitals across the nation are now in crisis mode. We all need to take care of ourselves and each other and do what we can to slow the spread of COVID-19 in our region."
Susan Van Liew, assistant superintendent for the district also commented on the recent spike in cases.
"Lincoln County School District wishes our community health and safety during the upcoming holiday season" Van Liew said. "LCSD encourages staff, students and community to practice appropriate COVID safety protocols wherever they are. LCSD believes this is critical for the continuation of on-site hybrid education and to be able to return more students to on-site instruction in the future."
Eddyville's K-12 Charter School has been successfully operating under the on-site instructional model since September 28. However, Stacy Knudson, superintendent and principal at ECS announced they will transition to distance learning starting next week.
"We want to commend all students, families and staff for their focused dedication to keeping each other safe and healthy," Knudson said. "We also want to thank our partners, Lincoln and Benton County Health Departments, for their guidance and support in these safety measures. We have not had a single case in our school, as a result.
ECS will move to a Comprehensive Distance Learning model of instruction from Nov. 30 through Dec. 17.
"This decision was not made lightly," Knudson said. "Considering the rising number of cases in Lincoln County, the exceptionally high number of cases in Benton County where several staff and students reside, and a recent contracted service employee who tested positive for COVID this week raised a significant number of red flags. Then, along with the upcoming holiday season, we felt it would be in the best interest of our ECS community to limit exposure by transitioning to virtual school.
"We are optimistic we will return to K-12 on-site instruction in January as long as we all practice appropriate COVID safety protocols whether leaving our home, town, state or country. This is critical for the return of students to on-site instruction."
The three situations where people need to self-isolate and quarantine are:
- Confirmed COVID-19 test.
- Close contact of positive case.
- Anyone with symptoms of COVID-19. These symptoms include cough, chills, fever, sore throat, muscle pain, shortness of breath or difficulty breathing, new loss of sense of taste or smell. New symptoms recently announced include loss of appetite, abdominal pain, diarrhea and vomiting.
Below is a description of quarantine and isolation guidelines for confirmed positive COVID-19 cases and close contacts. According to the Oregon Health Authority, testing above and beyond this guidance is neither recommended nor should it be required. That is, once a case has met criteria for discontinuation of isolation, or a contact has completed their quarantine period, they should not be required to test negative before returning to work.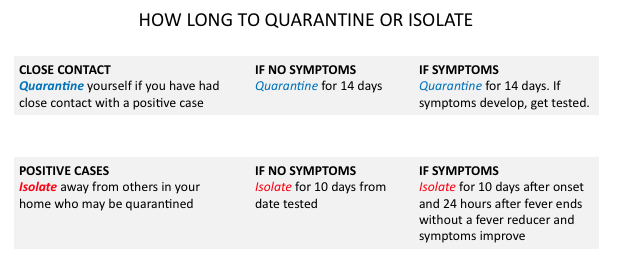 Once close contacts and positive cases meet the criteria for discontinuation of quarantine and isolation, they may return to their regular lives. Additional testing is not recommended.
Lincoln County staff and partners are making calls to close contacts of confirmed cases. Some of these calls may look like they come from an unknown number. If you don't answer, they will leave a message. Please call them back as soon as you can.
Local public and tribal health authorities will never ask for your social security number, credit card number, bank account or billing information, or immigration status. (Note: Information will not be shared with immigration authority or law enforcement. Getting tested or getting treatment for COVID-19 will not affect your ability to get permanent residency in the U.S.)
For more information on contact tracing, please visit 
healthoregon.org/contacttracing or healthoregon.org/rastreodecontacto
For more information on COVID-19 and resources visit https://govstatus.egov.com/or-oha-covid-resources
Lincoln County Resource Guides in English & Spanish: https://www.co.lincoln.or.us/hhs/page/covid-19-resources