The Oregon Department of Education (ODE) recently released the 2018-19 homeless student count, which showed the number of homeless students in Oregon has increased two percent from the previous year.
According to the 2018-19 Homeless Student Count, 22,215 students in Oregon lacked "a fixed, regular and adequate nighttime residence" during that school year. The Lincoln County School District had the fifth highest homeless student count at 943 K-12 students and 73 Pre-K/Head Start students, according to oregon.gov.
Beaverton School District recorded the highest number of homeless students at 1,971 K-12 students and 93 Pre-K/Head Start students, with the next closest being Medford School District at 1,251.
"The Homeless Student Count is another reminder of the services available to our students, the challenges they face and the bright futures that await them if we can meet their needs," ODE Director Colt Gill said. "Thanks to the Student Success Act, we'll be able to do more to help students experiencing homelessness graduate from high school with a plan for their future."
Gill stated that right now, school districts use federal funds to provide essential services such as clothing, school supplies and transportation to school. The Student Success Act funds will allow school districts to increase transportation, so students can participate in off-campus career and technical programs, after school activities, summer school and other opportunities outside the school day, according to ODE.
"Student Success Act funds may also be used to coordinate housing for youth and make early learning programs accessible to young children and their families who are experiencing homelessness," Gill said.
During 2018-19, in grades K-12, 17 percent of Lincoln County's student population were considered homeless. Students that were unaccompanied (not under the supervision of a parent or guardian while homeless) accounted for 137 of the homeless students.
Lincoln County's McKinney-Vento staff identified an additional 169 homeless children from birth to five years old. Overall, 1112 children were identified as homeless, the highest in Lincoln County's history.
"Out of 197 school districts, Lincoln County School District is number five for number of students in preK-12th grade, number seven in unaccompanied homeless students, number nine for percentage of student population and number one for number of unsheltered students (209) and nearly double all other districts," stated Katey Townsend, LCSD's McKinney-Vento liaison.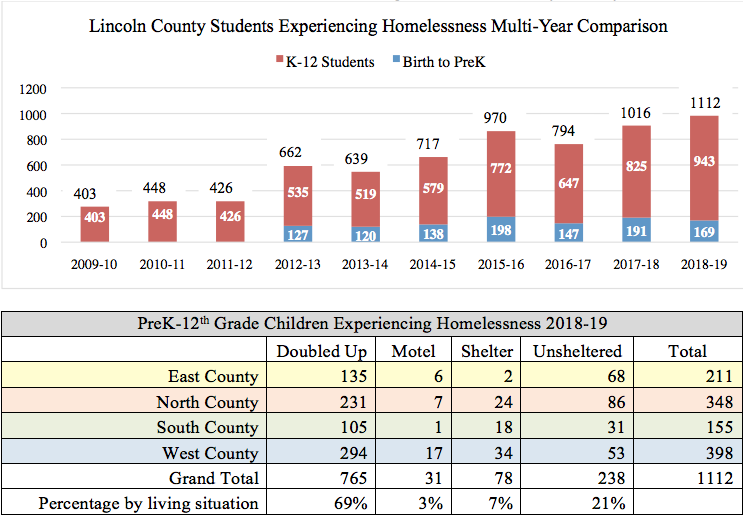 The Homeless Education & Literacy Project (HELP) is a program of Lincoln County School District (LCSD) designed to help students facing homelessness.
The four HELP Centers in Lincoln County provide basic needs, resources and educational programs designed to fill the gaps in the community to meet students' needs. HELP Centers are a stable place for students and families to get support and many of the programs also benefit non-homeless students.
Townsend, who is also the HELP Coordinator, said there are ways for the community to get involved and help out.
"Donations of time and money are always welcome," Townsend said. "With the holidays just around the corner, the HELP program is soliciting donations of new pajamas, underwear and socks; and new jackets. Donations are being accepted at all four HELP Centers.
"HELP Center volunteers are also needed to help deliver program activities and supplies to students throughout the school year."
Townsend said a volunteer training is being offered on Thursday, Dec. 5 at 6 p.m. at the NHS Boone Center. Contact Jutta Pearce for more information on volunteering or to RSVP at Jutta.Pearce@lincoln.k12.or.us or 541-574-9419.