On Jan. 10, at approximately 1:33 p.m. Oregon State Police (OSP) was dispatched to a report of a maroon minivan swerving all over the roadway on Highway 18 near milepost 12.
The minivan was driven by Corey Allen Quakenbush, 34, of Lincoln City and had received a second driving complaint near the intersection of Slick Rock Creek Road, Otis and Highway 18. According to OSP, the vehicle was seen crossing the centerline, nearly causing a head on collision.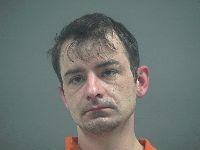 OSP Officer Brian Eskridge located Quakenbush turning into a driveway at 3047 Salmon River Highway and stopped him for reasonable suspicion of driving under the influence of intoxicants (DUII).
"On contact, the driver appeared to be extremely visibly intoxicated. He did not know where he was and his speech was heavily slurred," Eskridge said in a report. "I could smell a strong odor of alcoholic beverage coming from his person. His eyes were heavily bloodshot and glassy. He appeared to be highly confused and lethargic."
Eskridge identified Quakenbush and found his Oregon license to be suspended/revoked due to three previous DUII convictions within the last ten years, resulting in a felony charge. Quakenbush was also found to be on felony probation in Lincoln County for DUII with no alcohol conditions.
"The driver stepped from the vehicle on his own accord and was unsteady on his feet," Eskridge said. "When asked if he would conduct (Standardized Field Sobriety Test) he refused."
An empty alcoholic seltzer water was found sitting next to the driver's seat upon inspection. Quakenbush was taken into custody for DUII and Felony Driving While Suspended.
Quakenbush was transported to the Lincoln City Police Department where he was asked to take a breath test, which he refused.
"The driver later provided a breath test, which showed a blood alcohol level of 0.23 percent by weight," Eskridge said.
He was transported to the Lincoln County Jail where he was lodged on the DUII and Felony Driving While Suspended charges. His bail is set at $250,000 and he is due in court today (Jan. 16).