Fifteen strike teams, including one team from Lincoln County, comprised of members of the Oregon fire service arrived in California Oct. 27 and have been assigned to assist with separate wildfire incidents threatening structures and property.
Following a late afternoon briefing with California Department of Forestry & Fire Protection officials in Redding, Calif., Oregon's strike teams have been deployed to two separate incidents.
One group, comprised of six strike teams, headed by Chief Deputy State Fire Marshal Mariana Ruiz-Temple, of the Office of State Fire Marshal (OSFM), is being sent to the Burris Fire, a 350-acre fire in Mendocino County. As of Monday, five of the teams were working to secure lines and mop up the Burris Fire, and one team was assigned to respond to a new incident called the Twin Fire.
The second group, comprised of nine teams, headed by Assistant Chief Les Hallman of Tualatin Valley Fire & Rescue, has been assigned to respond to the larger Kincaid Fire in Sonoma County. On Monday morning, the 66,231-acre fire had forced the evacuation of approximately 180,000 persons. Crews have been assigned to support efforts to mitigate structure threats and construct control lines.
"It's very humbling to be a part of a large scale mobilization of resources and see how quickly Oregon can respond in a time of need," said State Fire Marshal Jim Walker. "To assemble 75 fire engines and 271 firefighters in a matter of hours to respond to our neighbors in need is extraordinary.
"I appreciate the more than 60 fire agencies that answered the call, the work of our OSFM staff and Office of Emergency Management in assembling the response, and Chief Hallman of Tualatin Valley Fire & Rescue and Chief Ruiz-Temple of OSFM in providing support for our firefighters while deployed to California. I truly appreciate all that you do."
The Lincoln County team is apart of the second group of strike teams, which includes members of the North Lincoln Fire and Rescue crew.
"This morning, NLFR sent a Type 6 Engine to Sonoma, California as part of the Lincoln County Strike Team," NLFR officials announced Sunday. "They could be deployed up to 14 days."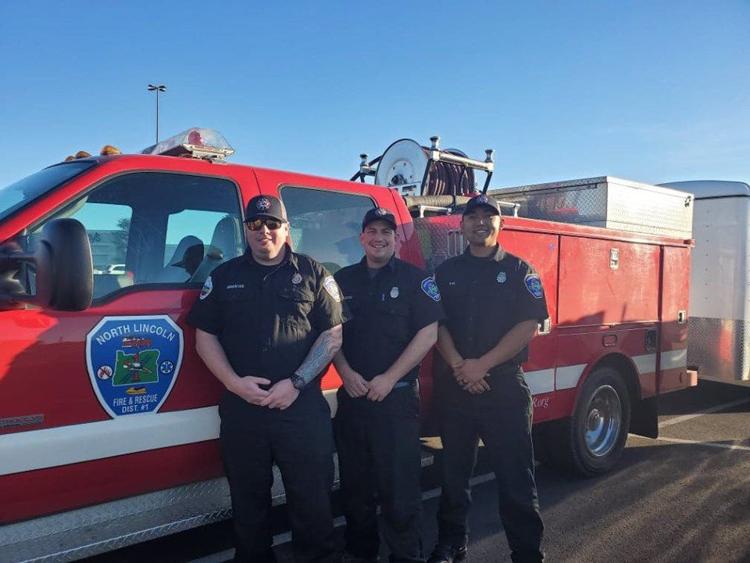 In Northern California, the massive Kincade Fire has grown to more than 76,000 acres. Today it was reported that 30 percent of the fire was contained and had damaged or destroyed about 200 homes and other buildings.
There are currently seven active large fires in California, which have covered 97,511 acres so far, according to the National Interagency Fire Center (NIFC).
The mobilized strike teams, comprising 271 personnel total, have been sent from counties all across Oregon including Lincoln, Klamath, Douglas, Yamhill, Linn, Columbia, Clatsop, Benton, Multnomah, Marion, Washington, Clackamas, Jackson, Josephine and Lane. All teams from Oregon arrived at their staging areas around midnight Sunday.
The OSFM mobilized the teams following a request through the Emergency Management Assistance Compact (EMAC) from California. The request allows for the OSFM to mobilize resources through the Oregon Fire Mutual Aid System (OFMAS). The teams are comprised of Oregon's structural firefighting agencies, which provide structural firefighting and all-hazards assistance.
"The Oregon Fire Service is ready to provide assistance to California," said Ruiz-Temple. "The Oregon Fire Mutual Aid System (OFMAS) is robust and prepared to respond quickly when these formal requests are received."
The current deployment marks the third year in a row that the OSFM has mobilized strike teams through the OFMAS and deployed them to support firefighting efforts in California, following requests made through the EMAC.
In 2018, the OSFM sent three strike teams to the Mendocino Complex Fire starting in late July 2018 and then another 15 strike teams to the Camp Fire in November 2018. In October 2018, also through an EMAC request, the OSFM sent two incident management teams to Florida to respond to Hurricane Michael.
In November 2017, the OSFM mobilized 15 strike teams to respond to an EMAC request from California to fight wildfires. In December 2017, California sent another request for assistance on the Thomas Fire, near Ventura. The OSFM sent 15 strike teams in response.