Disaster was swiftly avoided this week during a tricky water rescue on Salmon River.
On Jan. 22, at approximately 2:02 p.m., a 26-year-old woman from Independence, Ore. was driving eastbound near milepost 8 on Highway 18. For unknown reasons, the vehicle drove off the right shoulder, down an embankment and came to rest in Salmon River.
"After entering the water, the vehicle traveled approximately 200 feet down stream in the fast moving water," Oregon State Police (OSP) Officer Bryan Fitch reported. "The driver was able to extricate herself from the passenger compartment and crawled onto the roof of the vehicle to await rescue."
Several witnesses reported spotting the woman sitting atop her vehicle in the river and notified OSP. North Lincoln Fire and Rescue (NLFR) also responded to assist in rescue efforts. A routine rescue proved to be a bit difficult as the river was full and moving quickly.
"We had a horrible time getting to the car because of the river conditions," NLFR Deputy Chief Doug Strange said. "It was also challenging because we don't have a lot of swift rescues like this one."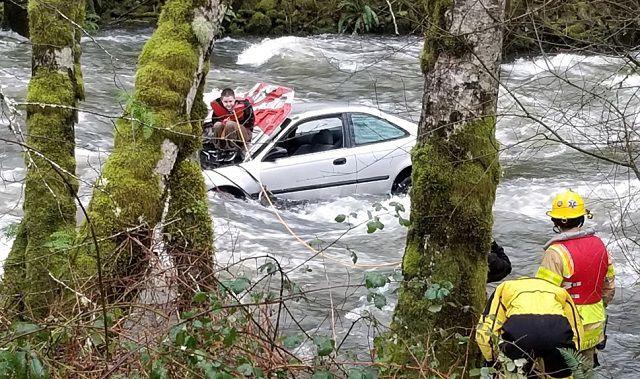 Strange and his crew set up a rope system to get out to the vehicle and placed two safety rescuers down river in case something went wrong. The water rescue firefighter was able to get out to the driver and the two were pulled back to the riverbank.
"It took a little longer than it typically would take us because of the water conditions, but overall it was a successful rescue," Strange said.
The woman was then transported to Samaritan North Lincoln Hospital for evaluation and her current condition is unknown at this time. Her vehicle was left in the river for later removal due to the unsafe water conditions.