Hello Friends,
Memorial Day is upon us and the weather looks to be clearing. This weekend will bring relief to some and anxiety to others on the coast.
The holiday is traditionally a time for Oregonians to get outside, travel to their favorite vacation destinations, and welcome the return of summer. Yesterday, Governor Kate Brown was joined by mayors from across our district urging all Oregonians, especially Portland metro area residents, to keep it local this Memorial Day weekend to prevent the spread of COVID-19.
"If you love the coast, stay home for now and plan your trip in the summer. If you love the Columbia Gorge, keep it local this weekend and visit later on. If you love Central Oregon, it'll still be there in a few weeks."
Let's particularly celebrate the men and women who have served our nation this Memorial Day, as well as the first responders, health care providers, grocery workers, and small business owners and employees that are working to keep us safe, keep us healthy, keep us fed, and help our communities recover.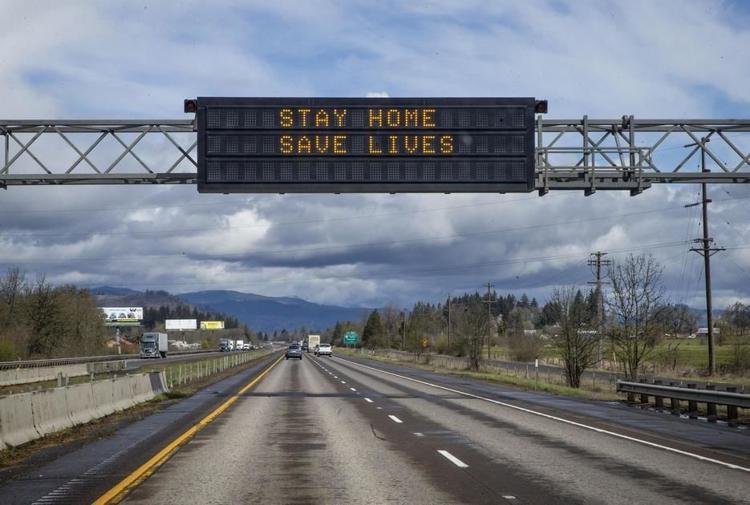 Making Sense of Limited Dollars
For the past few weeks, I've been talking about what our state budgets will look like coming out of COVID. Unemployment is up and so income tax revenue will be down. Sales are down and so corporate taxes will decline. People aren't driving and so aren't paying gasoline taxes. And no one is playing the lottery.
Wednesday the Legislature received a formal revenue forecast from the State Economist. It told us in great detail what we already knew -- this pandemic has been devastating to our economy. You can read the report for yourself here.
The bottom line is that we are now facing nearly a $2.7 billion reduction for the current biennium, and a nearly $10.5 billion loss between now and 2025.
What that means for critical services like education, health care, the fire season, public safety and prisons, or our highways and bridges remains to be seen. Budgets are not just numbers on a spreadsheet. Budgets are about people, our communities, our economy, and our collective well-being. State agencies have already proposed immediate 17% spending cuts as part of a preliminary budget reduction exercise ordered by Governor Brown.
Unlike most other states, Oregon's general fund budget draws more than 90% of its money from personal and corporate income taxes. This leads to boom and bust cycles as the economy changes. The unemployment rate jumped from a modern low of 3.5% in March to a modern high of 14.2% in April.
The combined general fund and lottery budget for the 2019-21 cycle is about $23.7 billion. And of course, our State Constitution requires a balanced budget.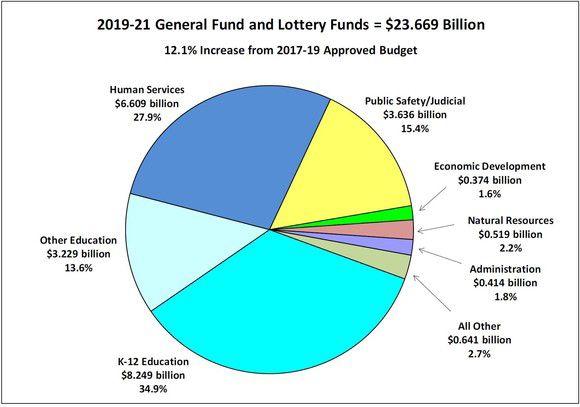 In addition to the declines in income tax revenue, a statewide reduction in sales is also expected to cut funding for schools. Economists predict Oregon's new corporate activities tax, meant to pay for education, will come in 25% ($414 million) lower than anticipated. The tax took effect at the start of this year. Business coalitions have urged the Governor and Legislature to suspend the tax, which essentially is on gross Oregon receipts for larger businesses. Instead the Oregon Department of Revenue will waive penalties for late filings for businesses making good-faith efforts to pay and allow smaller qualifying businesses to pay in 2021. Firms with less than $1 million in sales are not subject to the tax.
The forecast by state economists also projects a 23% decline ($364 million) in Oregon Lottery proceeds, the lion's share of which is generated by video machines in restaurants, bars and taverns that have been shuttered since March 16. Lottery proceeds go to economic development and education, but voters have earmarked shares for an education stability fund, parks and watersheds, veterans' programs and outdoor schools.
Thanks to prudent fiscal management, Oregon is the most prepared it has ever been for a recession. Our state has saved about $1.5 billion in reserve funds to help stabilize our schools and other critical services during an economic downturn. And with the collapse of the recent "short" legislative session, we failed to spend more than $1.1 billion in excess cash the state had expected to have on hand at the end of the year.
By using a portion of these reserve funds for key programs, we can protect many of our essential services from severe cuts. It is also more important than ever that the federal government step up to support our recovery. I will be advocating for additional direct and flexible financial relief for small businesses and individuals who have been impacted the hardest by this unprecedented crisis.
We must also ensure that any resources we receive as a state have needed flexibility. I will do all I can in the coming weeks and months to find creative solutions to minimize impacts on the critical services that Oregonians are counting on, including health care and education.
Some Good News
Over the past year, I've been working for grants and funds for earthquake preparation here in the district. Another $75M has been invested in Oregon's resilience for a grand total of $457M total since the first funds were allocated in 2009.
The Sheridan Fire Department has received $2 million for seismic retrofits and improvements from Business Oregon in grants that we went to bat for.
Oceanlake Elementary School In Lincoln City received nearly $2.5 million for emergency services and seismic retrofits.
The Neskowin Emergency Egress – an access roadway and walking path to provide critical emergency access and evacuation that I added to the budget is now moving forward with final Tillamook County support.
COVID has highlighted the need for robust emergency preparedness. I'll continue to fight for crucial investments so that our communities stay as resilient as possible.
Most of my time these days is spent helping people from across the district access the state and federal assistance that they are eligible to receive. If you are having trouble with the Employment Department, Small Business Administration loans, or any other applications, please send me an email so that my staff can assist.
Warm Regards,
Representative David Gomberg
House District 10