Hello Friends,
These are unusual times and I feel the need to send an unusual number of news updates.
Cooler, wetter weather seems to have stemmed the influx of visitors ignoring the Governor's strong request that they stay home and stay safe rather than on our beaches, stores, parks, and streets. Restaurants and bars were closed. State parks and waysides were closed. Many coastal cities and counties responded with emergency declarations closing hotels, vacation rentals, and parks to all except for long-term residential campers.
Earlier today, Governor Brown announced new closures and stay-home measures.
Last week I raised the problem of fair-weather visitors to the coast with Governor Brown. Tom McCall once famously said, "Please visit Oregon but for heaven's sake please don't move here". I'm saying, please visit Oregon but for heaven's sake not right now. Stay home. Stay safe. Come and see us when this is over and we can celebrate together!
New closures of rentals, stores, parks, and beach waysides will help. I also have asked ODOT to use portable highway message signs to urge tourists to return home.
While it can be argued that the local economy needed those tourist dollars, the evolving health crisis must take priority. We can't treat it. We can't vaccinate against it. We need to slow the spread. Stay home. Save lives.
My goal remains to advocate for you, and to provide the most current, and most credible information sources. You can access Thursday's Telephone Forum here.
As of early Monday morning, the Oregon Health Authority reported 191 positive cases of COVID-19 statewide. Again, no positive cases have yet been reported in our district. Up-to-date information can be found on the OHA webpage.
Governor Kate Brown Tells Oregonians to "Stay Home, Save Lives"
Governor Kate Brown today issued an executive order directing everyone in Oregon to stay at home to the maximum extent possible and adding to the list of businesses that will be temporarily closed to stem the spread of COVID-19. The order is effective immediately, and remains in effect until ended by the Governor.
Initially, the Governor asked Oregonians to stay home and practice social distancing. However, as thousands flocked to our beaches, our trails, and our parks, potentially spreading COVID-19 and endangering the lives of others across the state, stronger measures were required.
The order includes the following provisions:
It closes and prohibits shopping at specific categories of retail businesses for which close personal contact is difficult to avoid.
It requires businesses not closed by the order to implement social distancing policies in order to remain open, and requires workplaces to implement teleworking and work-at-home options when possible.
It directs Oregonians to stay home whenever possible, while permitting necessary activities outside the home when social distance is maintained.
It closes playgrounds and other types of outdoor recreation facilities. Those that remain open are required to strictly adhere to social distancing guidelines.
It outlines new guidelines for child care facilities, setting limits and rules on number of children allowed in care.
All non-essential social and recreational gatherings of individuals are prohibited immediately, regardless of size, if a distance of at least six feet between individuals cannot be maintained. Gatherings of members of the same residential household are permitted.
Failure to comply with the order will be considered an immediate danger to public health and subject to a Class C misdemeanor.
The closed business list includes:
Shopping: Gift shops, art galleries, jewelry stores, boutiques, outdoor and indoor malls.
Fitness: Playgrounds, pools, gyms, fitness centers, health clubs, and exercise studios.
Grooming: Barbershops, beauty and nail salons, tattoo parlors, non-medical wellness spas.
Entertainment: Theaters, museums, senior centers, bowling alleys, aquariums, arcades, bowling alleys, and pool halls.
Business that may remain open include:
Food: Grocery stores, liquor and cannabis outlets, bars, brew pubs, restaurants and cafes – only for delivery or pick-up orders.
Health Care: Doctor offices, pharmacies, health care facilities and emergency services.
Offices: Employees should be encouraged to telecommute as much as possible.
Oregonians can travel "to or from a home, residence or workplace to obtain or provide food, shelter, essential consumer needs." Oregonians can also seek "essential business and government services" and care for the elderly, minors, family members, dependents, people with disabilities, other "vulnerable persons," and livestock.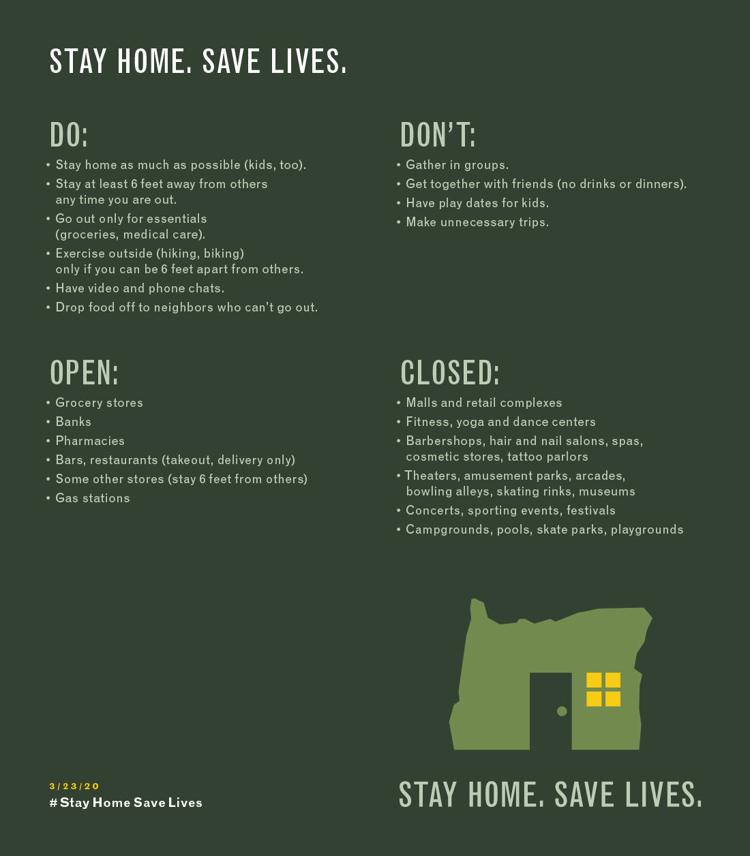 Additional Updates and Resources
Governor Kate Brown has a website with information and links to additional resources such as utility supports.
For information on the Unemployment Insurance and business support, visit the Oregon Department of Employment and Business Oregon pages.
For additional meal support the Oregon Food Bank has a useful "Food Finder" page.
Again, current virus information is on the OHA webpage.
Tax deadlines may be delayed. Check here.
The national Domestic Violence Hotline (English and Spanish) is at 800-799-7233
Report price gouging or other predatory behaviors to the Department of Justice consumer complaint hotline at 877-877-9392.
I know businesses are hurting. I know people are hurting and worried about paying bills. But having more folks here only increases the potential for even more harm very soon. I just don't understand during this evolving crisis, why any business would encourage and advertise for more visitors. As I find myself saying often, we are all in this together.
I am grateful to those who are taking constructive steps to protect their families, neighbors, or employees at significant personal cost. I will do all I can to help you recover through policies and payments. I'm grateful to those of you still on the job helping provide food, shelter, healthcare and safety to our communities.
We will get through this. But we do so by helping each other. Phone your neighbors who may need help getting groceries. Give blood. Buy a gift card to celebrate with later. Purchase only what you need. Because the next person in line needs toilet paper too!
Warm Regards,
Representative David Gomberg
House District 10