It's not every day that the small community of Gleneden Beach becomes the training venue for a world-class athlete. 
But when Bryan Barten, a wheelchair tennis player who has been on two USA Paralympic teams, discovered the Salishan Tennis Center, it was a perfect match.
Bryan lives in Tucson where he works in the Adaptive Athletics Program at the University of Arizona and is the head coach of the wheelchair tennis program.  He has coached six other Paralympians in his career.  He drove north to spend some time with his brother Peter Barten, who runs a home inspection business out of Gleneden Beach, and Peter's wife Else.
Normally this time of year, Bryan would be traveling the world to play in various professional tennis tournaments.  Last year, for example, he won doubles titles in Brazil, Austria, Switzerland, Germany and Poland.  The professional tour for wheelchair players is run by the International Tennis Federation and sponsored by UNIQLO clothing company.  Bryan is sponsored in part by the U.S. Tennis Association and Wilson Sporting Goods.
But this year, everything has been cancelled or put on hold due to COVID-19.  He is pleased to have a place to continue his training during all this downtime and impressed that the tennis center is open to the public. 
"The local tennis community has been very welcoming to me and I'm grateful to Salishan, particularly managers David Hall and Matt Griggs, for letting me train here," he says. "I didn't expect to be able to train so much while I was visiting, so this has been great."
Bryan grew up in Hart, Michigan, a town of about 2,000. As a youth he played football, baseball, golf and ran track - no tennis. But his life was changed at age 21 when he broke his back in a car accident.
While attending Michigan State University, he met some wheelchair tennis players who encouraged him to try the sport. He eventually transferred to the University of Arizona to finish his degree and to participate in the wheelchair sports program. 
The university didn't have a wheelchair tennis program specifically, so they let him start one - the first collegiate wheelchair tennis program in the country. 
"It took me about four years of instruction and coaching to really learn how to play the sport well," he says. "I stuck with it because I was just having so much fun." 
In his first tournament, he lost to a 75-year-old player, so at that point he knew he needed to work harder to succeed.
Bryan has represented his country in the 2012 Paralympic Games in London and the 2016 games in Rio de Janeiro. He won a bronze medal for the U.S. in the ParaPan American Games in Lima, Peru, in 2019.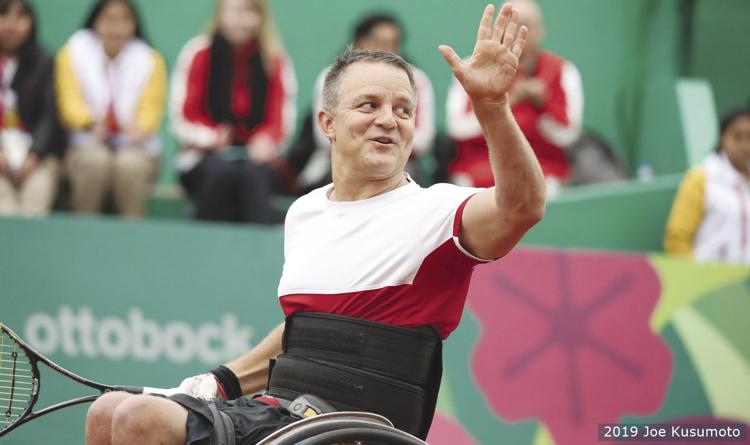 He has been a member of the USA team for the World Team Cup (wheelchair equivalent of the Davis Cup and Fed Cup) for 12 years. He had qualified for the 2020 Tokyo Paralympics, which have now been postponed to August 2021. 
He is currently ranked as the #2 quad wheelchair player in the U.S. and #12 in the world. He considers the 2018 Georgia (USA) Open as one of his greatest achievements because he beat the #1 player in the world to take the title.
The rules for wheelchair tennis and the court dimensions are the same as for able-bodied tennis. The only difference is that wheelchair players are allowed two bounces of the ball before having to return a shot. 
Bryan's sports wheelchair is custom built to fit him. It has angled wheels for quick turns, high-performance wheels and bearings and lots of straps to keep him stable in the seat. Because of lack of grip strength in his playing hand, he tapes the racquet to his hand with sports tape before starting to play.
Bryan, now 46, has been trying to keep up his training during the competition hiatus, sometimes hitting on the courts at Salishan twice a day. He appreciates the policies Salishan developed to protect tennis participants from exposure to COVID-19. 
He also trains on a handcycle recumbent bike, which is powered by arm motion, to build upper body strength.  
He has been pleased that a couple of tennis players at Salishan have been willing to hit balls with him to keep up his training regimen. 
"It's been a thrill to hit with him," says Elizabeth Smith, one of his practice partners.  "Bryan is so consistent and has great skills.  It's hard to return his shots, especially the forehand slices.  His patience and humor make the sessions memorable. I know I've learned a lot." 
Yen Nguyen adds, "I think Bryan is very kind and generous in sharing his tennis expertise.  I feel very lucky to be practicing with a player of his caliber."
Now that Bryan is a top-level tennis competitor, he is also an ambassador for the sport. 
"I would encourage anyone to try tennis," he says.  "Wheelchair players can play with able-bodied friends and family.  It's a lifelong sport for all abilities."
For more information about the Salishan Tennis Center, contact Tom Graves at tgraves@salishan.com.