Wrestling districts are upon us, and soon we will find out just how many boys the Taft 7-12 Tigers will be sending to the State Tournament in Portland.
Before the boys district tournament this week, the lady grapplers competed in the South Region OSAA district this past weekend at Thurston High School. Battling girls from all classifications (1A-6A) the Lady Tigers had 250 wrestlers in their district.
"Kadence James was the only Taft girl who won a match, but the competition in the girls wrestling districts is tough having to wrestle all classifications," Robb Ellis said after the tournament. "(We had) big success growing (the team) from two girls to five at the district tournament."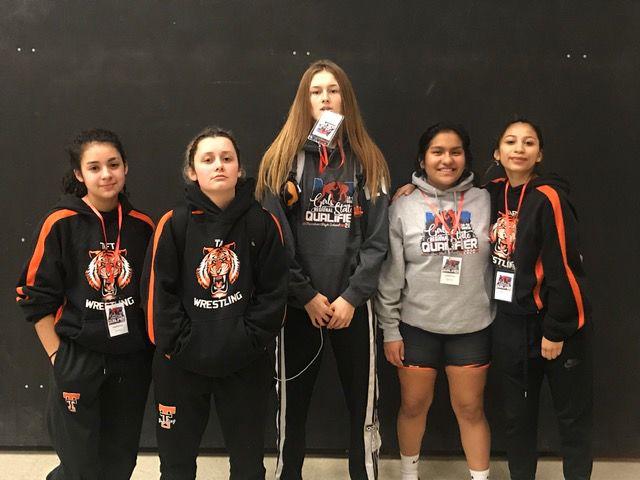 James' lone win came in the second round of the 120-weight consolation bracket, where she swiftly pinned Averie Stueve of Cascade in just 27 seconds. Teammate Jada Ellis nearly claimed a victory in her first match of the day, but lost a 7-4 decision to Kassandra Miller of Santiam in the 115-weight bracket.
The boys team had a couple weeks of duels to prepare themselves for the district tournament this week in Amity. There first dual match was at Willamina on Jan. 29 where they faced Willamina, Dayton, Amity and Warrenton for seeding at districts.
"We had some tough matches and won some of them," Ellis said. "The highlight of the night was Riley Ellis' win in the third overtime against a Willamina wrestler to secure a higher seed at districts. Riley won all four matches."
Last week, Taft was at Rainier on Feb. 6, then two days later, the Tigers were back on the mat in Tillamook to face the reigning state champion Cheesemakers along with Astoria.
"Taft won a dual handily against Astoria and then faced defending 4A state champs with some very talented wrestlers," Ellis said. "Jose Flores continues to lead the way with big wins on Thursday and against a tough Tillamook opponent."
The Tigers will wrestle at Amity on Feb. 14-15 to see who will qualify for the State Tournament at the Memorial Coliseum in Portland on Feb. 28-29.