They're healthy, energized and the Taft 7-12 boys basketball team is ready to make a late season push.
Although their record sits at just 4-13 overall and 1-6 in league play, the Tigers are still just two wins away from a State Playoff berth this season. With the new playoff structure for the Coastal Range League, each of the five teams will be competing in the league playoffs. Taft Head coach Andy Morgan said his team doesn't exactly agree with the new structure, even though they'll benefit from it this season.
"We're going to try to take advantage of it," Morgan said. "We know we can beat any of these teams, especially now that we are healthy and playing with some intensity. We're looking at this as a blessing."
On Tuesday, the Tigers demonstrated their newfound liveliness when they welcomed Rainier to Lincoln City, who has not lost a league game this season. Prior to the game, the team recognized its four seniors on the team this season: Jordan Hall, Eli DeMello, Trenton Fisher and Lucas Hindman.
"We'll miss their leadership and their passion," Morgan said of his seniors. "They're all good kids, fun to be around and work with everyday. In my two years here, they've helped build a foundation for the program."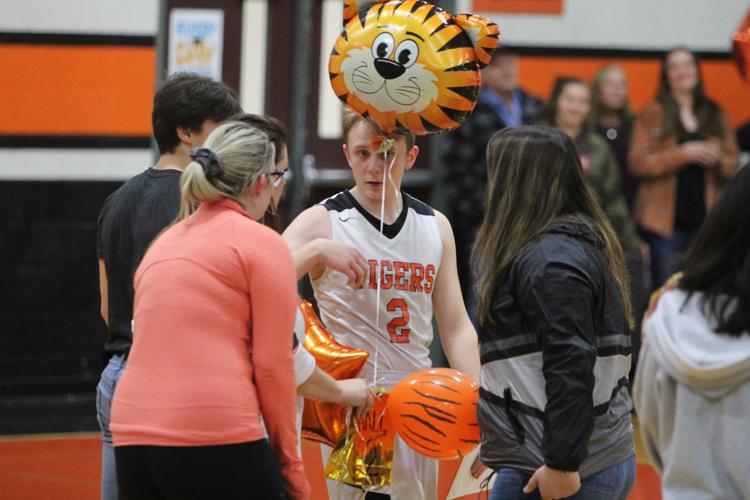 Keeping with the Senior Night tradition, all four boys started the game on the court together, which Morgan said might have been the first time that has happened this season. Taft matched the visiting Columbians shot for shot early in the game, but found themselves in a 22-10 hole at the end of the quarter.
The Tigers gained some offensive momentum in the second quarter, scoring 15 points. However, they still trailed 36-25 going into halftime.
"We had a great conversation pregame about putting out energy and effort and talked about how it translates to our play," Morgan said. "I thought they came out and responded well in the first half."
Taft was sparked by the hot shooting of Hindman, who poured in three three-pointers in the first half (four in the game) en route to a team high 14 points.
"Lucas has had some injuries this season and has at times been pretty critical of himself, so to see him get hot from outside was really great to see," Morgan said.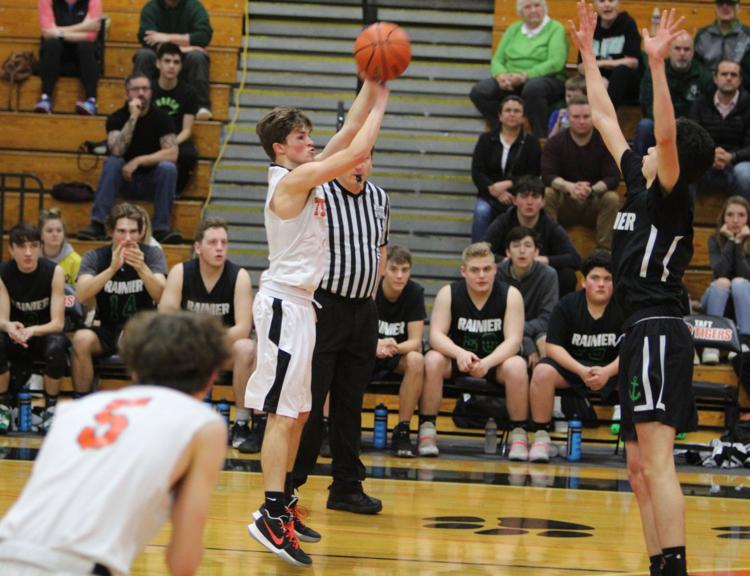 Hindman wasn't the only senior stepping up for Taft, DeMello had 11 points of his own and Hall battled through some adversity to help provide a much needed boost for the Tigers. While battling foul trouble all game, Hall was issued a questionable technical foul in the first half.
"I thought Jordan was a victim of a poor call," Morgan said. "He's a passionate player, so he's no stranger to technical fouls, but he took it in stride and handled himself really well, which I thought showed some real personal growth."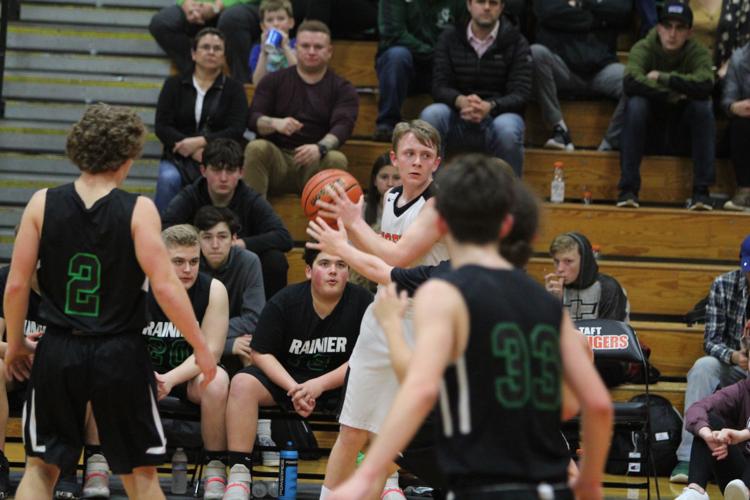 Hall responded in the second half with two big three-pointers to help Taft trim Rainier's lead down to single digits. Midway through the fourth quarter, Taft trailed by nine points after a low post basket. Prior to the inbound, Morgan was hit with a technical while communicating with his team.
Feeling as though the technical foul was unwarranted, Morgan confronted the official, which led to a second technical and automatic ejection. Rainier was then given four free throws and eventually put the game away, winning 67-50.
"I never felt like we were out of the game," Morgan said. "We always talk about the officiating and we emphasize the fact that we can only rely on our effort. Hard work typically beats bad officiating, and I felt like we played through a rough night for the officials."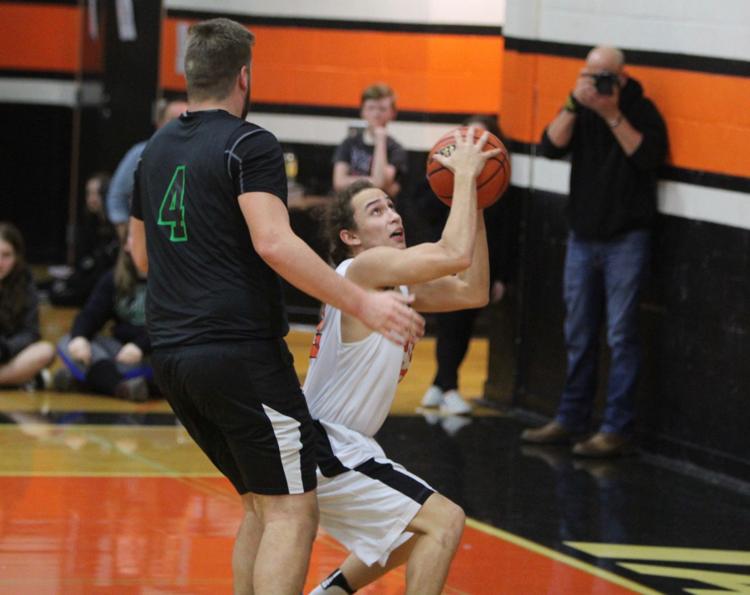 Rough night may have been an understatement for the officiating, as Rainier went to the free throw line 30 times during the game and the Tigers did not shoot a single shot from the charity stripe. Despite the lopsided free throw discrepancy, Taft had just 13 team turnovers, which was a low for their league games this season and also had 16 team assists, which was one of their highs. Although team leader Fisher was held scoreless on the night, he made his presence felt in other areas of the game by tallying five assists and several rebounds and steals.
Morgan gave credit to Rainier's Conner Rea, who he called the most athletic player in the Coastal Range League, as well as post player Easton Crape who was aggressive in the paint. Taft shot 31 three-pointers in the game, which the coaching staff felt was a good number for them.
"At times, we've struggled to score points, but us coaches continue to tell the boys that you can't score without shooting," Morgan said. "If we get open looks, we have to take them and I thought we did a good job of that Tuesday."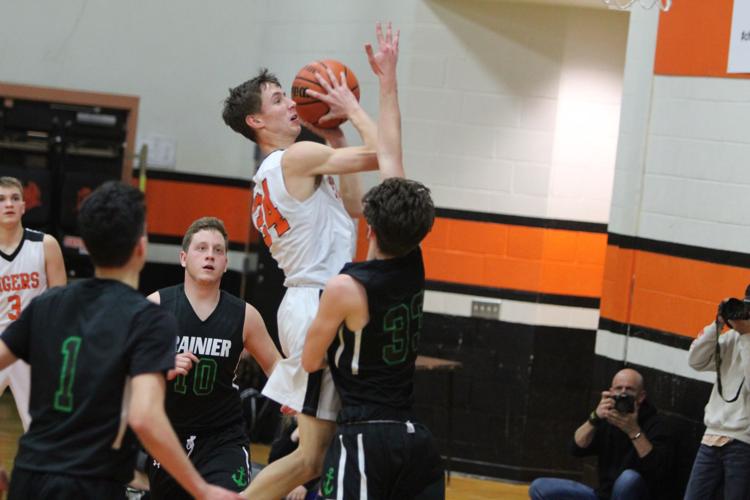 This Friday, Taft will play its final regular season game at Clatskanie. On Monday, they'll be heading right back to Clatskanie for the first game of the league playoffs. Although they lost to their fellow Tiger team earlier this season, Taft feels confident they can win not just one game against Clatskanie, but two.
"We've just have to do the little things: eat right, stay hydrated and be ready to play," Morgan said. "We aren't overlooking Friday. It'd be great to build confidence in knowing we can beat them. But our goal is to get the athletic directors to rethink this playoff system, because nobody wants to see a five seed make it to State.
"I think we're going to go in there and lock 'em down."