In the midst of what head coach Eva Ahumada calls a rebuilding year, the Taft 7-12 cross country team is down in numbers, but not talent.
After three straight appearances at the 3A State Meet, the Tiger boys team was surprised to see several runners opt for other sports this fall. However, Ahumada said State is still the expectation for the Tigers.
"It's going to be harder because when I first started we had this group of freshmen boys, that would be seniors this year, and they all ran together but this year we lost all of those boys except Lucas Hindman, who's going to be our lead runner," Ahumada said. "It's a rebuilding year, but I think we've got enough talent on the team to where if we get it together, then we can do it. There's a lot of natural talent on the team."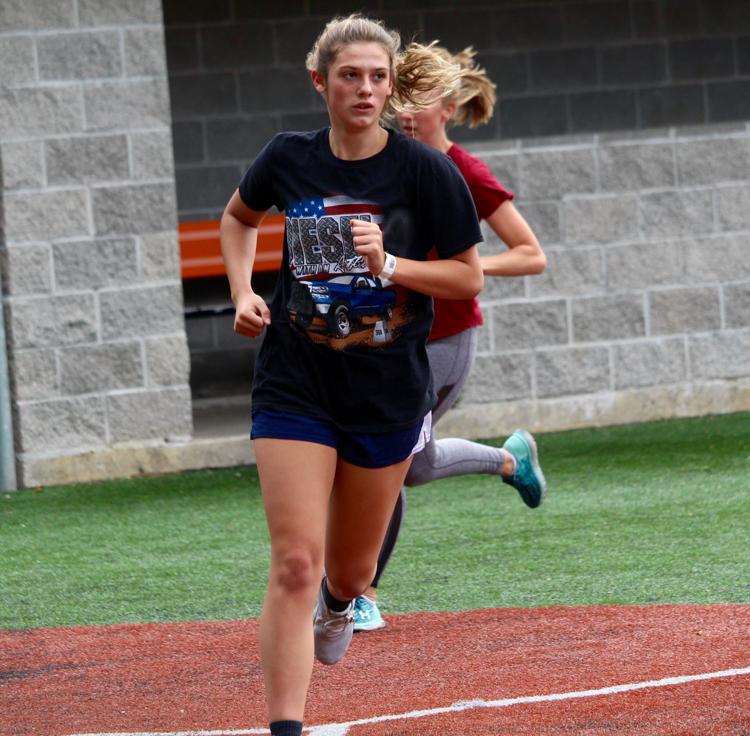 On the first day of practice, the team had just six runners out. But now the team has doubled to 12 and is still growing.
"Lots of new runners, but also lots of returning runners, which is really great and it's just continuing to grow every week," Ahumada said. "We just got another girl in last night and we're supposed to get another runner in soon, so I'm excited for the team. It's coming together really nicely."
Not only do the Tigers expect to have runners with plenty of potential, but also they'll have runners that are high character leaders. Among them is senior Ethan Price, who has been running cross country since 5th grade. He was also surprised to see many of his classmates decide to try other sports this year. Nevertheless, he said he has liked what he has seen so far at practice.
"We have a decent amount of new runners this year and a lot of them show real promise," Price said. "Most of them are already pretty fast and are only getting faster. So I'm excited to see how they get better."
Last year, Price said his personal record (PR) was 20:01 and along with his team goal of making it to state for the fourth year in a row, as an individual he wants to break that 20-minute mark.
"In this kind of context, running is more of mental thing than anything else. You just have to keep that mindset of, 'I'm not going as fast as I can' and keep on pushing yourself to the next person in front of you," Price said. "It's more mental than physical."
On the girls side, Ahumada is hoping they will be able to bring in or develop another runner to push them into State contention.
"I think we already have a really strong boys team and if we get a few more girls, we'll have a really decent girls team as well," Ahumada said. "It's a really unique year in the district, where if we have strong runners, like Autumn Ellis, and if we get another really strong runner in there, they'll make it to state in 3A."
The Tigers had their first taste of competitive action this past Saturday, Aug. 31, when they traveled to Cottage Grove for the Two-Mile Run. With only six qualified runners due to practice requirements, the shortened race was really just to get the runner's legs warmed up.
"It's a two mile run, so it's really just to get them racing experience," Ahumada said.
During the shortened race senior Autumn Ellis led the way for the three Tiger girls racing, clocking a 15:09 and finishing in fifth place among 44 runners. Junior Claira Tolan was the next fastest at 18:35 and fellow junior Veronica Jin was not far behind at 19:17.
"I felt strong," Ellis said. "It was a good beginning to the season."
For the boys, freshman Cooper Fitch was the fastest Tiger at 15:17 and fellow freshmen Angelo Cruz Garcia and Eli Jones finished at 16:09 and 16:19 respectively.
"The team did well overall," Ahumada said. "This is a great race because it gives us a starting point and our young runners get some racing experience. It makes me excited to see what the rest of the season brings."
This week Taft will be in Tillamook for the annual Ultimook race on Saturday Aug. 7 starting at 11:30 a.m. The race features a muddy track that's more fun than competitive.
"It's like a race but not really… it's more of a mud run," Ahumada said. "They really like it, it's a lot of runner's favorite race."