After a year filled with injuries and close losses in 2018, the 2019 Taft 7-12 girls soccer team has the potential to be 'scary good' according to head coach Joey Arce-Torres.
The Lady Tigers finished in the lower half of the league standings last year despite having multiple All-League selections. This year, the team will rely heavily on those players who are mostly returning, giving Arce-Torres a very talented roster of girls.
"In the last six years, this is the most talent we've had, as far as athletic talent goes," Arce-Torres said. "I think we will have incredible depth this year as far as athleticism goes. There are a lot of scoring threats on this team."
The girls soccer team started practices in early June and started summer workouts later in the month to try to make sure they're able to hit the ground running by their first game on Sept. 10.
"They've been out here doing a lot of conditioning and have spent a lot of time in the weight room," Arce-Torres said. "That's been part of the routine that I brought since I started coaching here, just trying to be very conscious of injury prevention."
With 22 girls on the roster this year, Arce-Torres said it's a pretty typical number for the team. Among them are a couple of talented seniors in Sammy Halferty and Ella Knott, who will look to lead the Tigers to a potential playoff run.
"One of our key players will be Sammy, who I expect to score a lot of goals for our team this year," Arce-Torres said. "She is very, very quick, she's dedicated and has gotten bigger and stronger this offseason."
Knott, who suffered a season ending injury last season, is back at full strength this year and looking as fast as ever according to the Taft coaching staff.
"Ella had a huge knee injury last season, but she will put fear into a lot of other teams this year because she is so fast," Arce-Torres said.
The senior tandem has the Taft soccer program excited about the upcoming season. And with plenty of firepower offensively, Arce-Torres said the sky's the limit for this group.
"We always have that one person that scares every team in our conference because of their speed… But we've never had that complimentary player and this year, we have several, so we're pretty excited," Arce-Torres said.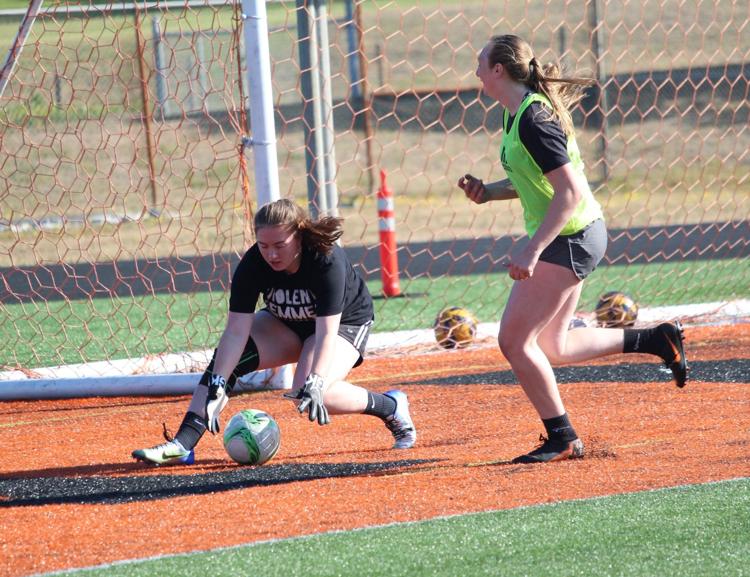 Taft will be apart of one of the largest districts at the 3A/2A/1A level this season and because of that, the league will send three teams to state when the regular season concludes. Arce-Torres said that could be very advantages for his team.
"We've typically finished around third or fourth place in the district, just one spot out of the playoffs," Arce-Torres said. "But with our talent, I think we're going to surprise a lot of teams."
The Lady Tigers are still a few weeks away from their first game. However, the team did play a scrimmage late in the summer against county foe Newport, a 4A team.
"We killed them," Arce-Torres said with a smile. "They didn't even score and we could have made it 10 to nothing but be held back. It just kind of goes to show how much potential we have as a group."
Although the main goal this year is staying healthy and making it to the state playoffs, the coaching staff has also put communication in the forefront of their practices. Arce-Torres said they've even put together different assignments for the girls outside of soccer to help improve that communication amongst the team.
"We teach them the nuts and bolts of soccer, we've helped them compete with the conditioning, nutrition and hydration, but really the main factor for if you want to be successful is how well we can communicate," Arce-Torres said. "If we can get that out here not only will they be successful in soccer, but they'll be successful in the classroom, in employment and in life."