Head coach Robb Ellis called it "possibly the greatest regular season tournament performance in Taft wrestling history."
That's because out of the 17 competitive teams at the annual Hagerty Invitational at Nestucca High School, the Taft 7-12 wrestling team came out on top.
The Tigers battled it out with 3A powerhouses like Willamina/Falls City and Scio Dec. 21 in Cloverdale. After accumulating 134 team points, Taft found themselves at the top of the leader board, edging out Willamina/Falls City at 129.5 points and Illwaco (Wash.) at 120.5 points.
Scoring the bulk of Taft's points were second place finishers Jose Flores, Riley Ellis and Jace Phippen. In the 120-weight bracket, Flores won two matches by fall before eventually losing in the championship bout to Blake Runion of Amity.
Riley Ellis also won two matches in the 152-weight bracket, including a victory by fall over Wyatt Baker of Willamina/Falls City. However, Tanner Clark of Siletz Valley then defeated Ellis in the championship.
In the 220-weight bracket, Phippen won by fall in the quarterfinals then earned an 8-2 decision in the semifinals to advance to the championship. Phippen earned a rematch with state placer Travis Bennett of Neah-Kah-Nie in the final match but once again fell short of first place.
The three Taft runner-ups tallied 64 of the Tiger's 134 points during the day. Other placers for Taft included Kaden Byrum, who was third in the 106-weight class, as well as Arnoldo Ortiz (fourth at 132), Kevin Acosta (fourth at 138) and Oscar Rodriguez (fourth at 195).
The Lady Tiger wrestlers also had a big day on Dec. 21, as they participated in the Liberty High School Girls Tournament in Hillsboro.
"So proud of our Lady Tigers!" Coach Ellis said. "They finished 16th out of 29 teams at the Liberty High School Girls Tournament… competing with all class levels including 6A teams."
Taft tallied 37.5 team points throughout the day to place 16th, as 6A Century placed first with 125 points. The Lady Tigers were the second highest placing 3A team competing, with Warrenton just ahead of them at 46 team points.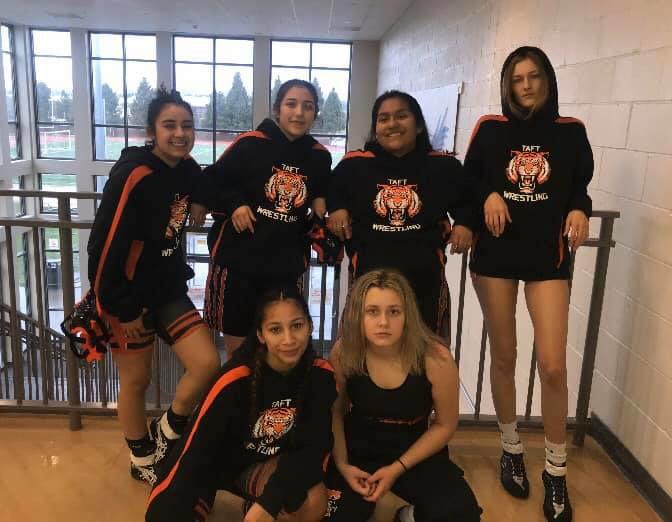 Every Taft wrestler competing Saturday earned a victory, and Sabrina Campos, Kadence James and Lucy Reyes-Carteno each earned two.
Campos won her first two matches by fall in the 110-weight bracket, including a victory over McKayla Medjo of Warrenton. James earned a pair of victories by fall in the consolation 125-weight bracket over two girls from Hillsboro High School and Forest Grove High School. Finally, Reyes-Carteno earned a second round victory in the 170-weight class and then a win by fall in the 7th place match over Alexis Christie of Cottage Grove.
This week Taft is scheduled to compete in the Bob Bishop Invitational at Willamina High School on Dec. 28, where they will face off against five other schools.