Jumping, stunting and tumbling to the beat, the future of cheerleading in Lincoln City is looking bright thanks to the Lincoln City Youth Cheerleading Team.
In the Cheer Program's second year, coaches Tonia Anderson and Alicia Hernandez have two teams made up of 17 young and motivated athletes who are competing in cheer competitions throughout Oregon.
"We start our season in April," Anderson said. "We condition, learn the basics of cheerleading (arm motions and jumps). From there we start working on more advanced techniques such as tumbling and stunt building."
Tryouts for the team are held in July and the first competition happens in December. Those that make the competitive team will either attend a home camp or they will go away to camp.
"(At camp) they will continue to bond as a team and work on building their skills that they will use during the competitive season," Anderson said. "The competitive season ends the end of February at the OCCA Championships."
The Lincoln City group is currently split into two teams: the Mini Team (2nd grade and under) and the Junior Team (8th grade and under). Anderson said they hope to soon add a 'Youth Team,' which are teams that have members who are in the 5th grade and under.
Earlier this month, the LC Youth Cheer Team had its first taste of competition this season at the McMinnville Invitational Dec. 7, which the Mini Team placed first and the Junior Team also placed first. A week later, the teams were competing at the Sweet Home Cheer Classic Dec. 14. The Mini Team once again came away with a first place finish, while the Juniors placed fourth.
"They push each practice to make changes based off the judges notes and to become better than that competition before… perfecting moves, tightening motions and working on hitting tight stunts," Anderson said. "I have never seen two teams more dedicated to wanting to leave it all on the mat then these two teams.
"Win or lose they are winners to coach Hernandez and myself before they even compete."
During competition, each team performs a two-and-a-half-minute routine with music that includes stunts, jumps and tumbling. Their routine is judged by a panel of cheerleading experts on difficulty and execution.
The LC Youth Competition Team is not a school-based program. They are a non-profit program where youth in the community can try out for the team. Anderson said the goal in starting the Cheer Team was to get young girls involved in cheer early and to hopefully teach them valuable life skills as they grow.
"We participate in activities in our community, such as Stuff a Bus and Community Days Canned Food Drive," Anderson noted. "Cheerleaders often excel at things outside of the world of cheerleading, like school, jobs, other sports, clubs and hobbies. This is because cheerleading instills a strong work ethic."
For the team, their strong work ethic was rewarded by the community, which included a $4,955 contribution from the Siletz Tribe this season to be able to purchase competition size cheerleading mats as well as support from Oceanlake Christian Church, which has provided a safe practice location four days a week for the team.
"It has become a cheer home to the youth, and we are very grateful for community members such as this," Anderson said.
In addition to the community organizations' support, Anderson said the team has gathered a great following of fans who have showed up in bunches at their first couple of competitions.
"We have so many 'fans' that support these young athletes at competitions when they are cheering in front of 100's of people," Anderson said. "It takes a lot of support and if we as coaches can teach them to take care of your community and they will take care of you it will be something great that we have done. We have taught them to be leaders."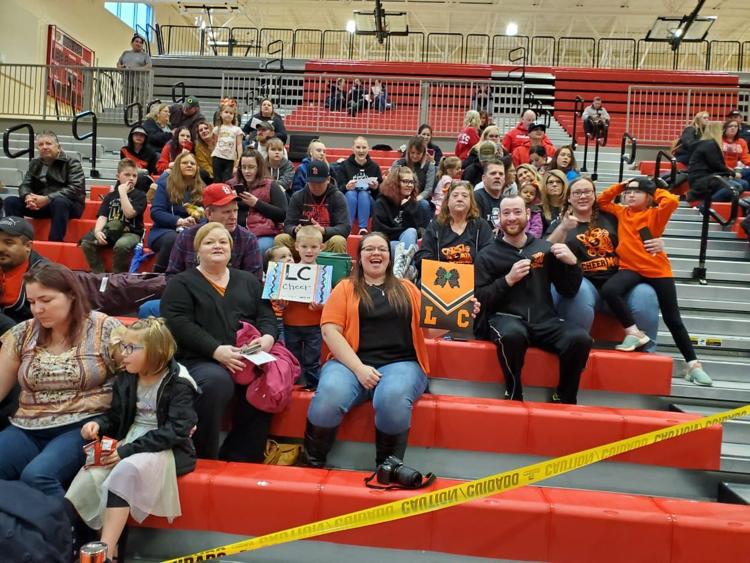 The remaining 2020 schedule outline includes:
Viking Challenge – Forest Grove High School – Jan. 4
Orange and Black Cheer Challenge – Roseburg High School – Juniors Only – Jan. 11
Redhawk Rumble – Crescent Valley High School – Jan. 18
Welcome to the Jungle Lion Cheer Challenge – West Linn High School – Feb. 1
OE Classic – Salem Pavilion – Feb. 8
OCCA Cheerleading Championships – Salem Pavilion – Feb. 23